CHEDDAR CHEESE BISCUITS
4 cups all-purpose flour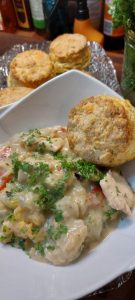 4 teaspoons baking powder
1 1/2 teaspoons kosher salt
1 teaspoon baking soda
1 cup unsalted butter, cut into cubes
1 1/2 cups buttermilk
1 cup shredded old cheddar cheese
1/4 cup unsalted butter, melted
DIRECTIONS:
Preheat oven to 450 degrees F. Line a baking sheet with parchment paper or a silicone baking mat.
In a large bowl, combine flour, baking powder, salt and baking soda. Add cold butter, using your fingers to work the butter into the dry ingredients until it resembles coarse crumbs. Add buttermilk and stir using a rubber spatula until a soft dough forms. Fold in the shredded cheese.
Working on a lightly floured surface, knead the dough 3-4 times just until it comes together. Using a rolling pin, roll the dough into a 1 1/4-inch thick rectangle. Fold into three equal sections, roll together, and repeat the folding 4 times. Cut out 10-12 rounds using a 2 1/2-inch biscuit or cookie cutter. Place biscuits onto the prepared baking sheet; place in the freezer for 15 minutes.
Remove biscuits from freezer and brush tops with butter. Place into oven and bake for 15-18 minutes, or until golden brown.
Serve warm.
Hint:
Use the left over bits and pieces to making dumpling for soups or stews (like Chicken N' Dumplings) form the dough into small round balls about 1 inch (2 ½ cm) in diameter (the dough should yield 14-16 dumplings).
Place the dough balls in the simmering soup (making sure they don't touch), cover. Let the soup/stew simmer for 15 minutes, or until the dumplings are cooked through.
Ladle into bowls, giving 1-2 dumplings per serving.
Chicken ala King
Ingredients
4 oz                 113 g               salted butter (½ cup)
8 oz                 225 g               button mushrooms
2 oz                 56 g                 sweet onion chopped (½ cup)
2 oz                 57 g                 all-purpose flour (½ cup)
16 oz               448 ml             chicken broth, cold (2 cups)
12 oz               336 ml             milk (1½ cups)
2                      2                      egg yolks
3 oz                 84 ml               heavy cream, whipping, 35%  (⅓ cup)
5 oz                 140 g               frozen peas (1 cup)
7 oz                 192 g               chopped drained pimientos (1 cup)
22 oz               616 g               chopped cooked chicken (4 cups)
Instructions
In a large saucepan, melt butter over medium-high heat. Add the mushrooms and onion, cook until mushrooms are soft, about 5 minutes.
Reduce the heat to low, add in flour and stir well, cook for 3 minutes. Increase the  heat to medium, pour in chicken broth and milk and bring to a boil. Reduce heat to low and simmer until sauce is thickened, about 3 minutes.
In a small mixing bowl, whisk together the egg yolks with the heavy cream. Working quickly, slowly pour in 1/2 cup of the hot mixture into the egg mixture while whisking vigorously. Immediately pour this mixture back into the saucepan, whisking the entire time. Cook 2 minutes more.
Stir in frozen peas, drained pimientos, and cooked chicken and let heat through, 2 to 3 minutes.
Serve hot over cooked rice, pasta, toast, or biscuits.
Serves 4