Chef K's Dutch Apple Pear Pie with Chilies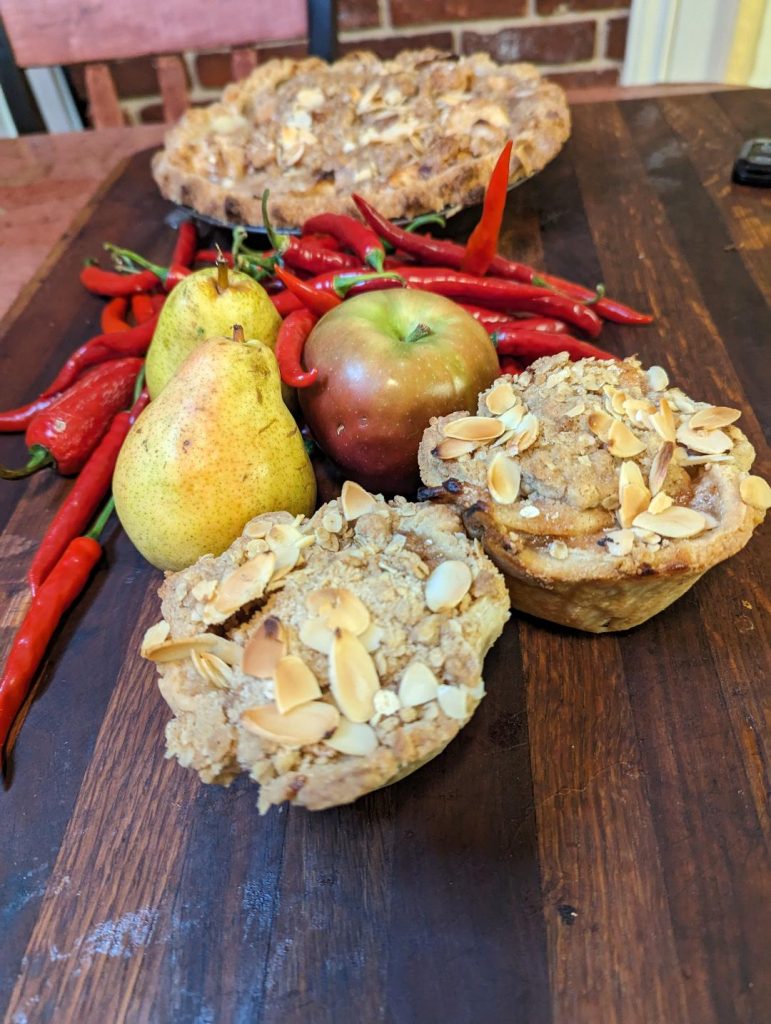 Pumpkin Spice Blend
Ingredients
3 tbsp. ground cinnamon
2 tbsp. ground ginger
2 tsp. nutmeg
1 1/2 tsp. ground allspice
1 1/2 tsp. ground cloves
Directions
Step 1: Combine spices in a bowl and mix well.
Step 2: Spoon into a jar or shaker and store.
Chili Pepper Jelly
Ingredients
2 ½ cups finely chopped red bell peppers
1 ¼ cups finely chopped red chili peppers (depending on how hot, see note )
¼ cup finely chopped jalapeno peppers
1 cup apple, pear or pineapple cider vinegar
1 (1.75 ounce) package powdered pectin
5 cups white sugar
Directions
Sterilize six 8-ounce canning jars and lids according to the manufacturer's instructions. Heat water in a hot water canner.
Place bell peppers and jalapeño peppers in a large saucepan over high heat; stir in vinegar and fruit pectin. Bring to a rolling boil, stirring constantly. Stir in sugar; bring back to a rolling boil, stirring constantly. Allow to boil for 1 minute, then remove from the heat and skim any foam off the top.
Quickly ladle jelly into sterile jars, filling to within 1/4-inch of the tops. Cover with flat lids and screw on rings tightly.
Place jars in the rack and slowly lower jars into the canner. The water should cover the jars completely and should be hot but not boiling. Bring water to a boil; cover the canner and process for 5 minutes.
Pepper heat choice note:
Mild, Range from  0-3000 SHU*: Use a choice or combination of, Aji Dulce, Albino Sweet, Anaheim, Ancho Rachero, Banana Pepper, Italian Sweet (corno di toro) Cayenne Buist, Chilaca Pepper, Corno di Toro Giallo, Coronado, Mirasol, Paprika, Pepperoncinis, Peppadew, Pimiento de Padrón, Piquillo, Purple Marconi, Sonora Chili, Tangerine Dream
Medium,  Range from  30,000-80,000 SHU*: Use a choice or combination of,  Aji Fantasy, Aji Habanero, Aji Sivri pepper, Aleppo pepper, also known as the Halaby pepper, Cascabella, Chilhuacle Amarillo, Chimayo, Cowhorn, Fresno, Hungarian Wax, Jalapeño, Paprika Kalocsa, Sucette de Provence
Hot, Range from  100,000-180,000 SHU*: Use a choice or combination of,  African Bird's Eye, Bahamian, Carolina Cayenne, Datil, Devil's Tongue, Fatalii, Habanero, Scotch Bonnet, Tabiche, Thai Birds Eye.
Very Hot, Range from  300,000-2,000,000 SHU*: Use a choice or combination of, 7-Pot Peppers, 7 Pot Primo, 7 Pot Brain Strain, Ghost Pepper (aka the Bhut Jolokia) Carolina Reaper, Dorset Naga, Dragon's Breath, Komodo Dragon, Naga Viper, New Mexico Scorpion, Trinidad Scorpion
SHU* The Scoville Heat Unit or scale,  refers to measurement of pungency (spiciness or "heat") of chili peppers and other substances, recorded in Scoville heat units (SHU) Ranges from 0 through to 16 billion.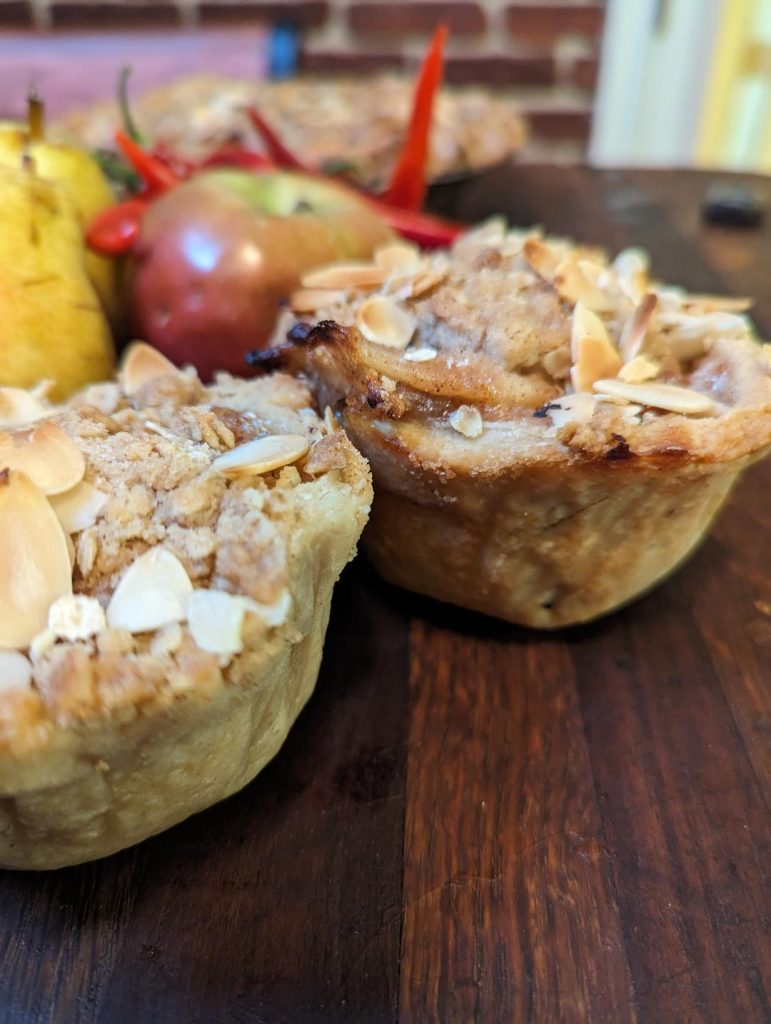 Dutch Apple Pear Chile Pepper Pie
INGREDIENTS
1 unbaked pie crust (recipe follows)
Filling
3 cups peeled and sliced pears, about 4 medium pears, peeled and cut into ½-inch thick slices
3 cups peeled and sliced apples, about 4 medium apples, peeled and cut into ½-inch thick slices
½ cup granulated sugar
4 Tablespoons all-purpose flour
1 ½ tsp Pumpkin spice (recipe above)
½ teaspoon salt
1 teaspoon lemon zest
1 Tablespoon lemon juice
¼ cup Chili Pepper Jelly (recipe above)
1 Tablespoon salted butter, cut into pieces
Streusel Topping
¼  cup all-purpose flour
¼ cup rolled oats
¼ cup brown sugar
¼ cup granulated sugar
¼ teaspoon Pumpkin spice (recipe above)
Dash of salt
4 Tablespoons salted butter melted
3 tbsp sliced almonds
1 cup caramel sauce for topping (optional)
INSTRUCTIONS
Preheat oven to 400° F. (200° C) Prepare pie crust and roll it out on a floured surface until it is slightly larger than your pie plate. Carefully transfer the crust to the bottom of a 9-inch pie dish. Tuck the edges under and finish them with a decorative crimp, unless you want to add a braided crust around the edges or use another finishing style. Set aside in the fridge while you work on the filling.
Peel and slice the pears and apples  into ½-inch slices or chunks. Add them to a large bowl, along with the sugar, flour, nutmeg, cinnamon, salt, lemon zest, lemon juice and Chili Pepper Jelly. Gently toss to combine. Arrange the pear pie filling in the prepared pie crust and dot with pieces of butter on top.
Bake in the preheated oven for 20-25 minutes.
While pie bakes, combine in a medium bowl the ingredients for the streusel topping and stir to combine, squeezing together into small clumps with your hands if needed. Remove the pie carefully from the oven, sSprinkle the streusel topping evenly over the filling, going all the way to the edges of the pie. Sprinkle with the sliced almonds.
Continue to bake for 25-30 minutes or until the filling is bubbling around the edges and the crust and topping are golden brown. You may need to cover the edges with a pie shield or aluminum foil if they look like they are browning too quickly.
Cool completely for at least 4 hours before slicing and serving. Drizzle the slices with homemade caramel sauce before serving top with a dollop of sweetened whipped cream or with a scoop of vanilla ice cream.
Sweet Pie Crust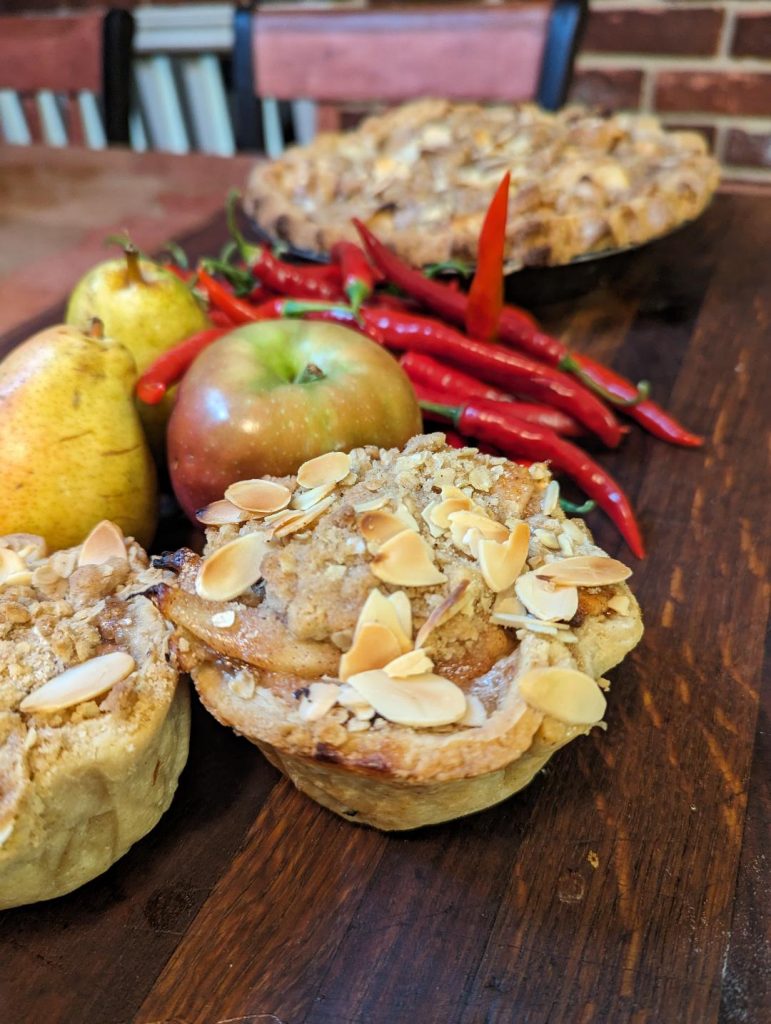 1 3/4 cups all-purpose flour
2 teaspoons granulated sugar
2 teaspoon Pumpkin spice (recipe above)
3/4 teaspoon table salt
6 tablespoons cold unsalted butter, small dice
1/4 cup shortening
1 egg
1 tablespoon white vinegar or lemon juice
2 teaspoon vanilla extract
3 to 4 tablespoons ice water
In a large bowl, mix together flour, sugar, Pumpkin spice and salt until well combined. Using clean hands, add butter and toss until just coated. Rub butter between thumb and forefingers to incorporate into flour mixture until butter is in pea-sized pieces and comes together in quarter-sized clumps when squeezed in palm, about 2 minutes. Add shortening, toss until just coated in flour, then rub into flour mixture until mixture forms pea-size pieces (some big chunks should remain) and comes together in fist-sized clumps when squeezed, about 1 minute.
Mix the egg, vinegar and vanilla extract together,  drizzle into the pie mixture and rake through mixture with fingers until just moistened. Drizzle in remaining water 1 tablespoon at a time and comb through mixture with fingers to moisten. It will go from being a shaggy mess to coming together. Dough is moist enough when it is moistened through but is not wet when pressed. (Do not overwork the dough or it will become tough.)
While rotating the bowl with 1 hand, push dough between other palm and side of bowl to gather into a ball. Turn dough onto a piece of plastic wrap, press it into a flat disk, then close in wrap. Place in coldest part of refrigerator (usually back bottom shelf) at least 30 minutes before rolling out and forming into a crust. Refrigerte while you prepare the filling.