The Keto Diet is the rage of late, a revamped Dr. Hay diet of the mid 1800's, which became popular again during the Dr. Atkins years, 1980-90's. The ketogenic diet is a very low-carb, high-fat diet that shares many of the same weight loss benefits of those of the the two doctors.
Instead of focusing on calories, the counting is on the amount of carbs (carbohydrates) consumed, keeping these to under 30-50 grams per day, this reduction in carbs puts your body into a metabolic state called ketosis, the state in which "fat's" provides most of the fuel for the body. when the blood sugars (glucose) is limited as the main source of body fuel. Therefore elimination of those foods we crave is absolutely required, food that are white (breads, potatoes, rice, pasta) is but the beginning, all candies, most chocolate, most grains, soft drinks including diet ones (more on those later), and unfortunately most fruit. This may take some time, but with a great desire and a "you can do it attitude" you can achieve ketosis. When you do you find your weight will drop, some times very quickly, you will have more energy, sleep better, just be better all around.
Over the next little while I will post little bits on the diet, as well as some helpful recipes to assist you along the way, today we will begin with a great simple salad dressing that you will want to keep, you will find we use it for much more than dressing veggies.  So look here again tomorrow for our next addition.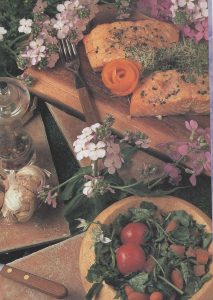 Grilled Salmon Keto
Ingredients:
4 salmon fillets (6 -7 ounces each), skin on
1/3 cup Chef K's Keto Salad Dressing (follows)
1 tbsp chopped dills, and Fresh dill sprigs to garnish
Salt & pepper to taste
Preparation:
Place the fish in shallow pan, pour the Chef K's Keto Salad dressing over, refrigerate for 3-4 hours.
Prepare barbecue grill:
When the coals are glowing, place fish (skin side down) on grill rack and brush with the marinade liquid.
Close grill cover and grill for 10 minutes without touching the fish.Season to taste with salt and pepper and add the chopped dill. Place each fillet in the center of a heated plate and decorate with a sprig of dill. Serve with more of the Chef K's Keto Salad Dressing in a sauce boat.
Serves 4
Nutrition Facts  Serving Size: 1 serving (6oz)
Amount Per Serving
Calories from Fat 140                                                      Calories 290
% Daily Values*
Total Fat 16g                                                                     25%
Saturated Fat 2.5g                                                          12%
Trans Fat 0g
Cholesterol  105mg                                                          35%
Sodium 190mg                                                                 8%
Total Carbohydrate 1g                                                    1%
Dietary Fiber 0g                                                              0%
Sugars 0g
Protein 36g
Chef K's Keto Style Salad Dressing
Ingredients
3/4 cup salad oil
2 tbsp balsamic vinegar
2 tbsp lemon juice
2 tbsp water
2 cloves garlic
1 tsp Worcestershire sauce
1 tsp Dijon mustard
1 tsp Stevia sweetener
2 tsp each fresh minced basil, thyme, oregano leaves (or, ½ tsp each of dried)
½  tsp salt
¼ tsp pepper
½ tsp xanthan gum
Instructions
Making A Salad Dressing With An Immersion Blender:
Add all of the ingredients to a jar and blend until thick and emulsified.
Whisking By Hand:
Mince the garlic, sprinkle with a little salt and by angling the knife, work the garlic and salt together against the cutting board until it forms a paste. Place the garlic paste, Worcestershire sauce, and mustard in a bowl and whisk together. Add either the lemon juice or vinegar and whisk again.
Begin adding the oil, a few drops at a time, and whisk until completely incorporated before adding any more. This process takes a long time. As the dressing begins to emulsify, you can add the oil a little faster.
When you've added 1/2 of the oil, add another tbsp of vinegar or lemon juice. Continue slowly adding 1/2 of the remaining oil, waiting until completely incorporated before adding more. Then, add the remaining vinegar or lemon juice. Add the last of the oil in a thin stream while whisking and then the remainder of the ingredients, finaly whisk in the xantham gum, whisk to very smooth.
Refrigerate dressing, use as required. Yields 1 cup with a serving size of approximately 3 tablespoons.
*Xanthan gum is an all-natural product that can add an emulsification to salad dressing, making it smoother, and keeping the ingredients of herbs and spices evenly distributed while helping the dressing to cling well to the salad. Smoothness and thickness are also positive results of adding xanthan gum to your salad dressing recipe.
Nutrition Facts
Chef K's Keto Salad Dressing Recipe
Amount Per Serving (1 Tablespoons)
Calories 82                                                          Calories from Fat 82
% Daily Value*
Total Fat 9g                                                         42%
Sodium 65mg                                                     8%
Total Carbohydrates 0.3g                              0%