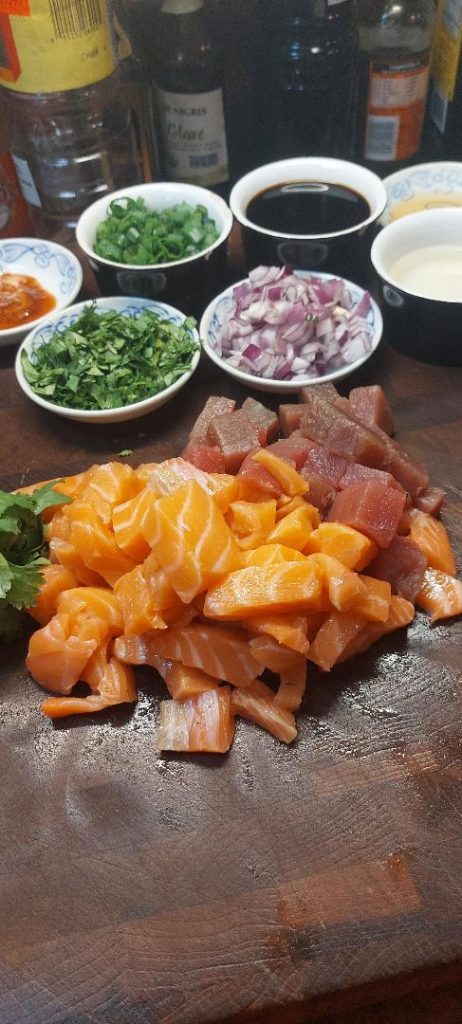 Poke (pronounced poh-kay, rhymes with okay) literally means "to cut crosswise into pieces." It's a simple dish made of chopped seafood, generally tuna, marinated in soy sauchttps://youtu.be/52oTdXZukBwe and sesame oil, and mixed with onion. It's believed that poke was first prepared by native Polynesians centuries before Western travelers arrived on the islands. Initially, it was made with raw reef fish, seasoned with sea salt and seaweed, and combined with crushed kukui nut (the candlenut). Salting of the fish was for both flavor and more importantly, preserving the fish. Poke doesn't necessarily have to be tuna or even seafood, nor does it have to be raw or cubed. Cubed avocado is sometimes used. Classic poke is still raw ahi tuna or cured octopus, known as he'e in the Aloha State, although salmon is the most popular served Poke it is not classic poke..
Poke Lettuce Wraps
Poke Ingredients
1 1/2 pounds sashimi grade Ahi tuna steaks
1 sliced Maui onions
1/2 cup chopped green onion
3 tablespoons soy sauce a gluten free brand
1 teaspoon minced garlic
1 tsp minced ginger
1 teaspoon sesame oil
1 teaspoon chili garlic sauce
1 tablespoon sesame seeds
To Serve
1 head butter lettuce, rinsed and leaves separated
1 cup cooked white rice
½ cucumber, seeded and Julienned or diced
½ Red or Yellow bell pepper Julienned or diced
6 oz small shrimp (31-40 ct) peeled, de-veined and poached in court bouillon
Sesame seeds, for garnish
Instructions
Pat the Ahi tuna dry, then neatly cut it into small 1/2-inch cubes. Place in a bowl.
Add the shallots, green onion, soy sauce, garlic, ginger, sesame oil, chili garlic sauce, and sesame seeds.
Gently toss. Serve immediately or cover and refrigerate up to 4 hours.
To Serve
Fill each lettuce cup with a tiny bit of rice and a small mound of Poke. Then top with the remaining cucumber, bell pepper, guacamole, and pickle onion. Sprinkle with sesame seeds.
Serve the lettuce wraps with dipping sauce!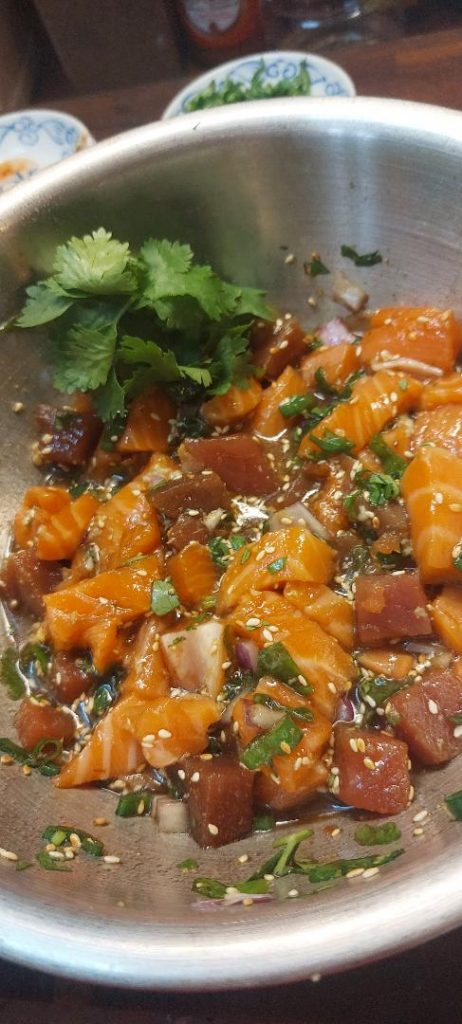 POKE RICE ROLL
Ingredients
6 sheets sushi seaweed aka nori
1 batch prepared sushi rice (follows)
1/2 lb Poke (see above)
4 oz cream cheese sliced into strips
½ cucumber, seeded and Julienned or diced
½ Red or Yellow bell pepper Julienned or diced
Guacamole (see below)
Pickle onion (below)
Soy sauce for serving
Instructions
Place the seaweed on a bamboo mat, then cover the sheet of seaweed with an even layer of prepared sushi rice. Smooth gently with a rice paddle.
Layer poke, cream cheese, cucumber, bell pepper and guacamole, pickle onion on the rice, and roll it up tightly. Slice with a very sharp knife, and enjoy right away with soy sauce.
Sushi Rice
Ingredients
1 cup uncooked glutinous white rice (sushi rice)
1 ½ cups water
¼ cup rice vinegar
2 teaspoons vegetable oil
2 tablespoons white sugar
½ teaspoon salt
Directions
Gather all ingredients. Rinse the rice in a strainer or colander under cold running water until the water runs clear.
Combine rice and water in a saucepan over medium-high heat and bring to a boil. Reduce heat to low, cover, and cook until rice is tender and all water has been absorbed, about 20 minutes. Remove from stove and set aside until cool enough to handle.
Meanwhile, combine rice vinegar, oil, sugar, and salt in a small saucepan over medium heat. Cook until the sugar has dissolved. Allow to cool, and then stir into the cooked rice. While mixture will appear very wet at first, keep stirring with a rice paddle and rice will dry as it cools.
QUICK ONION PICKLE
Ingredients
1 medium red onion, very thinly sliced
½ cup water
¼ cup distilled white vinegar
¼ cup apple cider vinegar
2 tablespoons Monk Fruit sugar
1 ½ teaspoons fine sea salt
¼ teaspoon red pepper flakes (optional, for heat)
Instructions
Pack the onions into a clean and sterile 1-pint Mason jar or similar heat-safe vessel. Place the jar in the sink, to catch any splashes of hot vinegar later.
In a small saucepan, combine the water, the vinegars, monk fruit sugar, salt, and pepper flakes. Bring the mixture to a gentle simmer over medium heat, and then carefully pour the mixture into the jar over the onions.
Use a spoon to press the onions down into the vinegar and pop any air bubbles in the jar. Let the pickled onions cool to room temperature (about 20 to 30 minutes), at which point they should be sufficiently pickled for serving.
Cover and refrigerate leftover pickled onions for later. Quick-pickled onions are best consumed within three days, but they keep for 2 to 3 weeks in the refrigerator.
GUACAMOLE
Ingredients
3 large ripe avocados, peeled, pitted, and diced
1 large jalapeño, cored and finely-diced
half a small red onion, finely diced
juice of 1 lime (about 2 tablespoons)
1 cup diced tomatoes (I used cherry tomatoes)
2/3 cup chopped fresh cilantro, loosely packed
1/2 teaspoon kosher salt, or more to taste
1/4 teaspoon ground cumin
Instructions
Combine. Add the avocados, jalapeno, red onion, lime juice, tomatoes, and cilantro to a large bowl. Sprinkle evenly with salt and cumin.
Toss and season. Gently toss until combined. Taste and season with extra salt if needed.
Serve. Serve immediately and enjoy!
DIPPING SAUCE
Ingredients
¼ cup white vinegar
¼ cup fish sauce
2 tablespoons white sugar
2 tablespoons lime juice
1 clove garlic, minced
¼ teaspoon red pepper flakes
Instructions
Whisk vinegar, fish sauce, sugar, lime juice, garlic, and red pepper flakes together in a small bowl. Set the dipping sauce aside.
Life Lesson The Fish Told Me
1) Just keep swimming. At times the only way out of most things is to go through them, so just keep putting one foot in front of the other in the good times and bad. Psalms 23:4 TPT Even when your path takes me through the valley of deepest darkness, fear will never conquer me, for you already have! Your authority is my strength and my peace. The comfort of your love takes away my fear. I'll never be lonely, for you are near.
2) Be Flexible and Adaptable Salmon are one of the few fish that can live in both fresh and salt water. Salmon are born in fresh water, migrate to the ocean where they spend much of their adulthood, and then return to the place of their birth to spawn. Strive to cultivate the ability to thrive in different environments. Philippians 4:11-12-13 TPT I'm not telling you this because I'm in need, for I have learned to be satisfied in any circumstance. I know what it means to lack, and I know what it means to experience overwhelming abundance. For I'm trained in the secret of overcoming all things, whether in fullness or in hunger. And I find that the strength of Christ's explosive power infuses me to conquer every difficulty.
3) Stay Observant and Hone Your Senses No matter how far away a salmon has ventured from their original place of birth, they are always able to find their way back for spawning season. It is believed that their acute sense of smell is what assists them in tracing their way back, in some cases thousands of miles. Fine tune your own senses and observational skills to become even more efficient and effective in life. Proverbs 3:5-6 (KJV) Trust in the Lord with all thine heart; and lean not unto thine own understanding. 6 In all thy ways acknowledge him, and he shall direct thy paths.
4) Fuel Up Before a Journey Some salmon travel up to 3,500 miles to spawn, and they fuel their efforts from food that they ate before embarking upon their epic journey. They actually do not eat at all during the trip as they make their way toward their destination. Isaiah 43:16-19 (KJV) Thus saith the Lord, which maketh a way in the sea, and a path in the mighty waters; 17 Which bringeth forth the chariot and horse, the army and the power; they shall lie down together, they shall not rise: they are extinct, they are quenched as tow. 18 Remember ye not the former things, neither consider the things of old. 19 Behold, I will do a new thing; now it shall spring forth; shall ye not know it? I will even make a way in the wilderness, and rivers in the desert.
5) Don't Give Up Salmon are known for their ability to persevere through challenging conditions and rushing waters that are flowing against them. Fish do travel over Niagara Falls. The Horseshoe Falls have167 feet (50.9 meters) drop plus a 100 foot (35 meters) deep pool at the bottom.  While fish can avoid the falls by staying upriver more, there are some that get caught up in the rapids at the top of the falls. The water in the rapids is moving at speeds of 25 mph (40 km) so once a fish gets caught up in that they are along for the ride. Once the water reaches the falls it can get as fast as 68 mph (!!0 Km) Isaiah 41:10 (GNT) Do not be afraid—I am with you! I am your God—let nothing terrify you! I will make you strong and help you; I will protect you and save you.