Cherry Blueberry Filling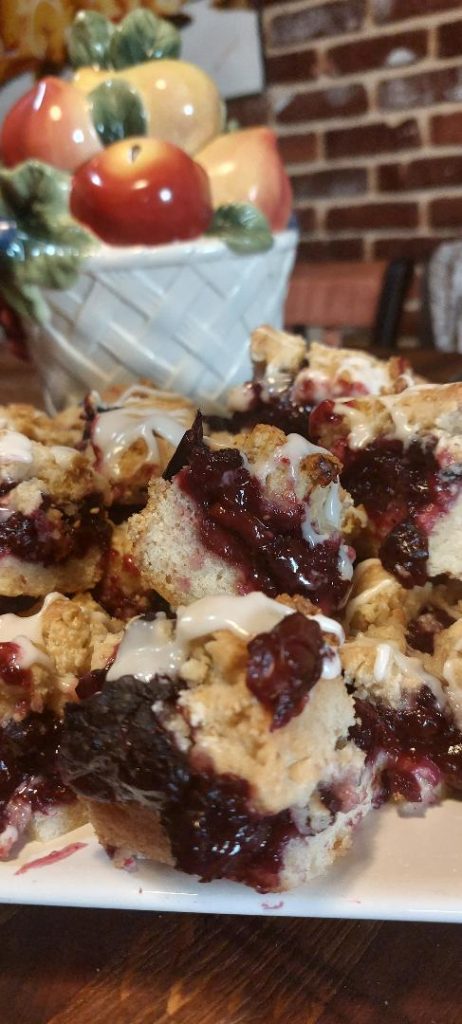 Ingredients
3 cups fresh pitted cherries (use canned or frozen, reserved liquid from the canned)
3 cups fresh blueberries
1/2 cup water or reserved liquid from canned
2 tablespoons freshly squeezed lemon juice
2/3 cup granulated sugar
4 tablespoons cornstarch
1/4 teaspoon vanilla extract
Instructions
In a saucepan over medium heat, combine cherries, blueberries, water, lemon juice, sugar and cornstarch.
Bring to a boil; reduce heat to low and cook, stirring frequently, for about 10 minutes.
If using, stir in the extract. Cool slightly before using.
Squares
1 batch homemade cherry/blueberry pie filling (above, about 4 cups)
1 cup unsalted butter (2 sticks), softened to room temperature
1 ½ cups granulated sugar
4 large eggs at room temperature
1 teaspoon pure vanilla extract
1 teaspoon baking powder
1 teaspoon kosher salt
3 ½ cups pastry flour or (substitute all purpose flour)
2/3 cup crushed cashews
For the Glaze:
1/2 cup powdered sugar
1/4 teaspoon pure almond extract
1 tablespoon milk
Preheat the oven to 350°F 180°C). Lightly grease an 9 ½ x 13 ½ or 2, 8×8-inch pans with cooking spray, line with parchment paper (so that you have some overhanging two sides), then lightly grease again. Set aside.
In the bowl of a stand mixer fitted with the paddle attachment or a large mixing bowl, beat the butter and sugar at medium speed until light and creamy, about 2 minutes.
Add the eggs one at a time, beating between each addition, then beat in the vanilla extract.
Sprinkle the baking powder and salt over the top, then mix to combine. Reduce the mixer speed to low and, with the mixer running, slowly add in the flour, mixing just until it disappears. Stop to scrape down the bowl as needed to make sure the ingredients are evenly blended. The dough will be very moist and sticky.
Reserve 1/2 cup of the dough for the topping, then scrape the remaining dough into the bottom of the prepared dish. With a knife, the back of a spoon, or an offset spatula, spread the dough into an even layer, smoothing it all the way into the corners. The layer will seem thin, but it will rise and thicken as it bakes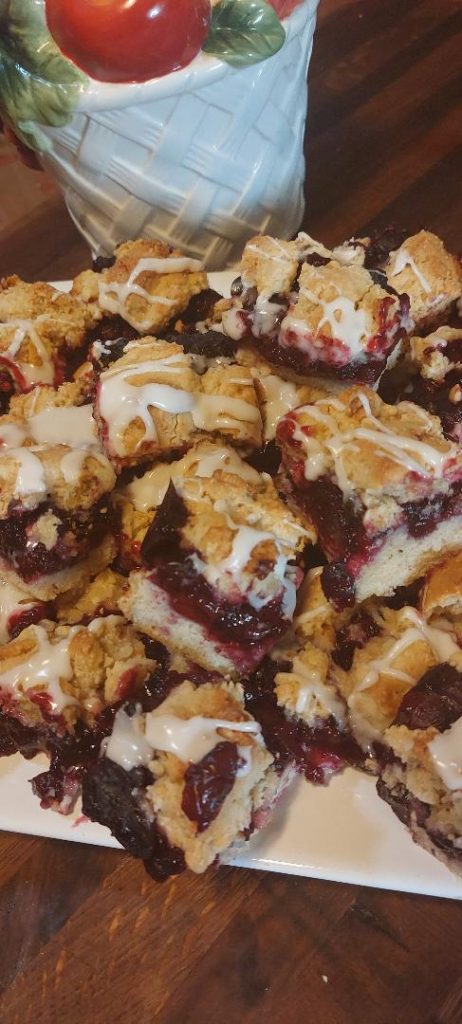 Mix the crushed cashews into the reserved dough, and mix to combine. Set aside.
Spoon prepared pie filling (make sure it's cool) over the top of the bottom layer. Spread it into an even layer, then drop small spoonfuls of the reserved dough with the cashews over the top of the bars. Some of the cherry pie filling will show through.
Bake for 50 to 55 minutes, until lightly golden on top and set. Place the pan on a wire rack and let cool completely. To remove the bars from the pan, use a dull knife to loosen the sides, then gently lift them out using the overhanging parchment paper.
To make the glaze, whisk together the powdered sugar, almond extract, and milk until smooth. Drizzle over the bars, slice, and serve.