+
The people of Indiana produce more than 1 billion tons of corn each year. They have been called Hoosiers, but why, there is great uncertainty to this, some say Gov. Joseph Wright derived Hoosier from an Indian word for corn, "hoosa." Perhaps it was that Indiana flat boatmen taking corn (maize) to New Orleans came to be known as "hoosa men" or Hoosiers. However if you researched the name in Indian vocabularies you would fail to find any such word for corn.
You will require:
Corn: on the cob is best so you can utilize the kernels and the corn milk from the husks. Remove any of the silk from the corn, a brush does this nicely. Here's a tip, keep the silk, flash fry it for a cotton candy like garnish, not much flavor but nice to add as a garnish, poach a quail egg and nest it inside for a cute surprise.
Potatoes: we use Yukon gold potatoes for their tender waxy texture which is perfect for a chowder.
Carrot, Celery, and Onion: this is called a mirepoix, special flavoring trio, critical to adding flavor and used in just about every soup, stock, broth foundational  recipe.
Bacon: Frying the bacon then cooking the veggies in the bacon grease adds wonderful flavor and be sure set some aside to garnish the soup.
Chicken Broth, & Cream: These are the base of the corn stock. Simmer the shucked cobbs in in your broth and/or milk for a delicious chowder base. When fresh corn is not in season, (I like peaches and Cream corn best) you can use a good quality frozen products, try to stay away from any canned corn as the flavor is not great.
Serve With: Corn Bread, Soft Dinner Rolls, Sourdough Bread, (recipes from our Divine Cuisine, Bread for Living, Bread for Life cookbook follow).
Corn and/or Chicken Chowder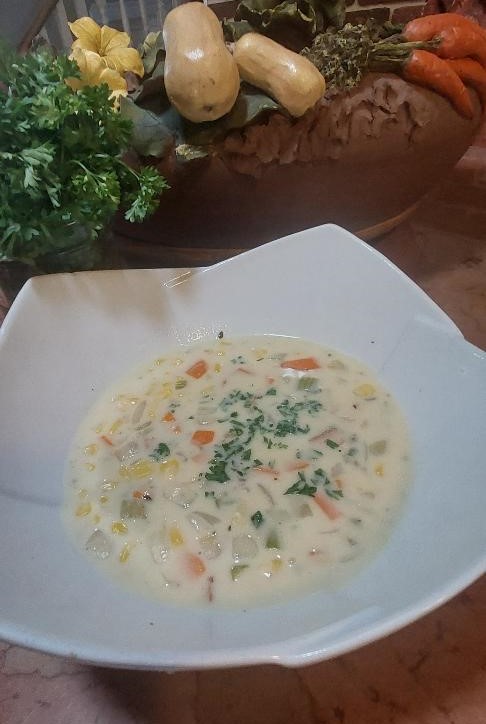 Serves 6
2 tbsp.         30 ml            bacon fat
2 tbsp.          30 ml           butter
1                      1                    onion
4                     4                    potatoes
2                     2                    carrots, diced
2                     2                     celery stalks, diced
1 cup              250 ml          corn kernels, frozen
1/4 cup          60 ml            flour
4 cups            1 L                 chicken stock
2 cups             500 ml         heavy cream
2 cups             500 ml         chicken cooked and diced (if using)
1 tbsp.             15 ml             parsley flakes
Melt the bacon fat and butter in a saucepan.  Add the vegetables and sauté the vegetables until tender.
Add the flour and stir into a paste (roux). Reduce the heat and cook for 3 minutes, stirring often.
Add the stock and bring to a boil, reduce the heat to low and simmer 30 minutes.  Add chicken (if using) and the cream and simmer 5 more minutes.
Taste and adjust the seasoning by adding salt and pepper if required. Sprinkle with parsley and serve.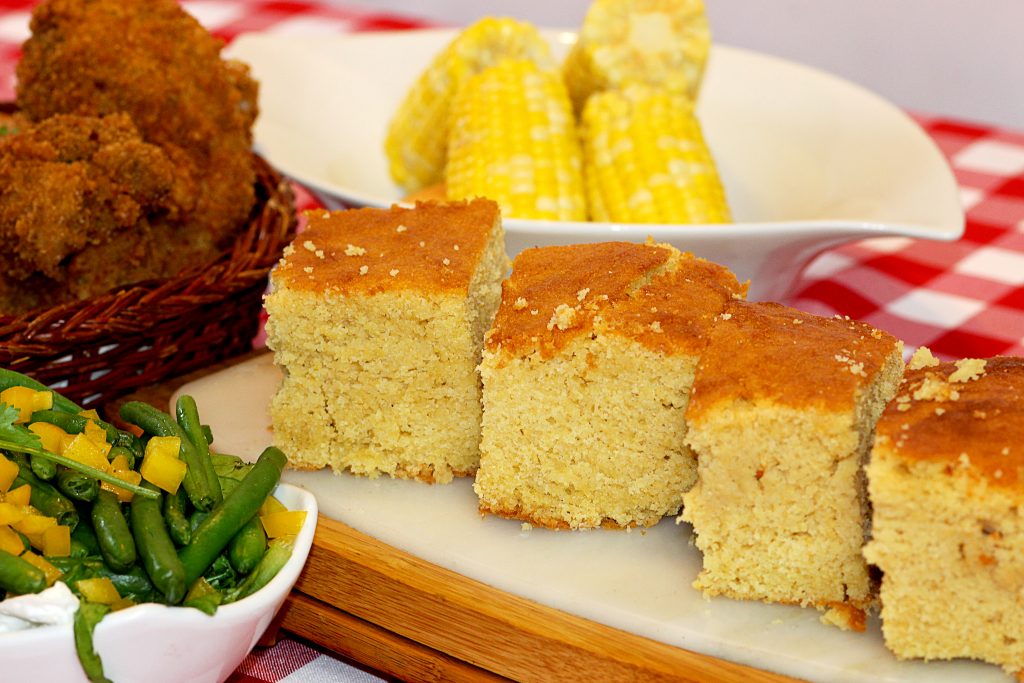 Super Moist Cornbread
Ingredients
9 oz.                              250 g               all purpose flour (2 cups)
5.5 oz.                          160 g               cornmeal (1 cup)
7 oz.                              190 g               sugar (1 cup)
0.75 oz.                        22g                  baking powder (1½ Tbsp.)
0.20 oz.                        5 g                    kosher salt (1 tsp)
4 oz.                              120 g               butter, melted (½ cup)
4 oz.                              120 ml            vegetable oil (½ cup)
10 oz.                           310 ml            milk (1¼ cups)
6 oz.                              90 g                 large eggs (3)
Honey and extra butter for serving optional
Instructions
Preheat oven to 350°F (180°C) then butter and flour dust a 9×13" (22.5×32.5 cm) baking pan.
In a large mixing bowl whisk together the flour, cornmeal, sugar, baking powder, and salt.
In a medium mixing bowl mix together butter, oil, milk, and eggs.
Add wet ingredients to dry ingredients and mix until just combined (do not over mix.)
Scoop the batter into the prepared pan. Bake for 35-45 minutes until golden and a toothpick inserted in the middle comes out clean.
Allow to cool for 15-20 minutes in the pan before cutting into squares and serving. Serve with butter and honey and the chicken (recipe follows). Keep in airtight container at room temperature, up to 3 days or in the refrigerator for 1 week.
Yields 1 loaf
Soft Dinner Rolls
Ingredients
12 oz.                           375 ml            whole milk warmed to 110°F (43°C)
2 oz.                              60 g                 unsalted butter melted (4 tbsp.)
0.33 oz.                        9 g                    active dry yeast (1½ tbsp.)
2.3 oz.                          65 g                 granulated sugar (⅓ cup)
0.2 oz.                          5 g                    kosher salt (1 tsp)
17 oz.                           475 g               all-purpose flour, more may be needed (4 cups)
1 oz.                              30 g                 butter melted to brush the tops (2 tbsp.)
Instructions
In a small mixing bowl, combine warm milk, melted butter, salt, sugar and yeast. Whisk everything together and let it sit for about 5 minutes.
Pour the liquids into a stand mixers mixing bowl, and add flour in small portions until the dough is no longer sticky.
Knead the dough with the dough hook in the stand mixer for 2 minutes, or. knead by hand (10-12 min), then place dough in an oiled bowl. Cover it with a clean damp towel and let it rise for about an hour in a warm place.
Once the dough rises, remove it from the bowl and cut it into 24 even pieces. Shape each piece into a round shape and place them on an oiled baking sheet next to each other.
Cover the dinner rolls with a damp kitchen towel, allow them proof for another 30 minutes in a warm place until puffed then bake in a preheated 350°F (180°C) oven for about 20 minutes or until the tops are golden brown.
Immediately brush tops with melted butter and set aside to cool to room temperature before serving.
Yields 2 dozen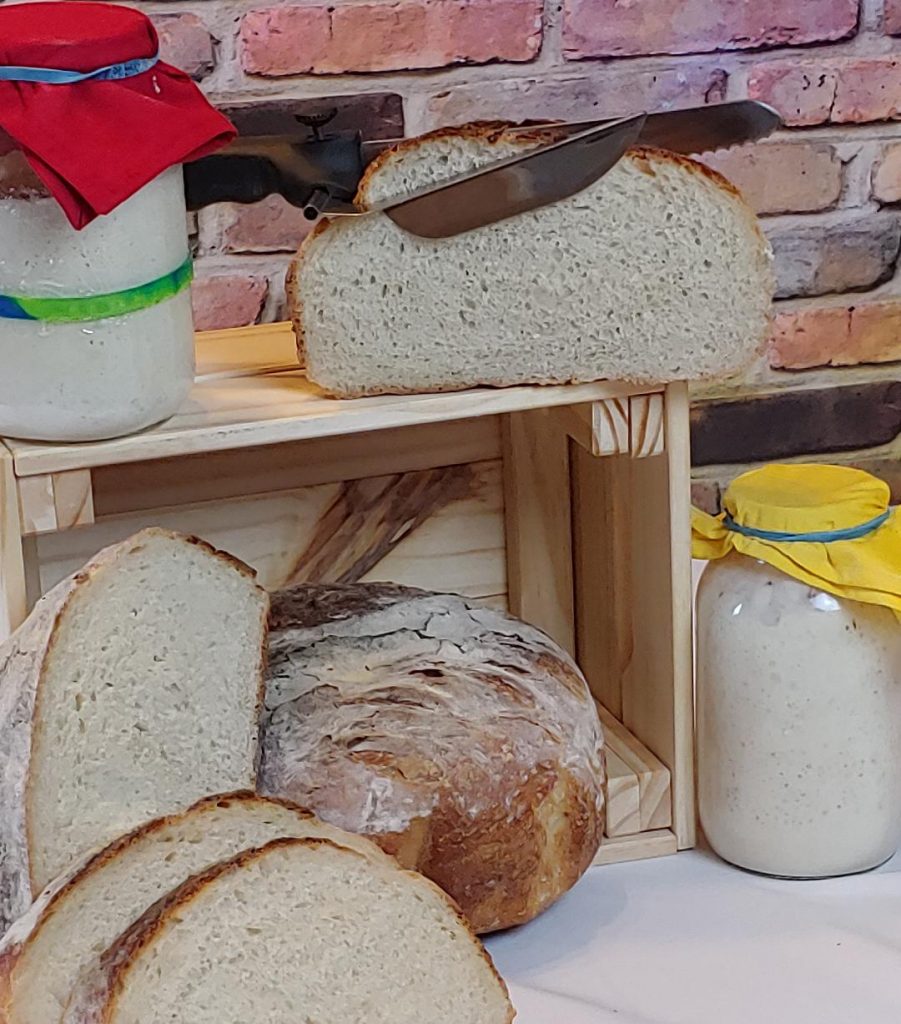 Sourdough Bread
17-21 oz.                     476-588 g      bread flour or unbleached all-purpose flour (4-5 cups)
12.5 oz.                        355g                warm water (1 ½ cups)
6 oz.                              170 g               active sourdough starter (¾ cup)
0.75 oz.                        21 g                 honey (1 tbsp.)
0.2 oz.                          6 g                    salt (1 tsp)
INSTRUCTIONS
Begin by mixing 3 cups of the flour with the water and the starter (a stage called Autolysis), cover with plastic wrap, and then set aside for 45 minutes.
Mix the in the remaining flour and honey together in the bowl of a stand mixer with dough hook.
Turn the mixer on 1-2 (never higher than 2 or medium-low) and let the mixer knead the dough for about 5 minutes. The dough will be sticky and doesn't quite form a ball. (If making by hand, knead for about 10 minutes.)
Turn off the mixer and scrape the dough into a medium bowl that has been lightly coated with oil. Cover with plastic and set aside for about 2½- 3 hours while the dough rises, double in size.
After 3 hours, turn the dough out on a lightly flour dusted clean surface. Press the dough down with your fingers, then start pulling up the sides and pressing into the center. Sprinkle with the salt and gently start folding the dough, lift one side over the other sides. Turn the dough 90° and repeat the fold. Fold the ends together and roll the dough into a ball.
Return to a lightly oiled bowl, cover again and let it rise for an additional 2-3 hours. (This will depend on the temperature of your home. A warmer kitchen will need less time.) Repeat the folding process, then place into the oil bowl, now refrigerate for 8-12 hours.
After the refrigeration, lightly dust your clean countertop again with flour. Press the dough down with your fingers, then start pulling up the sides and pressing into the center. You may need to add more flour as this can be a loose dough. Keep pulling up the sides and pressing into the center, then flip the dough over. The top should be smooth. Dust with more flour and set the dough onto a piece of parchment paper or into a bannon.
Place a Dutch oven with the lid into a cold oven and heat to 450°F (230°C). Once heated, carefully remove the hot Dutch oven from the oven. Remove the lid pick up the parchment paper with both hands and place inside the Dutch oven. Apply a few sprays of water to the top, using a very sharp knife or razor blade, cut a few slashes into the dough, and carefully replace the lid.
Place back into the oven and bake for 20 minutes.
After 20 minutes, carefully remove the lid, apply a few more sprays of water, (do not replace the lid) continue bake an additional 20 minutes, or until the top is nicely golden brown, check the temperature with an insert thermometer that reads 190°F (87°C) or when you tap on the top the bread it will sound hollow.
Turn the oven off and prop open the oven door; leave the bread alone for about 15-20 minutes. Cool to room temperature before slicing.
Yields 2 loaves
Fun Corn Facts from Incorn.org: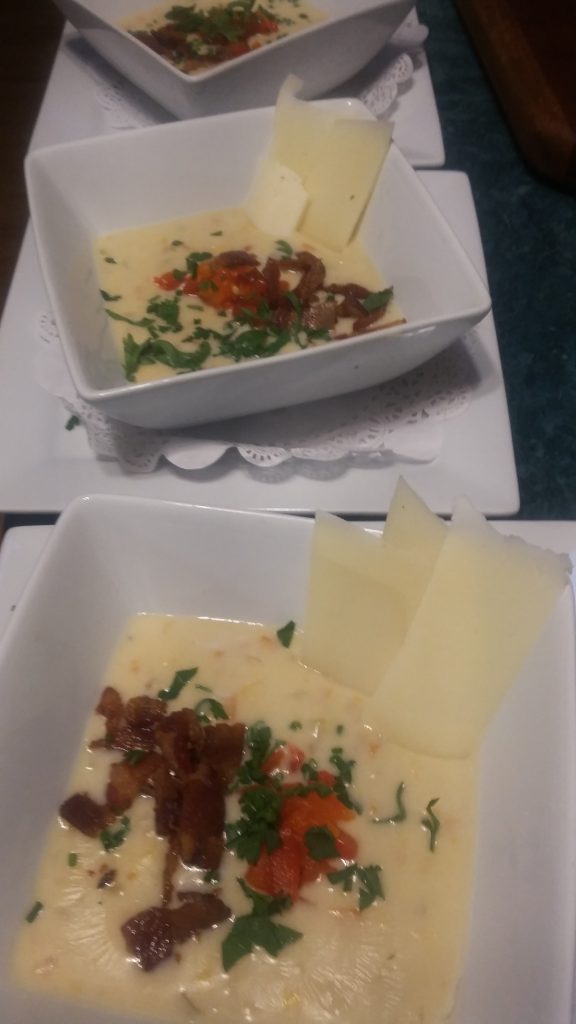 There are over 3,500 uses for corn
75% of all grocery items contain corn in some form
Corn is beneficial to the environment as it absorbs carbon dioxide and gives off oxygen – just like a rain forest
The average ear of corn has 800 kernels, arranged in 16 rows. One pound of corn contains approximately 1,300 kernels
One bushel of corn is 56 pounds
Corn production in the U.S.:
Family farmers grow 90% of America's corn
Farmers today grow five times more corn than they did in the 1930s and on 20% less land
In the 1930s, a farmer could harvest an average of 100 bushels of corn by hand in a 9-hour day. Today's combines can harvest 900 bushels of corn per hour – that's 100 bushels in less than seven minutes
Corn production in Indiana:
Indiana ranks fifth in the nation for corn production
The corn you commonly see in Indiana farm fields is not sweet corn – the kind you eat from the cob or from a can. Most of the corn grown in Indiana is used to feed pigs, cows and chickens