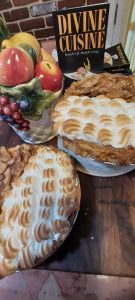 Pie Ingredients
1 1/2 cups flour
1/2 teaspoon salt
3/4 cup (1 1/2 stick's) unsalted butter, cut into small pieces, chilled or frozen
4 to 6 tablespoons ice cold water
Preheat the oven to 425°F (210°C).
In a mixing bowl, mix together the flour and the salt; cut or work the butter into the flour with your fingers or a pastry blender until you have large pea sized chunks scattered throughout. Alternatively, pulse the dough in a food processor, or mix in a stand mixer with the paddle attachment on low speed.
Add the ice water slowly while stirring with a fork, or in the food processor or mixer, until just combined. Be careful not to overwork the dough. Divide the dough into two disks, flatten and refrigerate each for at least 15 minutes.
Roll out one chilled pie dough to fit two 9-inch pie plates.
Filling 1
Ingredients
4 cups pitted cherries if frozen, thaw
1 cup granulated sugar *
2 tablespoons lemon juice
¼ cup cornstarch
⅛ Teaspoon cinnamon optional
To make a cherry pie
2 prepared pie crusts top and bottom
1 tablespoon granulated sugar optional
Instructions
In a saucepan over medium heat, add cherries, granulated sugar, lemon juice, cornstarch, and cinnamon. Stir to combine.
If your cherries are not very juicy, you may want to add water (from a few tablespoons to ½ cup depending on your fruit) to thin your sauce.
Bring to a boil. Reduce heat to medium-low and cook for 8-10 minutes, or until mixture has thickened (If your mixture is sticking to the pan, turn the heat down to low and add a splash of water). Remove from heat and allow to cool slightly.
Filling 2
3/4 cup sugar
1/3 cup flour
1/4 teaspoon salt
4 egg yolks
2 cups whole milk
2 tablespoons butter
1 1/2 teaspoons pure vanilla extract or 1 vanilla bean split in half lengthwise and seeds scraped
Directions
In a heavy-bottomed medium saucepan, mix together sugar, flour, and salt.
In a separate mixing bowl, beat together the egg yolks and milk. Whisk the egg mixture into the dry ingredients in the saucepan. Continue whisking over low heat until the mixture coats the back of a spoon and is smooth and thick.
Remove from the heat and stir in the butter and vanilla.
Allow the mixture to cool and pour into the baked pie shell. Chill the pie completely and top with fresh whipped cream or other desired topping.
Meringue
4 large egg whites room temperature
½ teaspoon cream of tartar
⅛ teaspoon salt
1 cup granulated sugar (super fine)
1 teaspoon vanilla extract
Combine egg whites, cream of tartar, and salt in a large, completely clean, completely grease-free bowl.
Using an electric mixer or a stand mixer (with either the whisk attachment), stir on low speed until mixture becomes foamy.
Increase speed to high.
With mixer on high, gradually add the sugar, about 1 Tablespoon at a time, stirring after each addition until sugar is dissolved (about 15-20 seconds between each addition).
Beat until mixture is thick, shiny, and has increased in volume. Mixture should have stiff peaks and sugar should be completely dissolved (you can test this by rubbing a small bit of the mixture between your fingers, if it feels gritty, the sugar isn't dissolved
Stir in vanilla extract and any other extract you may like to use.  If using food coloring, add the food coloring at this stage, too.
Baking pie
Preheat oven to 425°F (210°C). Place prepared pie crust on a baking sheet. Fill half the shell with cherry pie filling, then place a parchment paper round on top of the pie filling, cover that with a piece of foil wrap. Pinch the edges closed, and then make a slit in the middle of the pie for steam to escape.
Bake for 15 minutes, reduce the heat to 375°F (190°C) 30-40 minutes, then remove from oven to cool.
While pie cools, make the second filling, spoon over the cooled pie, refrigerate.
Fit a large disposable piping bag with a large tip (large star tip will work) and transfer meringue to prepared piping bag and pipe onto 2/3rd's chilled pie, cover the remaining 1/3rd with parchment paper. Bake on 400°F (200°C) until golden brown. Garnish with pie cutouts. Chill in refrigerator.
Yields 2 pies, serves 6-8  each pie