Greek "Horiatiki"Salad  with Blackend Salmon and Garlic Shrimp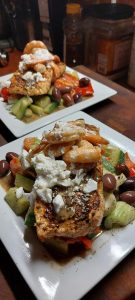 For 4
Ingredients
Dressing
¼ cup extra-virgin olive oil
3 tablespoons balsamic vinegar
1 tablespoon lemon juice
1 garlic clove, minced
½ teaspoon dried oregano, more for sprinkling
¼ teaspoon Dijon mustard
¼ teaspoon sea salt
Freshly ground black pepper
For the salad
1 English cucumber, cut lengthwise, seeded, and sliced ¼-inch thick
1 red bell pepper, chopped into 1-inch pieces
2 cups diced Roma tomatoes
1 cup diced celery
⅓ cup thinly sliced sweet onion
⅓ cup Kalamata olives
5 ounces feta cheese, cut into ½ inch cubes*
Instructions
Make the dressing: In a small bowl, whisk together the olive oil, vinegar, lemon juice, garlic, oregano, mustard, salt, and several grinds of pepper.
In a large mixing bowl, combine  the cucumber, red pepper, tomatoes, celery,  onions, and olives. Drizzle with the dressing and very gently toss. Sprinkle with a few generous pinches of oregano and top with the mint leaves. Season to taste and serve.
Blackened Salmon
1 1/2 tsp paprika
1/2 tsp each garlic powder, onion powder, cayenne pepper, dried thyme, dried oregano
Salt and freshly ground black pepper
4 (7 oz) salmon fillets (skinless or skin-on), about 1-inch thick
1 tablespoon olive oil
Preheat skillet: Pour oil into 12-inch cast iron skillet, tilt pan to coat with oil. Heat pan over medium heat (monitor the oil while you prep the salmon don't let it over-heat).
Season salmon: Season both sides of salmon fillets with salt and pepper.
Rub salmon with spices: In a mixing bowl whisk together paprika, garlic powder, onion powder, cayenne pepper, thyme and oregano. Sprinkle mixture evenly over tops of salmon fillets and spread evenly over to coat top surface.
Sear salmon in skillet on first side: Place salmon fillets in heated skillet spice rubbed side facing downward. Let sear until blackened on bottom, about 3 minutes.
Cook opposite side: Flip salmon to opposite side and let cook until browned on bottom and just barely cooked through, about 3 minutes longer (if needed you can reduce burner temperature to medium-low if it's getting too dark on exterior before interior cooks through).
Transfer salmon: Remove salmon to top salad.
Garlic Shrimp
Ingredients:
2 tablespoons unsalted butter
1 1/2 pounds medium shrimp, peeled and deveined
Kosher salt and freshly ground black pepper, to taste
5 cloves garlic, minced
1/4 cup salad dressing
2 tablespoons chopped fresh parsley leaves
Directions:
Melt 2 tablespoons butter in a large skillet over medium high heat. Add shrimp, salt and pepper, to taste. Cook, stirring occasionally, until pink, about 2-3 minutes; set aside.
Add garlic to the skillet, and cook, stirring frequently, until fragrant, about 1 minute. Stir in salad dressing and lemon juice. Bring to a boil; reduce heat and simmer until reduced by half, about 1-2 minutes. Stir in shrimp and gently toss to combine.
Top on the salmon, serve immediately, garnished with parsley leaves, if desired.
Finish by sprinkling with the feat cheese, serve at once.