GREEN TOMATO & APPLE KETCHUP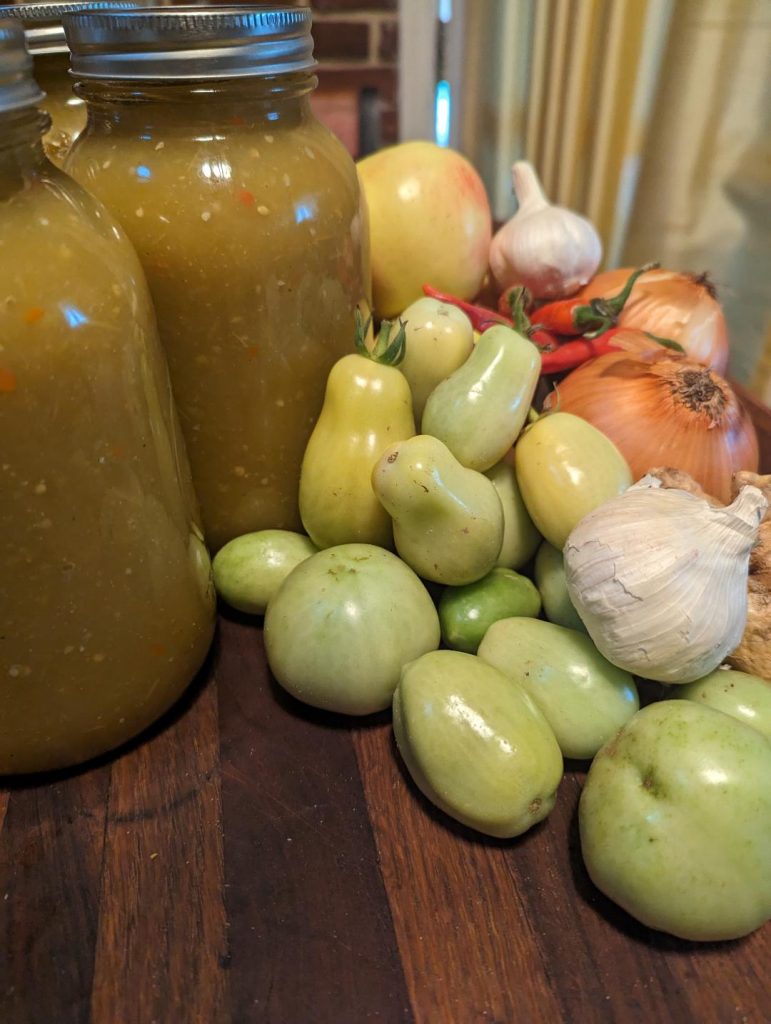 6 lbs (3 kg) medium green tomatoes, cleaned, coarsely chopped
3 lbs (1.5 kg) medium onions, about 15
1 cup (250 ml) coarse salt
3 green apples, peeled, cored and diced
3 celery stalks, diced
3 Tbsp minced fresh garlic
3 Tbsp minced jalapeňo pepper, seeded
2 tbsp minced fresh ginger
3 cups (750 ml) chive blossom vinegar (recipe follows) see note
2 cups (500 ml) sugar
⅓ cup (75 ml) mixed pickling spices, tied in cheesecloth or a coffee filter (spice bag)
2 tbsp (30 ml) mustard seeds (tie in spice bag)
2 tbsp (30 ml) celery seeds, optional (tie in spice bag)
In a large non-reactive container, alternate layers of tomatoes and onions, sprinkling each layer with salt. Loosely cover and let stand overnight in a cool area. Drain well, removing as much water as possible.
In a large stockpot, combine strained vegetables, chopped apples, celery, garlic, jalapeňo, and ginger with the vinegar, sugar, spice bag, mustard seeds and celery seeds. Heat over medium-high heat and bring to a boil. Lower heat and simmer, uncovered for about 1½ hours, stirring frequently. Remove cheesecloth spice bag and pour into hot, sterilized jars.
Place in a water bath so the jars are covered, simmer 20 minutes. Remove water bath, check lid rings are tight and allow to cool to room temperature. Ketchup is now shelf stable, be sure to refrigerate after opening.
Yields 16, 8 oz jars
Note: you may use 3 cups table vinegar along with 1 cup Apple Cider vinegar to subsitute as well.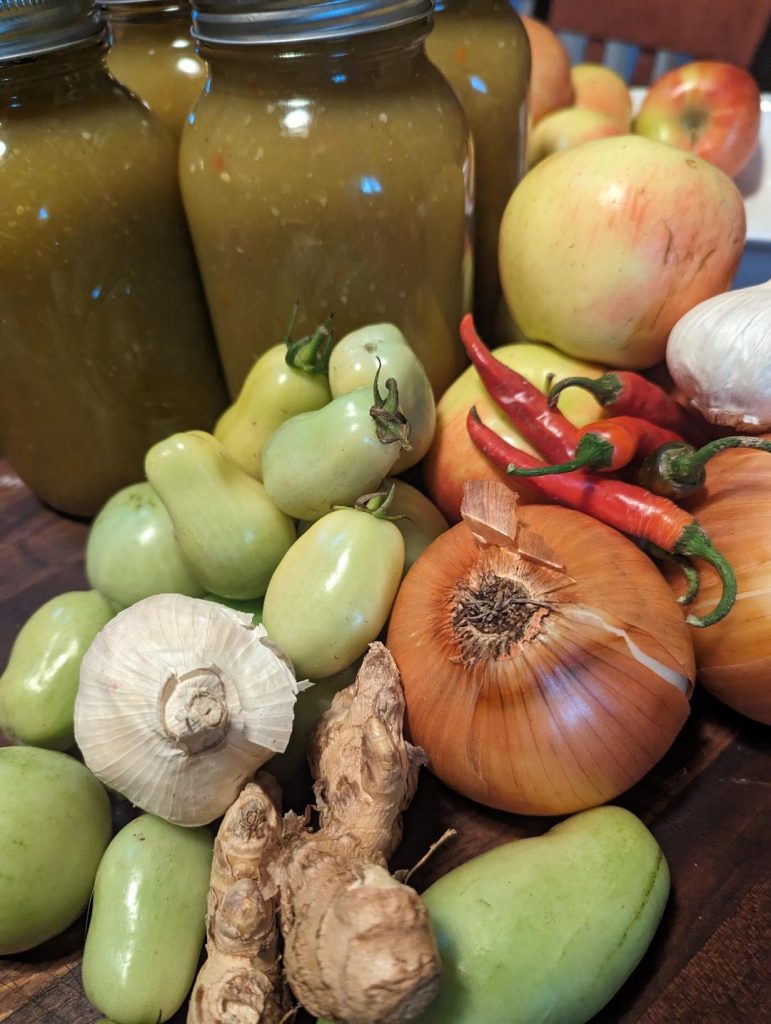 Chive Blossom Vinegar
Ingredients
3 cup fresh chive blossoms
4 1/2 cups vinegar
1 cup chopped chive leaves, optional
Directions
Crush the blossoms to release their scent and flavor.
Loosely pack them into a clean glass 1 gallon (4 L) jar (it is not necessary to sterilize the jar first).
Pour the vinegar over the chive blossoms until they are completely immersed in the liquid. Stir the chives down into the vinegar with a spoon.
Tightly cover the jar and label it with the date. Store at room temperature away from direct light or heat for 2 weeks.
Strain the vinegar into an attractive, clean glass bottle. Compost or discard the spent blossoms. Cork or tightly cover the bottle.
Yields 1 gallon (4 L)