Jalapeno Hot Sauce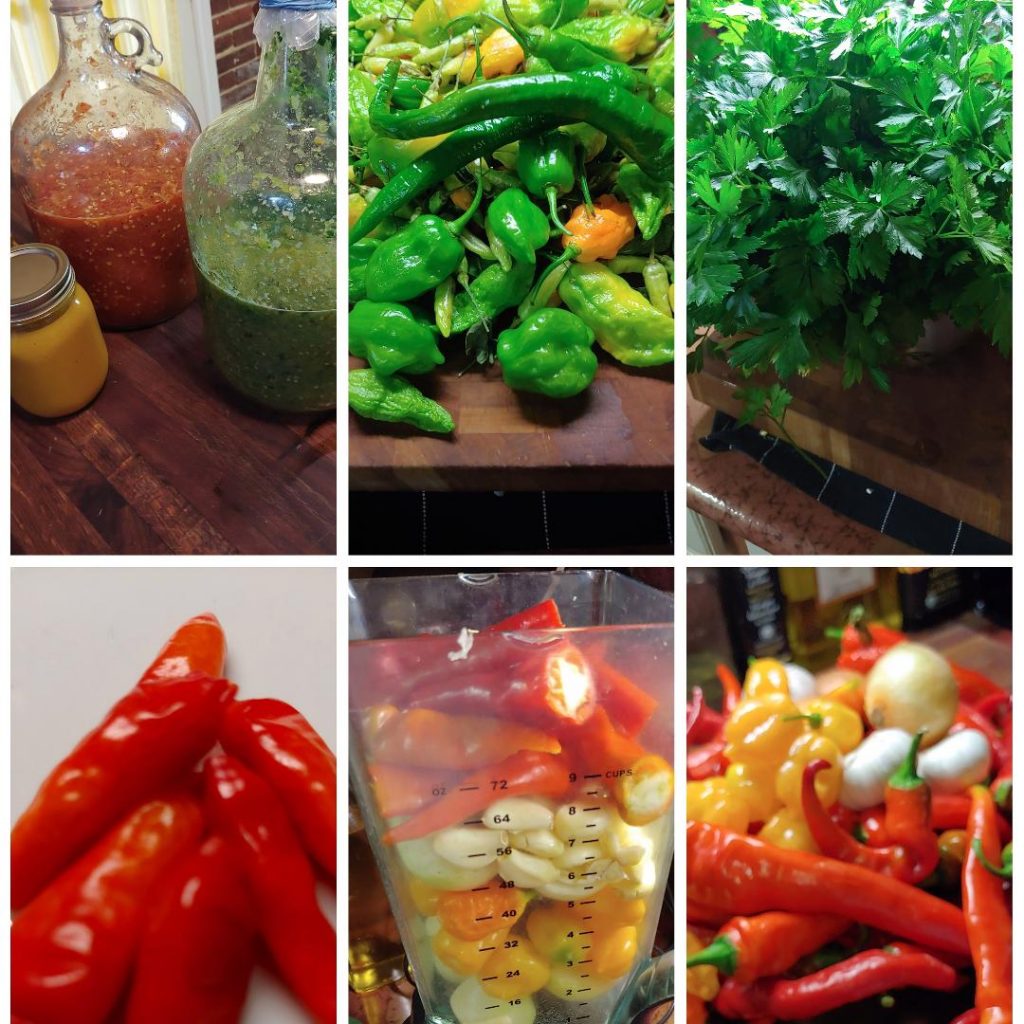 1/2 onion and 2 whole, peeled garlic cloves over medium heat in some oil.
1 teaspoon Mexican oregano
5 cloves garlic minced
1/4 teaspoon cumin (optional)
1 teaspoon freshly cracked black pepper
1 lb, rinsed, de-stemmed, seeded jalapenos or any other green chilies
3/4 cup white vinegar
1/2 cup water
1 tsp sugar
1/2 teaspoon salt
Place the ingredients into a sauce pan (stainless steel) bring to a boil, reduce the heat and simmer 15 minutes. Using an immersion bleender process until smooth.
Add 8-10 sprigs cilantro and the juice of 1 lime, process for an additional 30 seconds.
Strain through a fine mech strainer for a liquid of just bottlem for a thicker sauce (I prefer this).
Keep refrigerated good for 30 days.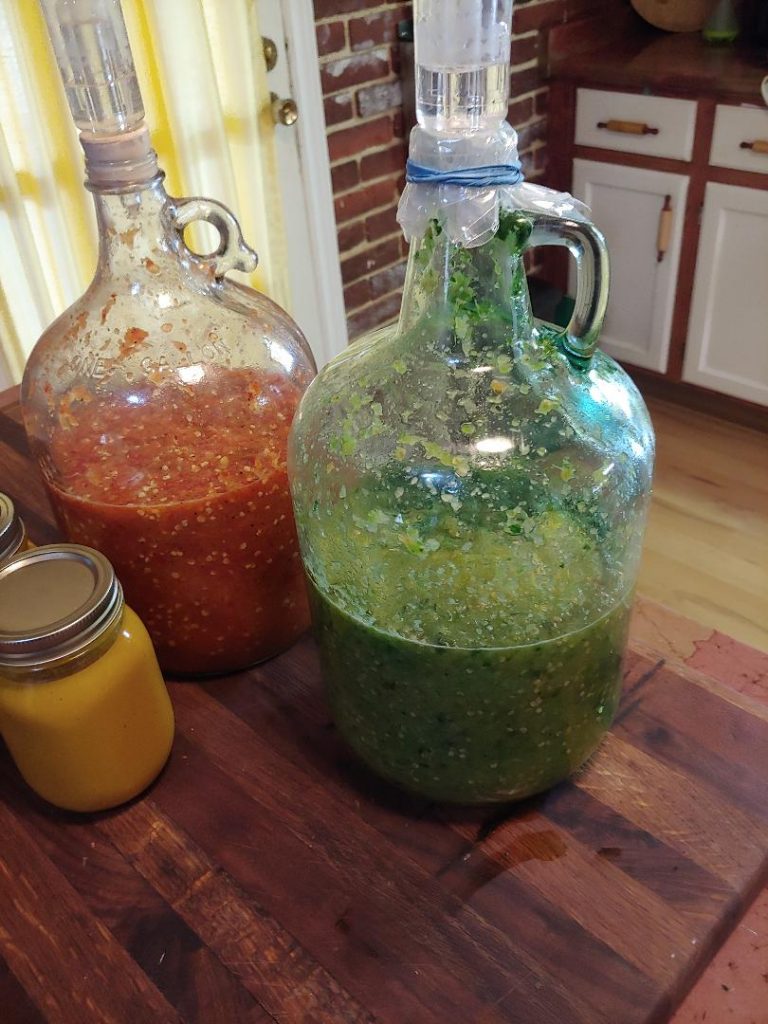 Fermented Habanero Hot Sauce
Ingredients:
15-20 habanero peppers, seeds and ribs removed
2 mangos, cut into cubes
1 sweet bell pepper, chopped
1 onion, chopped
2-inch segment of fresh ginger, peeled and cut into pieces
2 1/2 tablespoons salt
1 quart water
1-2 cups apple cider or white vinegar, reserved
¼ tsp citrus acid per jar.
Directions:
Tip: habanero peppers are super hot, we strongly recommend wearing gloves while preparing this recipe.
Pack mango, peppers, onion and ginger into fermentation jar.
Combine salt and water, stir until salt is fully dissolved to make the brine.
Add fermentation weight and pour in brine to cover, mango, pepper, onion and ginger should be fully submerged.
Top with lid and airlock Let ferment for 2-3 weeks at room temperature out of direct sunlight.
Add fermented mango, pepper, onion  and ginger to blender with 1 cup of the fermentation liquid. Blend until smooth and then add vinegar to taste. Place the citrus acid in to the jar pour the blended sauce over and seal. Hot sauce will keep refrigerated for at least 6 months.
GREEN TOMATO & APPLE KETCHUP:
6 lbs (3 kg) medium green tomatoes, cleaned, coarsely chopped
3 lbs (1.5 kg) medium onions, about 15
1 cup (250 ml) coarse salt
3 green apples, peeled, cored and diced
3 celery stalks, diced
3 Tbsp minced fresh garlic
3 Tbsp minced jalapeňo pepper, seeded
2 tbsp minced fresh ginger
3 cups (750 ml) chive blossom vinegar (recipe follows)
2 cups (500 ml) sugar
⅓ cup (75 ml) mixed pickling spices, tied in cheesecloth or a coffee filter (spice bag)
2 tbsp (30 ml) mustard seeds (tie in spice bag)
2 tbsp (30 ml) celery seeds, optional (tie in spice bag)
In a large non-reactive container, alternate layers of tomatoes and onions, sprinkling each layer with salt. Loosely cover and let stand overnight in a cool area. Drain well, removing as much water as possible.
In a large stockpot, combine strained vegetables, chopped apples, celery, garlic, jalapeňo, and ginger with the vinegar, sugar, spice bag, mustard seeds and celery seeds. Heat over medium-high heat and bring to a boil. Lower heat and simmer, uncovered for about 1½ hours, stirring frequently. Remove cheesecloth spice bag and pour into hot, sterilized jars.
Place in a water bath so the jars are covered, simmer 20 minutes. Remove water bath, check lid rings are tight and allow to cool to room temperature. Ketchup is now shelf stable, be sure to refrigerate after opening.
Yields 16, 8 oz jars
Chive Blossom Vinegar
Ingredients
3 cups fresh chive blossoms
4 1/2 cups vinegar
1 cup chopped chive leaves, optional
Directions
Crush the blossoms to release their scent and flavor.
Loosely pack them into a clean glass 1 gallon (4 L) jar (it is not necessary to sterilize the jar first).
Pour the vinegar over the chive blossoms until they are completely immersed in the liquid. Stir the chives down into the vinegar with a spoon.
Tightly cover the jar and label it with the date. Store at room temperature away from direct light or heat for 2 weeks.
Strain the vinegar into an attractive, clean glass bottle. Compost or discard the spent blossoms. Cork or tightly cover the bottle.
Yields 1 gallon (4 L)8