Soft Dinner Rolls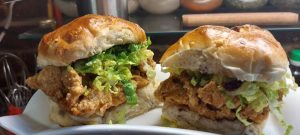 Ingredients
12 oz/375 ml whole milk warmed to 110°F (43°C)
2 oz/60 g   unsalted butter melted (4 tbsp)
0.33 oz/9 g active dry yeast (1½ tbsp)
2.3 oz/65 g granulated sugar (⅓ cup)
0.2 oz/5 g  kosher salt (1 tsp)
17 oz/475 g all-purpose flour, more may be needed (4 cups)
1 oz/30 g   butter melted to brush the tops (2 tbsp.)
5.6 oz/130 g chopped sundried cranberries (1 cup)
2 oz/60 g julienned orange rind (2 tbsp.)
Instructions
In a small mixing bowl, combine warm milk, melted butter, salt, sugar and yeast. Whisk everything together and let it sit for about 5 minutes.
Pour the liquids into a stand mixers mixing bowl, and add flour in small portions until the dough is no longer sticky. Add the cranberries and orange rind.
Knead the dough with the dough hook in the stand mixer for 2 minutes, or. knead by hand (10-12 min), then place dough in an oiled bowl.
Cover it with a clean damp towel and let it rise for about an hour in a warm place.
Once the dough rises, remove it from the bowl and cut it into 24 even pieces. Shape each piece into a round shape and place them on an oiled baking sheet next to each other.
Cover the dinner rolls with a damp kitchen towel, allow them proof for another 30 minutes in a warm place until puffed then bake in a preheated 350°F (180°C) oven for about 20 minutes or until the tops are golden brown.
Immediately brush tops with melted butter and set aside to cool to room temperature before serving.
Yields 2 dozen
KALENUIK FRIED CHICKEN
(Use boneless chicken thighs for the sandwich, this coating is for any fried chicken, chicken fried steak, onion rings or anything you require "Southern style" fried foods.
For the coating:
Paprika: 4 tsp
Salt: 2.5 tsp
Pepper: 1 tsp
Poultry seasoning: 1 tsp
Chervil 1 tsp
Marjoram 1 tsp
Tarragon 1 tsp
Thyme: 1 tsp
Oregano: 1 tsp
Tarragon: 1 tsp
Garlic powder: 0.5 tsp
Onion powder: 0.5 tsp
Celery salt: 0.5 tsp
Flour: 2 cups
Corn flour ½ cup
Cornstarch ¼ cup
Baking powder 2 tsp
3 lbs. chicken, Use boneless chicken breasts or thighs, or 8-9 cut chicken pieces, the process is the same.
1½ cups buttermilk
2 egg whites
2 tbsp water
Directions:
Blend the spices, seasonings and herbs together. Mix 2 tsp of the seasoning blend in the buttermilk.
Place the chicken in a container cover with the buttermilk, cover and soak the chicken over night.
Sift the remaining seasonings together with the flours, cornstarch, baking powder and place in a clean plastic bag.
Coat each soaked chicken piece with a first coat of flour place on a sheet pan, cover with plastic and allow to rest at least 30 minutes or refrigerated up to 4 hours.
Preheat the oven to 175 degrees Fahrenheit. Line a baking sheet with aluminum foil. Set an oven-safe wire cooling rack inside the sheet and set aside.
Beat the egg with the water, dip the coated chicken into the egg then with the flour mixture in the bag. Make sure you coat each piece completely with the flour.
Preheat the oil to 350 degrees over medium-high heat, using a deep-frying thermometer to check the temperature. When the oil reaches 350 degrees, reduce the heat to medium-low.
Brown the chicken in oil slowly, uncovered. Once browned, cover the skillet and keeping frying on a very gentle heat until the chicken is fully cooked (about 13 minutes.)
Place on paper towels to drain out the excess oil. Place on the wire rack in the oven while you cook the remaining chicken. Allow the oil to return to temperature before adding more chicken. Repeat the dredging and frying process with the remaining pieces of chicken.
When all the chicken is fried, let the pieces sit in the oven until each reaches an internal temperature of 165 degrees.
Serves 4
Sundried Cranberry Compote
1 cup fruit juice, (Orange, Apple, Pineapple)
1 cup dried cranberries
1 cup orange seedless segments (Mandarin, Clementine, Naval, Valencia, Shamouti or Jaffa)
2 Tablespoons julienned orange rind, pith removed
2 Tablespoons brown sugar
½ tsp ground cinnamon
Place all the ingredients into a saucepan, bring to a boil reduce to a simmer and simmer for 10 minutes. Remove from heat, puree with a immersion blender, cool, cover and use as required.
Yields 2 cups
To build:
Cut the roll in half, spread with the compote, top with a boneless chicken pieces