LOW CARB JAMAICAN PATTY'S
Filling
1 ⅓ cups roughly chopped scallions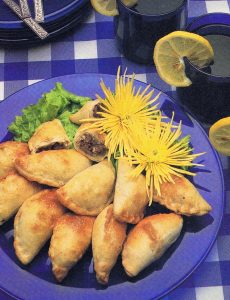 2/3 cup diced white onion
4 teaspoons fresh thyme leaves
4 teaspoons paprika
2 teaspoons garlic powder
2 teaspoons onion powder
2 teaspoons ground allspice (pimento berries)
1 garlic clove, minced
1 scotch bonnet pepper (depends on how hot the pepper is), stemmed and thinly sliced
1 (3/4-inch) piece peeled ginger
2 teaspoons olive oil
2 pounds ground beef
3 tablespoons crumbled crust dough (follows)
2/3 cup beef stock
2 teaspoons kosher salt
1/2 teaspoon ground black pepper
4 3/4 teaspoons instant unflavored gelatin
FOR THE CRUST:
6 Oz cream cheese, softened
4 Tbsp butter, softened
1 tsp turmeric
1/4 tsp salt
1/4 tsp stevia
1/2 tsp baking powder
1/2 cup coconut flour
1 1/2 cup milled flax meal
2 Tbsp cold water
FILLING
Make the filling: Combine the scallions, onion, thyme, paprika, garlic powder, onion powder, allspice, garlic, peppers, and ginger in the bowl of a food processor and purée until minced.
Heat the olive oil in a large skillet over medium. Add the vegetables and cook until soft, 2 minutes. Add the beef and cook until brown, 3 to 5 minutes. Add the crust dough, beef stock, salt, pepper, and gelatin and cook until thick, about 25 minutes. Cool.
CRUST
Blend the butter and cream cheese together until fluffy.
In a separate bowl, combine the flax, coconut flour, baking powder, salt, stevia, and turmeric until blended.
Add the dry ingredients to the cream cheese & butter mixture, followed by the water – stir until a stiff dough forms.
Divide the dough into 12 balls between one and two inches in diameter. Place a ball onto a piece of parchment paper and cover with another piece of parchment. Roll into a thin circle about 4-5 inches in diameter. Place a few tablespoons of the meat mixture on one half of the circle and then fold over the other half and press or crimp to seal. (You may need to use a spatula to release the dough from the parchment in order to fold it over.)
Place the pie on baking sheet covered in parchment and repeat with the rest of the dough balls.
Bake in a 350 degree (F) oven for 25 minutes or until crisp.