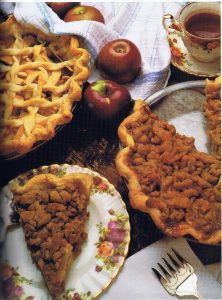 Today is National Pie Day, what a great gift to give, finish a dinner with, or, just along side a great cup of coffee. Pie is always right, whether you serve a slice of warm apple with cinnamon ice cream, or a dinner pie like the Tourtiere, or, maybe a hand pie (turnover) like a Cornish Pasty, or the famous Canadian Butter tart you simply won't go wrong.
Pies have been the "to go to" meal as far back as early Eygty, the Greeks and Romans had hand pies to travel with, while in the12th century the crust of meat pies was known as a "coffyn". Fruit pies began to show up sometime in the 15th century. Apple pies are served at nearly every county fair throughout North America, thanks to Johnny Appleseed. Apple trees were grown and prized for their fruit by the people of ancient Rome. It is believed that the Romans took cultivated apples with them to England when they conquered the country. Apple growing became common in England and many other parts of Europe.  Both the seeds of apples and the trees themselves were brought to America from England, probably in 1629. John Endicott, one of the early governors of Massachusetts Bay Colony, is said to have brought the first trees to America. The cultivated varieties of apples gradually spread westward from the Atlantic Coast. John Chapman is said to have helped spread apple growing in America. He carried apple seeds with him wherever he went, and planted them in thinly settled parts of the country. For this reason, he became known as "Johnny Appleseed".
Be sure that your guest, of course, will enjoy the pie you serve, make what they do like, I was once had Tony Orlando (super star musician) as a guest on Chef K & the Friends television show, we made a beautiful seven layer Lemon Meringue pie. He stirred the lemon filling, carefully spread it on each layer, made a prefect meringue, only to find out he was allergic to it.  Find out what they like was the moral of that story.
TIPS FOR PREFECT  PIE CRUST
Use Very Cold Butter or Fat
Butter, shortening, lard, or suet—whatever fat the recipe calls for should be well-chilled and cut into small pieces to start with for the flakiest crust in the end.
O Nuts
Many recipes call for you to work the fat into the flour until the mixture resembles peanuts, or crushed walnuts, do not overwork the dough,  this will toughen the dough,  your cardboard may be better.
Limit the Water
Start off using the minimum amount of water or other liquid called for in the recipe.
Make a Disk
Before you chill or rollout the dough, take the time to shape it into an even disk less than 1-inch thick and with smooth edges.
Chill the Dough
Chill the dough before you roll it out for at least 30 minutes and up to 2 days.
Roll, Turn, Roll, Turn
Roll out the dough on a very well-floured work surface with a well-floured rolling pin. Turn the dough 90 degrees, roll and turn again, this assists in sticking and it easy to use.
Chill the Lined Pie Pan
Cover and chill the lined pie pan (and any rolled out top crust) before blind-baking or filling the pie. This will help the pie keep its shape (and size!) when baked.
Complete the Baking,
Nice golden honey top, but the bottom crust is still not done, this is because people tend to believe the pie is done when it is golden like honey, leave it a little longer, it is supposed to be brown, then the crust is done.
The Rolling Pin is a Pick Up stick.
After rolling the dough, place a small amount onto the rolling pin, roll to wrap the dough on the pin, then unroll it over the chilled pie plate, prefect fit each time.
QUEBECOIS TOURTIERE
3 tbsp butter
2 fine diced onions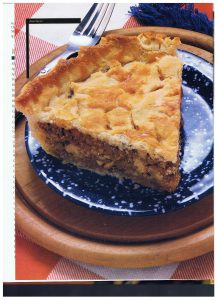 3 minced garlic cloves
2 cups peeled, seeded and diced tomatoes
¾ lb lean ground pork
¾ lb fine diced beef
1 cup beef stock
2 bay leaves
¼ tsp each of allspice, cinnamon, nutmeg
1 tsp salt
½ tsp pepper
⅓ cup fine bread crumbs
1 quantity double crust pie dough
3 tbsp milk
1 egg
In a large skillet, heat the butter and sweat the onion and garlic. Add the tomatoes and cook for 3 minutes covered. Add the pork and cook thoroughly. Add beef, stock, bay leaves and seasonings. Cover and simmer for 30 minutes. Uncover and continue to simmer until most of the liquid has evaporated. Stir in the bread crumbs. Cool mixture to room temperature.
Preheat the oven to 400◦F (200◦C).
Roll out the pastry, divide in two and line a 10″ (250 cm) pie shell with one part. Fill with the mixture and, cover with the remaining pastry. Crimp edges and cut a 1″ (2.5 cm) hole in top. Make a tin foil chimney and fit into hole.
Mix milk with the egg and brush over pastry.
Bake for 10 minutes, then reduce the heat to 350◦F (180◦C) and continue to bake for 25 minutes. Rest the pie for 20 minutes before cutting, or cool and chill and serve
SERVES 8
CORNISH STYLE PASTIES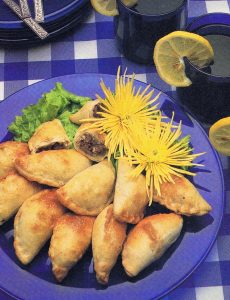 1 pound beef sirloin tip steak, diced
3 medium potatoes, peeled and diced (3 cups)
3 green onions with tops, thinly sliced
1 teaspoon salt
1/4 teaspoon pepper
Dash nutmeg
PASTRY:
4 cups all-purpose flour
2 teaspoons salt
Pinch baking powder
1 cup shortening
2 tablespoons butter
2/3 cup cold water
1 egg, lightly beaten
1 tablespoon heavy whipping cream
Directions
In a large bowl, combine the beef, potatoes, onions and seasonings; set aside. For pastry, in a large bowl, combine the flour, salt and baking powder. Cut in shortening and butter. Gradually add water, tossing with a fork until dough forms a ball.
Turn onto a lightly floured surface. Divide dough into 12 pieces; roll each into 6" circles. Moisten edges with water. Place about 1/2 cup filling on half of each circle. Fold other half over the filling; press edges together with a fork to seal.
Cut several slits in each pastry. Place on a baking sheet. Combine egg and cream; brush over pastry tops. Bake at 400° for 15 minutes. Reduce heat to 350° and bake 40-45 minutes longer or until golden brown. Yield: 12 servings.
LEMON MERINGUE  PIE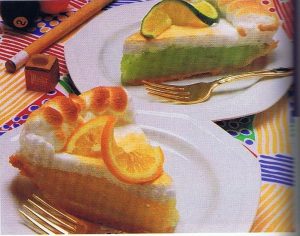 1 cup + 2 Tbsp cake and pastry flour
1 Tbsp sugar
½ tsp salt
½ cup cold unsalted butter, cut into pieces
3 Tbsp cold water
1 ½ tsp lemon juice or white vinegar
1 egg white, lightly whisked
Lemon Curd Filling
1 cup sugar
¼ cup cornstarch
1 cup water
6 large egg yolks
½ cup fresh lemon juice
2 Tbsp unsalted butter
Meringue
4 large egg whites, at room temperature
½ tsp cream of tartar
⅓ cup sugar
3 Tbsp icing sugar, sifted
DIRECTIONS
Dough
Sift the flour, sugar and salt to combine in a bowl or using a stand mixer fitted with the paddle attachment. Cut in the butter by hand with a pastry cutter or on low speed until just small pieces of butter are visible and the mixture as a whole just begins to take on a pale yellow colour (indicating that the butter has been worked in sufficiently).
Stir the water and lemon juice together and add this to the dough all at once, mixing until the dough just comes together. Shape the dough into a disc, wrap and chill for at least 2 hours before rolling. Alternatively, the dough can be frozen for up to 3 months and thawed in the fridge before rolling.
Roll out the dough on a lightly floured work surface until it is in a circle that is just under ¼ inch thick. Lightly dust a 9" pie plate with flour. Press the dough into the pie plate and trim away any excess dough, pinch the edges to create a fluted pattern and chill for 30 minutes.
Preheat the oven to 400 F. Line the chilled pie shell with tin foil and fill the foil with dried beans, raw rice or pie weights. Bake the pie shell for 20 minutes, then carefully remove the foil and weights and bake the crust for 8 to 10 minutes more, until the center of the pie shell is dry-looking and just starts to brown a little. Immediately after removing the pie shell from the oven, brush the hot crust with a little of the whisked egg white. This will create a barrier to keep the crust crispy once filled. Reduce the oven temperature to 325 F.
Lemon Curd Filling
For the filling, whisk the sugar and cornstarch together in a medium saucepot, then whisk in the cold water. Have the other ingredients measured and nearby. Bring the sugar mixture up to a full simmer over medium-high heat, whisking as it cooks, until the mixture is thick and glossy.
Pour about a cup of this thickened filling into the egg yolks while whisking, then return this to the pot and whisk just one minute more. Whisk in the lemon juice and cook until the filling just returns to a simmer. Remove the pot from the heat and whisk in the butter then immediately pour the hot filling into the cooled pie shell (the filling will seem very fluid, but it will set up once chilled). Cover the surface of the filling with plastic wrap to keep it hot. Immediately prepare the meringue topping.
Whip the egg whites with the cream of tartar on medium speed until foamy, then increase the speed to high and gradually pour in the granulated sugar and icing sugar and continue whipping just until the whites hold a medium peak when the beaters are lifted.
Meringue
Remove the plastic wrap from the hot lemon filling, then dollop half of the meringue directly onto the filling (the filling will still be very soft, so work gently). Be sure to spread the meringue so that it completely covers the lemon filling and connects with the outside crust, then use a bamboo skewer or paring knife to swirl the meringue just a touch (this will secure it to the lemon curd). Dollop the remaining meringue onto the pie and use the back of your spatula to lift up the meringue and creates spikes. Bake the pie for about 20 minutes at 325 F, until the meringue is nicely browned. Cool the meringue completely to room
TIM'S KEY LIE PIE
INGREDIENTS
For crust:
7 (5-by 2 1/2-inch) graham crackers, broken into small pieces
3/4 cup sliced or slivered almonds
1/4 cup sugar
1/2 stick unsalted butter, melted
For filling:
2 (14-ounce) cans sweetened condensed milk
Grated zest of 2 Key limes
1 cup fresh Key lime juice (from about 2 pounds fresh Key limes)
4 large egg yolks
Accompaniment: sweetened whipped cream
PREPARATION
Make crust:
Preheat oven to 350°F with rack in middle. Butter a 9-inch pie plate.
Pulse together graham crackers, almonds, and sugar in a food processor until finely ground. Transfer to a bowl and stir in butter. Press crumb mixture evenly onto bottom and up side of pie plate. Bake until lightly browned, 8 to 10 minutes. Cool completely. (Leave oven on.)
Make filling and bake pie:
Gently whisk together filling ingredients in a medium bowl until smooth and pour into crust. Bake until just set in center, 15 to 20 minutes.
Cool completely (filling will set as it cools). Chill pie, loosely covered, at least 8 hours.
GRASSHOPPER PIE
CRUST:
2 cups   500 ml   chocolate wafer crumbs
 cup     80 ml     butter
¾ cup    180 ml   filberts   ground
Combine the ingredients.  Press into the bottom and sides of a 10″ buttered pie pan.  Bake in a preheated 350F (180C) oven for 7 minutes.  Cool, then chill.
FILLING:
2 tbsp    cold water
1 tbsp    unflavored gelatin
2              eggs, separated
½ cup    milk
1-½         marshmallows   miniatures
2 tsp      mint extract
1 cup     whipping cream
1 tsp      green food coloring
1 cup     chocolate curls
In the cold water soften the gelatin, transfer to a double boiler.  Add the egg yolks and milk and cook to thick. Melt the marshmallows in a second double boiler, fold into the egg mixture and remove from the heat.  Stir in the extract.  Cool. Whip the cream with the food coloring.  Fold into the cooled mixture.  Whip the egg whites and fold into the mixture.  Pour into the shell.  Chill for 4 6 hours. Garnish with chocolate curls before serving.
APPLE CRUMBLE PIE
(Pictured above)
2 unbaked 9" pie shells
Filling
7 large green apples
1/4 cup caster sugar
1 teaspoon cinnamon (ground)
Crumble Mix
1 cup plain flour
3/4 cup (packed) dark brown sugar
3/4 cup rolled oats
3/4 cup coconut
1 tablespoon cinnamon (ground)
2 teaspoons nutmeg (ground)
2/3 cup butter (melted)
2 teaspoons vanilla essence
APPLE MIX
Peel and core apples, then cut into rough 1-2cm cubes. Place apples in large saucepan and cover with water. Simmer (but don't boil) covered with lid on med-high until apples are just tender but not too soft (usually 5mins once water is simmering). Drain apples well and place in large bowl
Combine caster sugar and cinnamon (ensures even spread), then toss through the apples. If you like the apples to be less sweet and more tart, you can omit the sugar in this step, though there may be excess juice as a result.
CRUMBLE MIX
Combine flour, brown sugar, rolled oats, coconut, cinnamon and nutmeg in a large bowl until evenly mixed through.
Melt butter (do not burn or boil it) and add vanilla essence to butter, stir through.
Add butter mix to dry ingredients and mix well using a fork. Ensure all ingredients are moist and mixture has a crumbly texture.
BAKING
Place the apple mix evenly in the pie shells. Spread crumble mix over top of apple. Bake at 190°C 375°F for 30-45 minutes, or until crumble topping is slightly browned.
Serve with vanilla ice cream, cream, or custard
BUTTERTARTS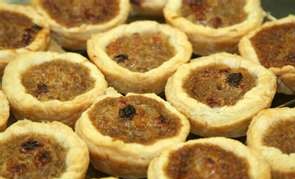 3/4 cup (175 mL) packed brown sugar
1/4 cup (50 mL) corn syrup
1 egg
¼ cup (60 mL) butter, softened
1 tsp (5 mL) vanilla
1 tsp (5 mL) vinegar
1 pinch salt
1/4 cup (60 mL) currants or raisins
Preheat oven to 180°C (350°F).
Roll out chilled dough onto floured surface. Cut out discs of pastry about the size of a store-bought sour cream or yogurt container top. Press into muffin or tart tin wells carefully so as not to tear pastry. If possible, weigh shells down with dried beans or some other type of weight so the empty shells will keep their shape. Bake shells for 10 to 15 minutes until they're starting to brown but not totally brown. Remove from oven and remove weights.
Meanwhile, make the filling. Melt butter with brown sugar. Do not allow to boil. Whisk egg and set aside. Add salt, golden syrup, vinegar and vanilla to warm butter mixture. Whisk gently until smooth.
Whisk in egg.
When tart shells are baked (and still warm), fill about two-thirds with filling mix. Bake for 12 minutes or until filling is mostly cooked yet not set. Remove from the oven and allow to rest for 10 minutes. Run metal spatula around tarts to loosen; carefully slide spatula under tarts and transfer to rack to let cool.
Tart Shells
1.375 l (5 ½ cups) all-purpose flour
2 ml (1/2 tsp) salt
250 g (1/2 lb) butter, unsalted, cold and cubed
125 ml (1/2 cup) cold water
In a large bowl, place flour and salt. Add cubed butter and rub into flour with fingers. The mixture should look like oatmeal, with butter-like slivers or pebbles. Make a well in flour. Add cold water. (Keep it cold in the refrigerator until ready to use.) Roll into balls, then, wrap ball in plastic wrap, flatten into a disc and chill overnight in refrigerator.