Pearl  Meatballs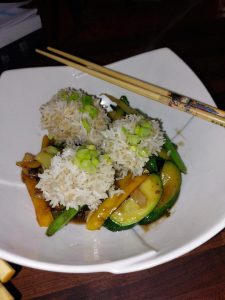 Ingredients
½ cup         100 g                   Jasmine rice
1 lb.            450 g                    minced chicken, pork or fish
¼ tsp                                        each of salt, ground white pepper,
½ tsp                                        each of Umami spice, 5 Spice (recipes follows)
1 tbsp         7.5 g                     cornstarch
½ cup       89 g                       panko breadcrumbs
1 tsp           5 ml                      soy sauce
½ tsp           3 ml                    Worcestershire sauce
½ tsp           3 ml                    sesame oil
1                 28 g                        egg white
1 tsp           5 g                          each of minced ginger & garlic
2 tbsp         70 g                     finely minced mirepoix* 
                                                    Sliced of carrot, optional
Directions
Soak the rice, for a minimum of 3 hours, overnight would be best.
Put minced meat into a mixing bowl along with the remaining ingredients.
Stir until blended well.
Shape the meatballs
Drain the rice. Roll each meatball in the rice to get an even coating.
Place slices of carrot onto a parchment paper lined flat plate. Put 1 meatball on each carrot slice, be sure to space the balls so they are not touching one another. Bring water to a full boil. Put the plate over a steamer rack or into a steamer basket. Leave to steam for 20 minutes, garnish with scallions and serve immediately.
Serve 4
Umami Spice Blend
½ oz            15 g            dried mushrooms (shiitake, porcini)
2/3 cup       192 g          himalayan salt
1 tbsp         6 g              chili pepper flakes
1 tsp           1 g              each dried oregano, thyme, basil
1 tsp           2.4 g           freshly ground white pepper
INSTRUCTIONS
Add all the ingredients to a clean spice grinder or food processor and pulse/process until they're ground into a fine powder.
Store in an airtight container for up to 2 months.
Five Spice Blend
Ingredients
6 whole  star anise pods
1 ½ teaspoon whole cloves (or 1 1/4 teaspoon ground)
1 cinnamon stick (3 inches long ) or two tablespoons ground
2 tablespoons fennel seeds
2 teaspoons Szechuan peppercorns ( or sub 3 teaspoons regular peppercorns)
Instructions
Toast the whole spices in a dry skillet, for 2-3 minutes.
Place all ingredients in a spice grinder (or coffee grinder) and grind until smooth.
Store in a sealed, airtight spice jar -and for best flavor use within 6 months.
Makes ¼ cup.
Honey Garlic Sauce
1 tablespoon canola oil
3 cloves garlic, minced
¾ cup ketchup
½ cup honey
¼ cup soy sauce
Heat oil in a sauce pan over medium heat. Add garlic; cook and stir until translucent, 3 to 4 minutes. Stir in ketchup, honey, and soy sauce. Bring to a boil. Reduce heat and simmer 5 minutes.