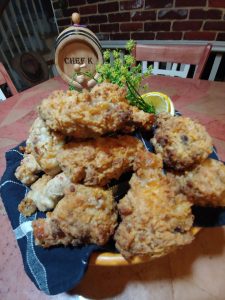 Recently Tammy Holmes Hoskins asked on FaceBook "Your pastor asked you to preach. Your sermon is your last text. Whatcha Preachin?" My last text was a recipe for Sourdough Fried Chicken (follows) so I said, "How fried chicken could save your life" and some of her followers found that funny, so, let's take a look at the sermon outline. Be sure to read the recipe so you can follow along.
First we must understand that that little 3 lb. chicken gave up its life for you. Look at the following chart which shows the nutritional values of a raw chicken:
Nutrient
Skinless, boneless breast
Skin-on, bone-in breast
Drumstick, skinless
Drumstick, skin-on
Thigh, skinless
Thigh, skin-on
Wing, skin-on
Wing, without skin
Whole Chicken, meat only
Whole Chicken, meat and skin
Calories
114
172
119
161
119
211
222
126
119
215
Protein (grams)
21.2
20.8
20.6
19.3
19.7
17.3
18.3
22
21.4
18.7
Total fat (grams)
2.6
9.3
3.4
8.7
3.9
15.3
16
3.5
3.1
15.1
Saturated fat (grams)
0.6
2.7
0.9
2.4
1
4.3
4.5
0.9
0.8
4.3
Monounsaturated fat (grams)
0.8
3.8
1.1
3.4
1.2
6.3
6.4
0.8
0.9
6.2
Polyunsaturated fat (grams)
0.4
2
0.8
1.9
1
3.3
3.4
0.8
0.8
3.2
Cholesterol (milligrams)
64
64
77
81
83
84
77
57
70
75
Sodium (milligrams)
116
63
88
83
86
76
73
81
77
75
Iron (milligrams)
0.4
0.7
1
1
1
1
0.9
0.9
0.9
0.9
SOURCE: USDA National Nutrient Database for Standard Reference (http://www.nal.usda.gov/fnic/foodcomp/search/)
 Giving one's life so another may live is the greatest of all gifts. We know of course our eternal life is secure because Christ gave his life that we may have everlasting life. Is the chicken a type of Christ? Of course not, but the gifting of life of any kind should always remind us of the greatest gift of all. This is one of the principals we express when we pray over the meals we receive daily, recognizing that when we are consuming something that gave its life for us, either plant or animal, it sustains us. God set this in motion from the creation of Adam. In the garden plants were the source, after the garden then animals were gifted for sustaining us, A living thing is given so that we may live, a great expression of God's love toward us, yet, His giving of His Son to us was the greatest of all of loves expressions.
John 3:16 (NKJV) For God so loved the world that He gave His only begotten Son, that whoever believes in Him should not perish but have everlasting life.
1 John 1:9 (NIV) 9 This is how God showed his love among us: He sent his one and only Son into the world that we might live through him.
Next, we must look at how certain gifts of the Holy Spirit may be seen through the preparing of our chicken. Both the process of making the Sourdough starter and the marinating of the chicken is a display of exercising the gift of patience. If you have no starter it may take a week or more to get yours working, the chicken needs to marinade for 4 to 8 hours, if you want a excellent finished product.
Patience, when gifted by the Holy Spirit is a display of power, power in self, power to do the right thing under adverse circumstances; patience brings self-restraint and careful thinking. Patience brings deliverance from stress and strain while infusing us with compassion (the ability to experience what another undergoes and to have the power to change it.) Patience is steadfastness, it sets a goal and you move toward accomplishing that goal, without patience one may crumble at the first sign of a struggle. We know, as we wait on the marinating chicken it will be delicious when it is finished, so we can't hurry the marinating, patience lets us know our circumstance will turn out great as well when finished. So then, patience when displayed in every adverse circumstance brings us to a happy conclusion.  The Holy Spirit in conjunction with His other gifts (Wisdom, Understanding, Counsel, Fortitude, Knowledge, Piety, and the Fear of the Lord) always leads us to a right conclusion.
At times we may feel like that marinating chicken, stewing away in something that seems like we just can't get out of. Patience is the ability of the Spirit of God to lift us out and into something better is for us whenever we call upon Him in faith. Don't marinate in your trouble, turn to God and see him bring you out of it. Jesus said in Mark 4:19 (NKJV) and the cares of this world, the deceitfulness of riches, and the desires for other things entering in choke the word, and it becomes unfruitful. Those "cares of world" our worries, are major factors that faith does not work for us, in fact like a bad weed they get down into the center of our very being and choke out the word of faith,  we need to destroy them. Care seems like a simple mild word but look at its definition: to worry, to grieve, to have great anxiety, mental anguish. This was why He told us that we are cast all that "care" upon Him for He cares for us. You can't worry if you've given it to God, or if you are worrying, aren't you really lifting up the problem to being bigger than God. Yes you are, give it to Him and then by patience let Him bring you the solution. Just as we call that chicken marinade a solution, a solution to infusing flavor into it, your trusting God with patience is the solution to making life better.
Proverbs 3:5-6, (NIV) 5 Trust in the Lord with all your heart and lean not on your own understanding; 6 in all your ways submit to him, and he will make your paths straight.[a]
1 Peter 5:7, (NIV) Cast all your anxiety on him because he cares for you.
Now is the time to begin to coat our chicken, we make the batter, blend the dusting flour. If we want that great crispy chicken, then we must dust the chicken first, then dip it into the batter, before we actually fry the chicken. We allow the battered chicken to rest for a bit before actually frying it, this cohesion produces a final superior product. It wasn't enough just to flour dust the chicken, most of that coating would be lost during the frying, nor was it sufficient to dip the chicken directly into the batter, it would not stick and it too would be lost in the fryer. No the flour seals the chicken and allows the batter a surface that it can adhere to, fry it and a perfectly crisp chicken dinner is ready for you.
Similarly when it comes to facing life's hardship we can use our chicken as an example of living in victory. Use the Word of God as your flour, coat yourself with the word, cover your heart and mind with the Word, let it be the thing you go to in your hardship, let it be the thing that proceeds from your mouth as you speak against the circumstance.  Look at the parable of the Sower who sows the Word. Mark 4:14-20: 14 The sower sows the word. 15 And these are the ones by the wayside where the word is sown. When they hear, Satan comes immediately and takes away the word that was sown in their hearts. 16 These likewise are the ones sown on stony ground who, when they hear the word, immediately receive it with gladness; 17 and they have no root in themselves, and so endure only for a time. Afterward, when tribulation or persecution arises for the word's sake, immediately they stumble. 18 Now these are the ones sown among thorns; they are the ones who hear the word, 19 and the cares of this world, the deceitfulness of riches, and the desires for other things entering in choke the word, and it becomes unfruitful. 20 But these are the ones sown on good ground, those who hear the word, [b]accept it, and bear fruit: some thirtyfold, some sixty, and some a hundred." It is the Word that covers us, when sown in faith it returns to us a great result, 30, 60 and 100 fold of goodness.
We dust ourselves with the word then what could the batter be, Zechariah 4:6 So he answered and said to me: "This is the word of the Lord to Zerubbabel: 'Not by might nor by power, but by My Spirit,' Says the Lord of hosts. Covering our lives with the Holy Spirit is that batter to a delicious conclusion. We could say the batter is called the Love of God, the greatest of the gifts of the Spirit of God, when we cover ourselves and our circumstances with God's love then we make the right decisions to carry us through them.
You'll notice the batter changes when the heat of the fryer is applied, the batter went in as a liquid covering the piece of chicken, yet the heat turned it into a solid and prevented the harmful oils from getting to the chicken and ruining it. Both the Word of God and the Love of the Holy Spirit does the same for our lives. The enemy will apply a lot of heat against us, he thinks that heat will destroy us, yet God's plan is much different, we have dusted ourselves with the Word, coated our very being in the Love of God, we will go into the heat in one form but we come out as something much better. We may go into the heat in need, maybe ill, under heavy oppression, but because of the Love of God and the power within His word by faith we come out of the heat, whole, healed, and in liberty. Coated with the Word and Love we always have the victory. John 10:10 The thief does not come except to steal, and to kill, and to destroy. I have come that they may have life, and that they may have it more abundantly.
So just in case you didn't know, Sourdough Fried Chicken can save a life.
Sourdough Fried Chicken
Servings: 4 servings
Ingredients
3 lbs                             1.3 kg              chicken pieces thighs, legs, wings (marinated, recipe follows)
4 oz                              113 g               sourdough starter (½ cup)
2 oz                              60 g                 large egg (1)
2 oz                              57 ml               beer pale ale, pilsner or soda water (¼ cup)
2 oz                              57 ml               milk (¼ cup)
0.17 oz                        5 g                    kosher sea salt (½ tsp)
6 oz                              180g                flour (1 ½ cups)
.01 oz                          2.7 g                each chili powder, paprika (1 tsp)
.005                             1.5 g                each ground basil, ground thyme, ground oregano, garlic powder (½ tsp)
.005                             1.5 g                each cayenne pepper, ground cumin, ground cilantro (½ tsp)
1 oz                              30 g                 brown sugar (2 tbsp)
Oil for frying canola, peanut, safflower
Instructions
Remove the chicken from the marinade, pat dry with paper towel.
Place the chicken on to a wire rack over a baking sheet.
In a bowl stir together the sourdough starter, egg, beer, and milk.
In another bowl stir together the remaining ½ teaspoon salt, flour, the herbs and spices and brown sugar.
One at a time, dredge the chicken in the flour until well coated, dip into the sourdough mixture until covered, and then back into the flour until covered.
Return the chicken to the baking sheet. Repeat for all chicken. Allow to sit at room temperature for 15 minutes until the oil heats, this will help the coating to adhere to the chicken and become crisper.
Heat 4-6 inches of oil in a deep fryer or a pot with a deep-fry thermometer until it hits 350°F (180°C), adjust heat to maintain this temperature.
Set out a clean wire rack over a different baking sheet (this will keep the underside of the chicken from getting soggy the way it does on paper towels. Don't return it to the other rack, it will risk contamination from the raw chicken bacteria).
Cook chicken in the hot oil until golden brown and cooked through, about 10 minutes each (make sure to only fry a few at a time to avoid overcrowding the pot). Place in a preheated 200°F (93°C) oven while cooking remaining pieces.
Serve warm.
Chicken Marinade
Ingredients:
6 oz                              170 ml            soy sauce (¾ cup)
3 oz                              85 ml               vegetable oil (⅓ cup)
.10 oz                          2.8 g                minced garlic (1 tbsp)
1.5 oz                          40 g                 honey (2 tbsp)
1 oz                              30 ml               apple cider vinegar (2 tbsp)
1 oz                              30 g                 dijon mustard (2 tbsp)
0.30 oz                        10 g                 kosher salt (2 tsp)
0.10 oz                        2.8 g                ground pepper (1 tsp)
0.03 oz                        1 g                    each of dried thyme, basil, oregano leaves (½ tsp)
0.03 oz                        1 g                    each onion powder, garlic powder, cumin, chili powder, paprika (½ tsp)
2.25 lbs.                     1 kg                 chicken pieces
Instructions
In a bowl whisk together all the ingredients.
Add chicken to a large zip-top bag. Pour the marinade over the chicken.
Press out the extra air in the zip-top bag and seal. Squeeze the chicken in the bag, to make sure all chicken is covered in marinade.
Place the bag in the refrigerator and allow to chill for at least 4 hours or overnight (is better).
When ready to use the chicken as called for by recipe, remove the chicken from the refrigerator 15 minutes prior to cooking.