Here's the  story, dining at a very popular Italian restaurant chain we tried they're Tuscan Chowder, it was horrible and that's being kind, but I liked the concept so I went home and created my own version, if you choose to make know it will take time, you can save a little by using a good quality Tomato sauce if you like, but its always better to do what the chef has said. The photo below also shows our Tomato Basil bread so just order Divine Cuisine @ Amazon (soon from me for the autographed version). So  here is the 3 part recipe you requested.
Part 1) TOMATO SAUCE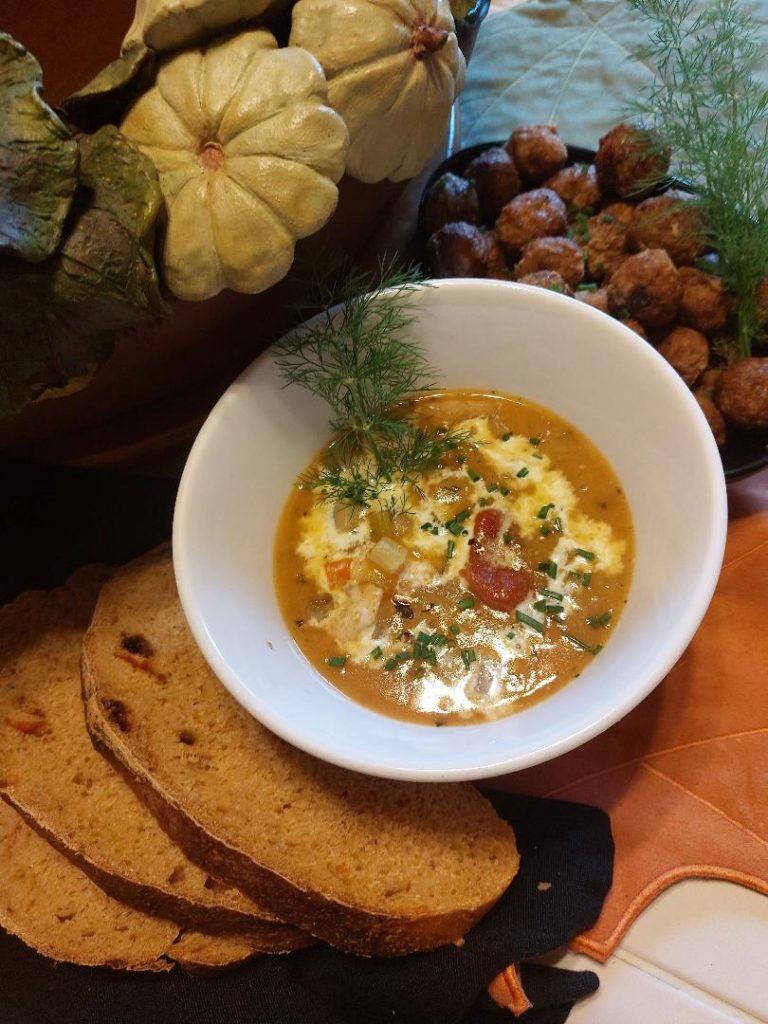 2 tbsp olive oil
2 minced garlic cloves
1 diced green bell pepper
1 diced onion
2 diced celery stalks
4 oz sliced mushrooms
1 tsp salt
½ tsp pepper
1 tsp basil leaves
½ tsp oregano leaves
½ tsp thyme leaves
½ tsp paprika
¼ tsp cayenne
3 lbs peeled, seeded, and chopped tomatoes
In a sauce pan heat the oil. Sauté the garlic, green pepper, onion, celery and mushrooms until tender. Add the seasonings and tomatoes. Simmer for 3 hours or until desired thickness. Use as required.
½ lb Ground Beef
½ lb ground pork
1/4 lb ground veal
2 tbsp Milk
1 Egg
1 tsp Worcestershire Sauce
1/4 cup Onion — chopped
1/3 cup Bread Crumbs — Dry
2 Tbsp Parmesan Cheese
1 tsp Garlic, very finely minced
1/2 tsp Oregano
3/4 tsp Salt
1/8 tsp Pepper
Mix all the ingredients together. Shape mixture by Tablespoonfuls into 1 1/2-inch balls.
TO COOK IN A SKILLET: Heat 1 Tbsp salad oil in a large skillet. Cook the meatballs over medium heat until brown, about 20 minutes. Drain off excess fat.
TO COOK IN THE OVEN: Place the meatballs in a lightly greased baking pan, Bake, uncovered, in a 400 degree F. oven until light brown, about 20 minutes. Drain off the excess fat
Part 3 building) TUSCAN CHOWDER
½ lb. diced Italian sausage (mild)
1 large onion finely diced
3 large carrots finely diced
3 stalks celery finely diced
4 tbsp butter
4 tbsp flour
4 cups chicken broth
2 cups tomato sauce
1½ cups cream
1 lb cooked diced chicken
2 tbsp fresh chopped basil
16 meatballs
salt and pepper to taste
Grated Asiago cheese to garnish
In a large kettle fry the sausage, add the onion, carrots and celery and sauté until tender, drain all excess fat.
Add the butter cook on low heat for 2 minutes. Add the flour and continue cooking over low heat for 3 minutes.
Pour the chicken broth and tomato sauce over and simmer until thick. Add the cream, chicken, basil, tomato sauce and meatballs and continue to simmer for 20 minutes. Season with salt and pepper if required.
Place in serving bowls and sprinkle with the cheese.
SERVES 8
Optional, add 1 1/2 cups small diced potatoes with the vegetables and simmer for the 20 minutes, or, cook small soup noodles such Acini di Pepe, Ditalini, Tubettini, Farfalline and add just before serving. Rice and pasta should always be precooked and added just before service, this prevents them from becoming overcooked.