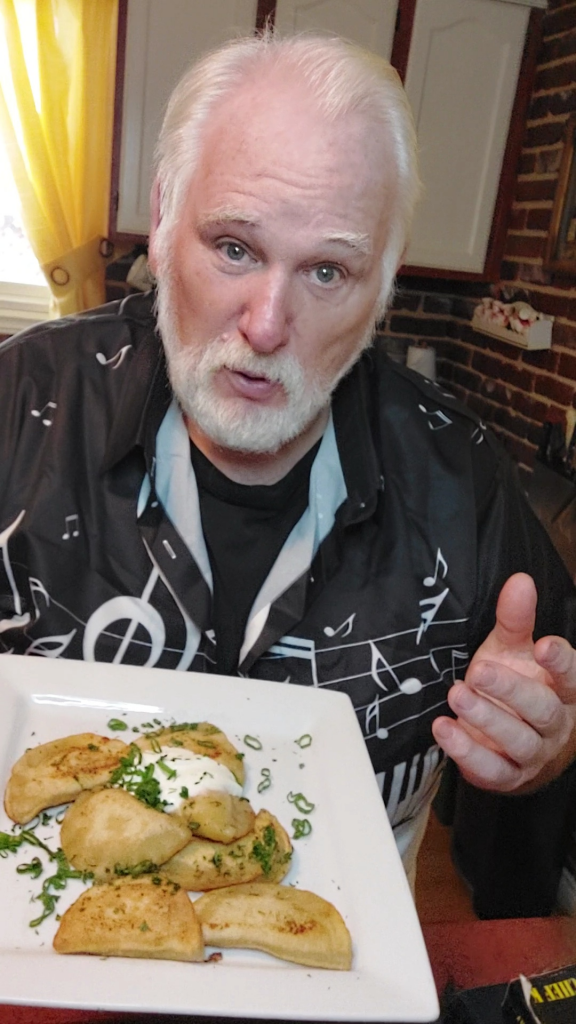 Vareniki/Pierogi Dough
INGREDIENTS
1 egg well beaten
¾ cup cool water
2 tablespoons sour cream
3 cups all-purpose flour
½  cup butter or margarine, room temperature
1 teaspoon salt
INSTRUCTIONS
Combine the egg, cool water and sour cream with a whisk. Set aside.
Mix flour with the butter or margarine and salt until the mixture resembles cookie crumbs.
Mix the liquid into the flour mixture and knead for about 10 minutes by hand or 5 minutes by mixer or until the dough is smooth not sticky but moist.
Divide the dough in 2 pieces. Use lighy moistened tea towels to prevent the other pieces of dough from drying out. Let the dough rest for 30 minutes.
Roll out a piece of dough until it's 1/8th of an inch thick and cut out circles.
Moisten the edges, add a heaping teaspoon of filling and seal.
Lay out finished dumplings on a cookie sheet lined with waxed or parchment paper, until required to cook.
If freezing, freeze on the cookie sheets and bag after they're frozen
Filling:
1 lb (454 g) russet potatoes, peeled and cubed
2 tbsp (30 mL) butter
2 tbsp (30 mL) sour cream
1/2 cup (125 mL) shredded Cheddar cheese
2 tbsp (30 mL) Cheese Whiz or 2 oz Velveeta cheese
1/3 cup cooked crumbled bacon
1/4 cup (60 mL) finely chopped green onion
1 tbsp each fresh chopped parsley and dill
1/4 tsp (1 mL) salt
1/4 tsp (1 mL) pepper
For sauté
2 tbsp butter
2 cups sliced sweet onions (Vidalia, Walla Walla, Texas 10/20)
In large pot of boiling salted water, cook potatoes until tender, about 15 minutes; drain and transfer to large bowl. Mash well.
In saucepan, melt butter over medium heat; add to the potatoes. Stir in the sour cream, cheeses, green onions, herbs salt and pepper. Set aside.
Working with 1 portion of dough at a time and keeping remainder covered, roll out on lightly floured surface to scant 1/4-inch (5 mm) thickness.
Using 3-inch (8 cm) round cutter, cut into rounds. Place 1 tsp filling on each round. Lightly moisten edge of half of the round with water; fold over filling and pinch edges together to seal.
Place on flour-dusted cloth; cover with tea towel. Repeat with remaining dough and filling, rerolling scraps, to make 36 Vereniki.
In large pot of boiling salted water, cook Vereniki, in batches and stirring gently, until floating and tender, about 3-5 minutes.
With slotted spoon, remove to colander to drain.
In skillet, melt butter over medium heat; cook onion until golden, about 8 minutes. Add Vereniki; cook until golden.
Vereniki/Pierogi  Dough  2
1 cup peeled, cooked potatoes (about 1 large potato)
1/4 cup canola oil
1 egg
2 cups all-purpose flour, plus flour for dusting the work surface
1 teaspoon salt
1 cup water
Preparation:
Mash or run potato through a food mill or ricer. In large bowl, combine potatoes with oil, egg, flour, salt and water.
If dough is dry, add more water, 1 tablespoon at a time, until moist. If dough is sticky, add more four, 1 tablespoon at a time, until it's smooth.
On a floured surface, knead dough 3 or 4 minutes or until elastic. Cover dough with plastic wrap and refrigerate at least 30 minutes.