INGREDIENTS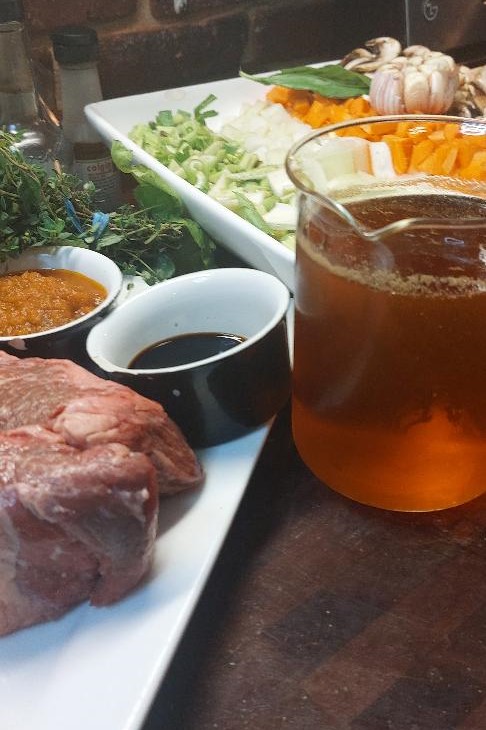 4 – 5 pounds braising beef or short ribs
2 teaspoons salt
2 teaspoons black pepper
2 tablespoons olive oil
2 large onions, peeled and cut into large chunks
1 whole garlic heads, tops cut off
3 large carrots cut into large pieces
3 celery stalks, cut into large pieces with leaves
6 oz mushrooms sliced
3 tablespoons all-purpose flour
2 tablespoons tomato paste
2 cups apple cider (sweet)
2 cups beef broth
1 tablespoon soy sauce
1 tablespoon Worcestershire sauce
¼ bunch flat leaf parsley
8 fresh sprigs thyme
4 fresh sprigs rosemary
4 fresh sprigs oregano
2 bay leaves
INSTRUCTIONS
Cut the beef/short ribs crosswise into 2-inch pieces, and season with salt and pepper.
Roughly chop the vegetables. These are the aromatics which flavor the sauce.
In a large Dutch oven, over medium-high heat, heat the olive oil. Sear the beef/short ribs on all slides for 7 – 8 minutes, working in batches. Don't overcrowd the pan with each batch. Transfer the browned meat to a plate, and set aside.
Once all batches are browned, spoon out all but 4 tablespoons of the drippings from the pan. Add the garlic, and cook on medium heat for 1 minute.
Add the remaining vegetables and cook until softened, about 5 – 10 minutes over medium-high heat. Add the flour and tomato paste, and cook for an additional 2 – 3 minutes.
Add the cider, soy, Worcestershire and broth, and stir well until combined and cook until reduced by half, about 20 minutes over medium heat.
Preheat the oven to 300°F (160°C), and position the oven rack in the center of the oven.
Turn off the stovetop heat, and place the beef/ribs into the Dutch oven. Add in the herbs.
Place the lid on the Dutch oven, and place in the oven to braise for 3 hours. (check on the short ribs occasionally during this time. Stir gently if needed.)
Once the short ribs are nice and tender, remove them from the oven. With a slotted spoon, remove the short ribs to a plate.
Strain out the vegetables and herbs through a colander, into a sauce pan, simmer gently while the ribs rest for 20 minutes. Add the ribs back to the Dutch oven, and pour the sauce over with a spoon.
Serve with mashed potatoes or rice, with your favorite vegetables.
Serves 4