Pork Tenderloin Wellington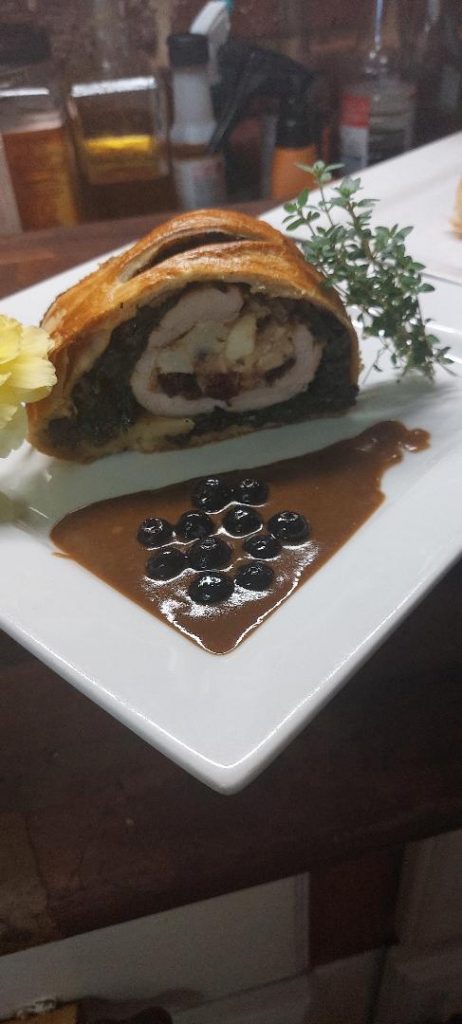 Balsamic and Rosemary Marinade
3 tablespoons apple cider vinegar
3 tablespoons virgin olive oil
1 tablespoon fresh chopped rosemary
1 tablespoon Dijon mustard
1 ½ teaspoons garlic powder
2 teaspoons each, fresh thyme and oregano leaves
½ teaspoon sea salt
Wellington Ingredients
1 (2-pound) pork tenderloin, trimmed and silver skin removed
2 teaspoons kosher salt
4 ounces unsalted butter (separated)
1 pound crimini mushrooms, minced
2 cups finely diced onions
1 pound fresh spinach
2 oz fresh bread crumbs
1 large apple peeled and diced
1 large pear, peeled and diced
2 tablespoon dried cranberries
1 teaspoon each lemon and orange zest
2 oz dry grated Parmesan cheese
8 oz. puff pastry, (thawed if using frozen)
1 egg
1 tablespoon cream
Fresh blueberries to garnish
Sauce Ingredients
1 cup (240 ml) demi-glace
1 cup (240 ml) cold brew coffee
2 tablespoons (30 ml) fine espresso powder
1 cup (240 ml) blueberries
1 tablespoon (15 ml) butter
2 tablespoons (30 ml) balsamic vinegar
2 tablespoons (30 ml) sugar
Directions
Whisk together the ingredients for the marinade of your choice, then set aside.
Preheat oven to 400°F (200°C) and position an oven rack in the center.
Trim the silver skin off of the pork – the silver skin is the white, tough strip of connective tissue that runs about halfway down the pork tenderloin. Once you have removed it, season pork tenderloin with 1/2 teaspoon coarse sea salt and 1/4 teaspoon ground black pepper. Pour the marinade over the pork tenderloin. Refrigerate for 8 hours up to 24 hours.
Place the trimmed marinated tenderloin on a cutting board. Starting about ⅓ of the way down the side, slice into the tenderloin through the centre to butterfly it.
Place a large skillet on the stove over medium-high heat, melt half the butter then add the mushrooms and onions. Cook the mushrooms, stirring occasionally, until all moisture has evaporated. Transfer the mushrooms to a medium bowl.
In a second skillet heat the remaining butter, sauté the spinach until all the moisture has evaporated, season with salt and pepper. Set aside.
In a small mixing bowl, combine the breadcrumbs, apple, pear, cranberries, zests, Parmesan cheese, set aside.
Roll out the puff pastry sheet to 4 inches longer than the tenderloin. Spread the mushroom duxelle over and then spread the spinach on top. Place the tenderloin on the spinach, top with the apple filling.  Roll the tenderloin around the apple filling and then wrap the tenderloin in the pastry, making sure to press the seams closed.
Mix the egg with the cream, using a pastry brush, lightly coat the outside of the pastry with the egg wash. Cut several slits through the top of the pastry to allow any steam to escape. Transfer the tenderloin to a parchment lined baking sheet, with pastry seams down, and place in the oven to bake until the pork reaches the internal temperature of 160°F (72°C) and the puff pastry is golden-brown, about 45 minutes. When the pork is cooked, allow the pork to rest 15 minutes before slicing.
While the pork is cooking, make the sauce.
In a small saucepan over high heat, bring the cold-brew coffee to boil, add the espresso powder and boil for 2 minutes, then remove from the heat and reserve.
In a separate pot, cook sugar and balsamic together for 1 minute, then add demi-glace.
Bring to a simmer, then add the blueberries. Cook 1-2 minutes, until berries have softened slightly.
Strain the espresso mixture through a fine sieve and add to the blueberry demi-glace.
Simmer for 10-12 minutes.
Remove from heat and whisk in butter.
To serve: Slice into 1½ inches thick, transfer to warmed dinner plates and drizzle with sauce and sprinkle with fresh blueberries. Serve immediately.
Get the DIY Pork Tenderloin Wallington video at https://www.youtube.com/channel/UCWk1Hz-OwS-GH9MReyz79gQ