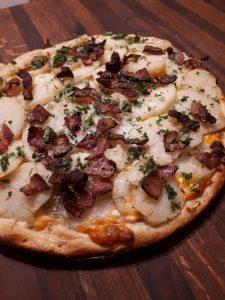 Dough
Ingredients:
1 medium potato, peeled and diced
1-1/2 cups water
2 packages (1/4 ounce each) active dry yeast
1/2 cup
warm water (110° to 115°)
1 cup warm 2% milk (110° to 115°)
2 tablespoons butter, softened
2 tablespoons sugar
2 teaspoons salt
6-1/2 to 7-1/2 cups all-purpose flour
Additional all-purpose flour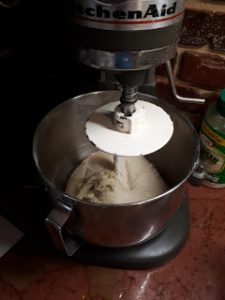 DIRECTIONS:
Place potato and 1-1/2 cups water in a small saucepan. Bring to a boil. Reduce heat; cover and simmer until very tender. Drain, reserving 1/2 cup liquid. Mash potatoes (without added milk or butter); set aside.
In a large bowl, dissolve yeast in warm water. Add the milk, butter, sugar, salt, 4 cups flour, potatoes and reserved cooking liquid; beat until smooth. Stir in enough remaining flour to form a stiff dough.
Turn onto a floured surface; knead until smooth and elastic, about 6-8 minutes. Place in a greased bowl, turning once to grease top. Cover and let rise in a warm place until doubled, about 1 hour.
For Pizza: Shape the dough into the shape of your pan, then place the dough onto it, drizzle about a tablespoon or more, extra virgin olive oil and rub it over the surface evenly, then set in a draft-free place for a few minutes while you prepare the potatoes.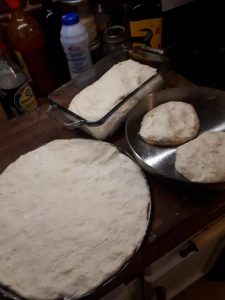 Bake the pizza on the lowest rack, for 4 minutes. After 4 minutes, replace the pizza onto the middle of the oven for another 8 to
11 minutes, or until the pizza is brown. Reset the oven to broil (grill) and place the pizza on the top rack to make the potatoes a little more brown and crispy.
For Bread or Rolls: Punch dough down. Turn onto a lightly floured surface; divide in half. Shape into loaves or rolls. Place into greased 9×5-inch loaf pans. Cover and let rise until doubled, about 30 minutes.
Bake at 375°F for 35 minutes for bread or 20 minutes for rolls.
Yield: 4-14" pizzas or make two pizzas and 1 loaf of potato bread or a dozen potato rolls.
The Pizza
Ingredients:
3 medium potatoes, baked & cooled until cold
1/4 Cup Extra Virgin Olive Oil
1⁄2 teaspoon garlic powder
1 Teaspoon Chopped Fresh Rosemary
Sea salt & cracked pepper
1 cup sour cream bechemal sauce (recipe follows)
1 lb lobster, chicken, beef or your favorite meat, cooked & diced
1 cup caramelized onions (recipe follows)
3 Ounces Fontina Cheese, Cut Into Thin Slices
1 Cup Shredded Asiago or Parmesan Cheese
½ lb diced and cooked bacon
Chopped parsley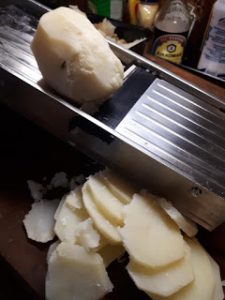 DIRECTIONS:
Lightly spray 14inch pizza pan. Place dough on pan, brush with the olive oil.
Cut the cold potatoes into 1/2 inch slices. In bowl, combine remaining olive oil, garlic powder, and Rosemary toss with the potatoes gently to coat.
Spread sour cream sauce over pizza crust.
Top with the lobster, onions, and top with cheeses.
Layer the potato slices over the cheese. Remove the pizza from the oven, sprinkle green onions and cut into slices and serve hot, warm or cold.
This pizza reheats really well, just place it back on a tray into a 400˚F (205˚C) oven.
Sour Cream Bechamel Sauce
Ingredients:
3 tablespoons flour
3 tablespoons butter
1 cup milk
1 cup sour cream
1 teaspoon lemon juice
Pinch freshly ground Nutmeg
Salt and ground white pepper to taste
DIRECTIONS:
Over medium heat, melt the butter, add flour and fry until golden brown.
Gradually add cold milk, stirring constantly.
Cook 5 minutes, add salt, lemon juice and pepper and continue stirring until sauce thickens (about 15 minutes)1 cup sour cream
Caramelized Onions
Ingredients:
2 large yellow onions, peeled (about 1 pound)
2 tablespoons unsalted butter
Kosher salt
Chicken broth or water (for pan; optional)
DIRECTIONS:
Halve both onions through root end. Using the tip of your knife, cut a V-shaped notch around root to remove it (this will ensure that all slices separate when you cut the onion).
Place 1 onion half on your cutting board so root end is facing you, then thinly slice onion lengthwise, starting at one side and working all the way to the other (so your knife runs through the root halfway through, not starting or ending at the root end). Cut slices that are ¼"–⅛" thick.
Repeat same slicing procedure for remaining onion halves.
Heat 2 Tbsp. butter in a large skillet over medium until melted and sizzling.
Cook, stirring, until onions are soft and starting to turn translucent, 1–2 minutes. Season with a pinch of salt.
Reduce heat to medium-low and continue to cook onions, stirring every few minutes to prevent them from sticking and coloring too much in any one place, until blonde-colored, 15–20 minutes. (use for onion soup at this stage)continue cooking until onions are golden brown, another 15–20 minutes.
Because most of the water has cooked off at this point, there might be some bare spots where the pot could start to burn. If this happens, stir in a splash of broth or water. The liquid will dissolve the cooked-on bits, which the onions will re-absorb.
For extra-dark onions, continue cooking until they start to almost blacken around the edges and go slightly crisp, another 10–15 minutes. This requires constant attention so they don't burn.
Let the onions cool in the saucepan, then use or transfer to an airtight container and chill. They will keep up to 1 week