Now we've baked our bread and enjoyed the eating of it, yet there is always just a little remaining, that end piece (heel) or maybe slices that just didn't cut properly.  What do we do with it? We simply make breadcrumbs! Delicious toasty breadcrumbs are made best with delicious homemade bread, so with a little attention, there is never any waste for all that effort that you took in creating your "wonder" bread.
To make good breadcrumbs simply place in an uncovered container and set aside in a dry dark area.  In a few days the bread will have dried out and with a brief spin in a food processor you have the fine crumbs. If you don't have a food processor, place the dried bread in a paper bag and gently beat it with a rolling pin.
Preheat your oven to 300°F (160°C), spread your crumbs on a parchment paper lined cookie sheet and bake for 10 minutes. Now your crumbs are ready for use.  Try mixing with other ingredients as a binder to sprinkle on top of dishes as a gratin , topping anything from fish to pasta.  Or treat it "À L'ANGLAISE", a French term meaning commonly meaning "in the English manner." It is something cooked without sauce, having a triple coating, where an ingredient is first dipped in a seasoned flour mixture , then secondly into a blend of egg, salt, pepper and cream (in the ratio of 1/2 teaspoon of cream per egg) forming an egg wash, then finally immersed in breadcrumbs. The À L'ANGLAISE, a term that is not used much in the average kitchen any longer; we simply say "coat or cover" with breadcrumbs, however as long as the item has been treated with something to allow the crumbs to adhere (as with the mustard in the lamb recipe above) it may still referred to as coating or covering.
The threefold process gives us a complete covering, protecting what it covers, keeping the item moist and providing a nice crunchy texture and also gives a pleasant finished coloring to the served item.
To properly coat with breadcrumbs, establish a coating (breading) station. Arrange 3 bowls, each one containing the three separate ingredients, one of flour, one of egg wash, and the third for the breadcrumbs. Have very clean or gloved hands. Be sure you are using one hand for dipping while the other handles the items that require dipping.
"À L'ANGLAISE" is about the finished texture, the crunch!    In order to avoid a soggy finish, we must deal with any unwanted surface moisture. Pat dry with a paper towel any excess moisture that will get trapped beneath the coating causing it to lose the desired crunch.
Working quickly, dredge the item into the flour coating in its entirety; shake off any excess for an even dusting, no thick spots or bare areas are what you are looking for.
Next, dip the flour-dusted item into the egg wash; again being sure to coat it entirely.
Now dip the egg washed item into the breadcrumbs, rolling them thoroughly through the crumbs coating entirely.  Shake off excess and allow to rest for 15 minutes (refrigerated).  This lets the threefold process adhere completely to your item.  Now process according to the recipe you are using.
As a threefold process we see our item takes on an entirely new look.  It is completely covered and thereby protected from harsh treatments like baking or frying.  But more; the process transforms a simple item into a more desirable presentation.
Perhaps it is an example for our daily living, as we face situations and conditions beyond our control.  We may b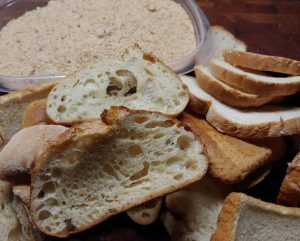 e tempted to worry, fret and even panic when something troubling comes our way. We must keep in mind that these things are not from God but rather an enemy that desires to destroy us, or worse.   John 10:10 Amplified Bible (AMP) The thief comes only in order to steal and kill and destroy. I came that they may have and enjoy life, and have it in abundance [to the full, till it overflows]. There is an enemy with evil desires for you, but Christ has a better plan for you, He has you covered.
Psalm 55:4-8 Amplified Bible (AMP)  My heart is in anguish within me, and the terrors of death have fallen upon me.  Fear and trembling have come upon me; Horror has overwhelmed me.  And I say, "Oh, that I had wings like a dove! I would fly away and be at rest.  "I would wander far away, I would lodge in the [peace of the] wilderness. Selah.  "I would hurry to my refuge [my tranquil shelter far away] From the stormy wind and from the tempest."
Panic! That is what the enemy wants all of us to go through.  What will be best, what I am I to do, how am I ever going to pay my bills, what about my house payment, how can I simply go on? Panic is a weapon that the enemy uses to distract us; for then we focus on the problem and not the one who has already given the solution. Yet if we will coat ourselves with the Word of God and allow the Holy Spirit to carry us through, then panic, worry, grief and fret will have no rule over our lives. Isaiah 35:4 Amplified Bible (AMP) Say to those with an anxious and panic-stricken heart, "Be strong, fear not! Indeed, your God will come with vengeance [for the ungodly]; The retribution of God will come, But He will save you."   There is no need for an anxious heart, no place for panic, for you are coated in the power of God; whatever may be harsh cannot get to you; there is little doubt, it will try,  it may come, but you have that coating.   You come out even better than you were before this trial came near.  There is a key for you as well; you go through. Isaiah 41:10 Amplified Bible (AMP)   'Do not fear [anything], for I am with you; Do not be afraid, for I am your God. I will strengthen you, be assured I will help you; I will certainly take hold of you with My righteous right hand [a hand of justice, of power, of victory, of salvation].'
Such are the promises of God, they're yours for today.  Just take them from His Word and coat your situation with them, as we treated our food product with a threefold À L'ANGLAISE, we treat our problem and situations with a threefold process that provides an armour plating (the coating) that can withstand the heating elements of the enemy.
1 Peter 5:6-7 Amplified Bible (AMP) 6 Therefore humble yourselves under the mighty hand of God [set aside self-righteous pride], so that He may exalt you [to a place of honor in His service] at the appropriate time, 7 casting all your cares [all your anxieties, all your worries, and all your concerns, once and for all] on Him, for He cares about you [with deepest affection, and watches over you very carefully].
Before we do what is required, recognize that we have not the ability to do what we must, so the scripture says "humble yourself" and know that the problem is not about you.  Sure it is happening to you, yet it is about hurting God.  If the enemy can dissuade you from trusting God, distracting you from your faith in His ability to deliver you, then the enemy hurts God. Get out of the way, humble yourself; you most likely don't know why; the why no longer matters; winning is the issue.  Let God do the winning. He will exalt you.  How are you exalted?   By seeing your circumstance or situation coming to a favorable end, the grand finale where you win. As a finished plate by the hand of the chef, you are the perfected person by the hand of God.
So what is our coating method?   First Peter says casting all your care.  The word here for cast is to literally throw, hurl, toss with all your might.  You're going to take that care, that thing that is a burden to you, and throw it at the feet of the Lord. Do not hang on to it, not even a little; give that panic no entry point. You will recall I said in each stage of the coating process to cover entirely; that is what we do with our mind; we throw that problem to the Lord with all our might.  Leaving it there, we coat our heart and mind entirely with the Word so no doubt or unbelief finds its way in; we are covered.
We may not know where the trouble came from (although we know who brought it).  If we know not where it came from then it is likely we also know not how to resolve it. That is why we throw it on the Lord so He will handle it. Remember care means, worry, grief, frustration, anxiety, and mental anguish. None of this should have any part in the Christian who has been coated by the blood of Jesus!  We are to  fling those cares upon Him and going forward we trust Him to resolve them, Proverbs 3:5-6 Amplified Bible (AMP) Trust in and rely confidently on the Lord with all your heart And do not rely on your own insight or understanding. In all your ways know and acknowledge and recognize Him, And He will make your paths straight and smooth [removing obstacles that block your way].
We keep our minds coated in the Word because we become what we focus on; focus on the problem and it will manifest.   Focus on the Lord and His will and it will also manifest. Which one do you suppose will be better for you? A mind coated in the Word is a mind at rest, in peace, filled with comfort and walking in joy. Isaiah 26:3 Amplified Bible (AMP) 3 "You will keep in [a]perfect and constant peace the one whose mind is steadfast [that is, committed and focused on You—in both [b]inclination and character], Because he trusts and takes refuge in You [with hope and confident expectation]. So like dipping our food item entirely in the flour, we cover our minds completely in the Word; nothing laid bare so that something undesirable cannot get through.
Your problem isn't greater than Christ.  It isn't greater than God and it certainly cannot stand in the presence of the Holy Spirit.  So stay in faith, speak words empowered with the anointing of the Spirit of Truth in faith. Luke 8:50 Amplified Bible (AMP)  But Jesus, hearing this, answered him, "Do not be afraid any longer; only believe and trust [in Me and have faith in My ability to do this], and she will be made well." To believe and trust is to have faith, and why wouldn't we?  He has a handle on the situation.  We can't fix or stop it but He can.  Get out of His way by your trying to carry the problem; throw it on Him and allow Him to resolve it.
It is said that we convince ourselves this really works; why?  For we believe what we say faster than what anyone else may say, so speak the Word, say it, make it a declaration of faith that soon becomes a declaration of who you really are. Psalm 91:2 Amplified Bible (AMP) I will say of the Lord, "He is my refuge and my fortress, My God, in whom I trust [with great confidence, and on whom I rely]!"
Helping us even further; we next egg wash our food item, so the washing our minds frees us from those worries and griefs? We must allow the Holy Spirit to get a hold on our tongue, to wash our mouths from speaking those things that are contrary to both the Word of God and the desire of God. We wash our food item not as a method of completion but as a method of preparation for the next phase of the coating.   Likewise, we must wash our mouths as a method of preparation to receive the final phase of battle, the victory phase. Matthew 6:31-33 Amplified Bible (AMP) 31 Therefore do not worry or be anxious (perpetually uneasy, distracted), saying, 'What are we going to eat?' or 'What are we going to drink?' or 'What are we going to wear?' 32 For the [pagan] Gentiles eagerly seek all these things; [but do not worry,] for your heavenly Father knows that you need them. 33 But first and most importantly seek (aim at, strive after) His kingdom and His righteousness [His way of doing and being right—the attitude and character of God], and all these things will be given to you also.
Here we see Jesus stating "watch what you say, stop speaking the problem, start speaking the solution".  We don't deny that there is a problem, but we place our faith in God to bring the solution. He knows; let that sink in. He knows.  You're not telling Him something He has never heard before, because He knows.  He also has the solution, therefore we coat *wash) ourselves with His Word, we seek Him, listen to Him, we do exactly what He tells us and He will see us through. We have washed away dreadful thoughts, evil tidings, and destructive actions of the enemy, the requirement is answered and the need met.
With our minds coated with the Word, our mouths washed with the Word and empowered with Faith, we are now ready for the final coating that brings us into victory, those breadcrumbs.
Philippians 4:6-8 Amplified Bible (AMP) 6 Do not be anxious or worried about anything, but in everything [every circumstance and situation] by prayer and petition with thanksgiving, continue to make your [specific] requests known to God. 7 And the peace of God [that peace which reassures the heart, that peace] which transcends all understanding, [that peace which] stands guard over your hearts and your minds in Christ Jesus [is yours]. 8 Finally, [a]believers, whatever is true, whatever is honorable and worthy of respect, whatever is right and confirmed by God's word, whatever is pure and wholesome, whatever is lovely and brings peace, whatever is admirable and of good repute; if there is any excellence, if there is anything worthy of praise, think continually on these things [center your mind on them, and implant them in your heart].
You have cast your cares on Him in prayer, spoken His Word, stretched your faith and now your complete in Him, covered, now just be thankful for His power to deliver, to resolve, to heal, to grant that favor you need of Him.
The battle ground is your heart, your mind.  But as you abide in faith and continually speak the Word with thanksgiving, you know you will obtain that which you require. What are the breadcrumbs?   Look at verse 8, the whatever's, what's true, honorable, respectful, right, pure, wholesome, lovely, peaceful, admirable, good repute, excellence, these are the things your mind should be focused upon.  This covering resists the wicked imagination that the enemy is trying to sow therein. When you look at your situation know that it isn't too big for God, Jeremiah 32:17 Amplified Bible (AMP)  'Ah Lord God! Behold, You have made the heavens and the earth by Your great power and by Your outstretched arm! There is nothing too difficult or too wonderful for You"   With thankfulness we complete our coating and come to gain exactly what God intended us to have.
1 Thessalonians 5:18 Amplified Bible (AMP) in every situation [no matter what the circumstances] be thankful and continually give thanks to God; for this is the will of God for you in Christ Jesus.
Completely processed, our finished food item has that prefect crunch to it, pleasing to eye, delicious on the palate, a item perfectly crafted by the hands of the master chef. Some cooks may look for short cuts, skip a part of the process, thinking they know better than the chef, but the tale is the finished product, crumbs falling off during cooking, exposing the dish to the harsh elements, slightly burning through weak spots, leaving a poor taste on the palate. So this is the difference between the average believer and the victorious adventurer in the Word and powerful faith.  How much more influential is the man/woman of God who has been coated by the hands the Master, you being finished with a profound sense of His presence and His divine plan. You are the person with CRUNCH!  The perfectly fitted companion of God, crafted by Him for victory, so go forth into knowing that He is right there covering you, coating you with Himself. Deuteronomy 31:8 Holman Christian Standard Bible (HCSB) 8 The Lord is the One who will go before you. He will be with you; He will not leave you or forsake you. Do not be afraid or discouraged."
Edited by: David C Forrest, Niagara Falls Ont