My good friend John Christopher request a little help with his smoker, so here is a little info for him and you too.
HOW TO SMOKE A BRISKET OR RIBS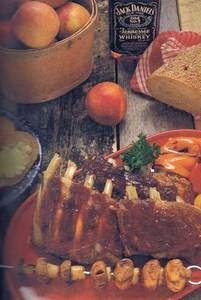 Make the marinade, set aside.
Trim the brisket of excess fat, Lay the brisket out on your cutting board fat side up. Work from the flat side towards the point side. Using very shallow cuts with your knife blade almost parallel with the brisket, start by making a cut long enough that allows you to hold the fat you just cut with your left hand while continuing to trim with the knife you right hand, keep your strokes as shallow as possible, you should leave about a ¼ inch of fat on the brisket. Using a long boning knife, remove the large piece of centre fat near the point end, this fat will not provide any flavoring through 'fat basting" the melting of the fat as the meat smokes.
Place the brisket in a container large enough that it lays flat, pour two thirds of the marinade over, cover with plastic wrap and refrigerate 12 hours. Turn the brisket over, cover, refrigerate an additional 8-12 hours.
Remove the brisket from refrigeration, allow it to come to room temperature, never cook it when cold as this will toughen the meat. Pat dry with paper towel.
Score the meat and apply the dry rub all over the brisket. Remember its called a rub, so rub it deeply.
Prepare the smoker accordingly; use a combination of hardwoods and/or fruit woods, some use wood soaked in water, large chunks maybe, but chips that are soaked end up leached of their flavoring ability, so just bite the bullet and use a little more, you will love the taste when done.
Low and slow, it only way to go. Place the brisket on the smoking grate. Once the internal temperature reaches 165–170 degrees, the meat starts to get tender. Leave the brisket in the smoke for 4 hours, and then wrap the entire brisket in aluminum foil for 3–4 hours. During its first 4 hours, quickly "mop" the brisket with the remaining marinade. Be watchful not to allow too much heat to escape, it is minimal to begin with.
The brisket is done when your probe thermometer easily slides into the meat and the internal temperature reaches 200 degrees F.
Leave wrapped, place in a picnic cooler and hold for 1 ½ hours before unwrapping and slicing "against the grain".
Served with a light brushing of sauce and additional sauce on the side, do not "slather" with sauce.
NO RIBBING HERE
The most popular entree off/out of the smoker is not pulled pork, brisket or even chicken, it is the ever "lovin"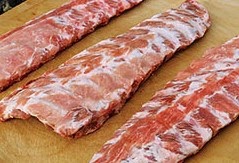 back ribs. Yet the question is which one to serve, so here are few things to keep in mind.
Pork ribs are divided into two categories, sparerib and loin back ribs. We know spareribs as St. Louis style and loin ribs as baby backs. Baby backs are such as they are taken from the top of the loin and are smaller than the sparerib. Trimming "St. Louis Style Ribs" remove from the rack the cartilage, and the breastbone, from the side. The next step to making a St. Louis Style rib is to remove the end-flap of meat at the end of the rack. This flap of excess meat is usually attached to the last bone of the rack, a simple, horizontal cut will slice it off then the rib tip removed and it is now ready for the next stage.
Turn the rib over and peel off the backing membrane, use a sharp knife on the narrow end, lift the membrane, then pull straight down the rack. This will allow marinades, rubs and smoke to penetrate the meat easier.
Place the ribs in a container large enough that it lays flat, pour two thirds of the marinade over, cover with plastic wrap and refrigerate 12 hours. Turn the ribs over, cover, and refrigerate an additional 4 or more hours.
Remove from marinade, pat dry with a paper towel. Knead your dry rub onto the ribs, covering all sides. Return the ribs back in the refrigerator for 2-4 hours.
Remove from the refrigerator, and let the ribs return to room temperature for 30 minutes.
If you are smoking them or grilling them on indirect heat, be sure to set your grill to 250 degrees
Mop the ribs before closing the lid of the grill/smoker. It is recommended that you come back to mop the ribs every hour.
Ribs smoke for 3-4 hours, depending on the thickness of the meat.
15-20 minutes before finishing is a good time to add the sauce. This will add a bit of crunch to the surface of the meat while the sauce caramelizes onto the meat.
Keep applying more sauce with the sauce mop for the last 15 minutes of cooking.BRISKET MARINATE AND MOP

1 1/2 cups Apple juice

1/2 cup Olive oil

1 1/2 tablespoons Dijon mustard

1 1/2 tablespoons Lemon juice

1 tablespoon Cider vinegar

1 tablespoon Horseradish

1 1/2 teaspoons Salt

1 teaspoon Cayenne pepper (use less or omit if preferred)

1 teaspoon Onion powder

1 teaspoon Garlic powder

Gather the ingredients.

Mix all ingredients together in a small bowl.

Pour over brisket and let marinate overnight in the refrigerator, turning occasionally.

Remove brisket from marinade and boil remaining marinade for 5 minutes to use as a mop.

BRISKET RUB #1

1/4 cup paprika

3 tbsp vanilla sugar*

2 tbsp kosher salt

2 tbsp garlic powder

1 tbsp black pepper

1 tbsp onion powder

1 tsp cumin

1 tsp cayenne pepper

½  teaspoon each ground cinnamon, allspice, dried basil leaves, thyme leaves, oregano leaves

Combine all ingredients in a bowl and stir to combine. Use immediately or store in an airtight container.

*VANILLA SUGAR

2 cups white sugar

1 whole vanilla bean

Directions

Pour the sugar into an airtight container. If the vanilla bean is whole, slice it halfway through the long way, open up the bean, and use a spoon or kitchen knife to scrape out the black gooey specks. Stir the specks into the sugar, and bury the bean pod in the sugar. Cover the jar and let stand for at least 1 week.

BRISKET RUB #2

(SPICY)

1/2 cup paprika

1/2 cup chili powder

1/4 cup brown sugar

1/4 cup white sugar

2 teaspoons celery seed

2 teaspoons ground black pepper

2 teaspoons cayenne pepper

2 teaspoons dry brown mustard

2 teaspoons garlic powder

1 teaspoon ground cumin

1 teaspoon salt

½  teaspoon each ground cinnamon, allspice, dried basil leaves, thyme leaves, oregano leaves

Directions

Mix all together in a bowl.

BRISKET FINISHING SAUCE

1/2 cup tomato paste

3/4 cup water

1/4 cup brown sugar

½  teaspoon each ground cinnamon, allspice, dried basil leaves, thyme leaves, oregano leaves

1 tablespoon white vinegar

1/2 teaspoon salt

1/4 teaspoon black pepper

Place all ingredients in a saucepan.

Simmer for 10 minutes on medium heat. Stir often.

Remove from heat and let cool for 5 to 6 minutes.

GOOD OLE BBQ SAUCE

1 1/4 cup ketchup

1 cup water

1/3 cup cider vinegar

1/4 cup dark brown sugar

2 tablespoons molasses

1 tablespoon onion powder

1 tablespoon garlic powder

1 tablespoon black pepper

1 teaspoon celery salt

½  teaspoon each ground cinnamon, allspice, dried basil leaves, thyme leaves, oregano leaves

½ teaspoon cayenne (use less if desired)

½ teaspoon hickory liquid smoke

Combine all ingredients in a saucepan over a medium heat. Stir constantly for 5 minutes.

Reduce heat to low and simmer for 20 minutes, stirring occasionally. The sauce should be good and thick.

Remove pot from heat and allow sauce to cool for 10-15 minutes before using. If making ahead of time, cool sauce for 30 minutes and then store in an airtight container.