Every chef knows the secret to a great simmering pot is the (Bo-kay' Gar-knee') Bouquet garni, which is French for "garnished bouquet," it is a classic herb mixture used for preparing stocks, soups, casseroles, meats, and vegetables. A little bundle of  joy for the taste buds. For 4 cups (1 quart) of broth a fresh bouquet begins with, 3 sprigs of parsley, 1 sprig of marjoram, 1 sprig of thyme leaves and 2 bay leaves. Tightly tie the bundle together using string or wrap securely in cheesecloth and tie. The classic French bouquet consists of parsley, thyme, peppercorns and bay leaf, yet, that's just the beginning, you may add, any fresh herbs, and add spices for your braises  such as: juniper berries, peppercorns, and cloves. For fusion cuisine, look to using lemon grass, galangal, ginger root, and the fronds of fennel. Some may even use citrus zest to give that extra hint of freshness.
Don't have a cheesecloth, consider using a tea infuser or coffee filters, they really work great.
The herbs;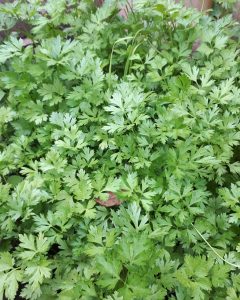 Parsley: There are three common varieties of this popular, bright green biennial: flat leaf (Italian), curly leaf, and parsnip rooted.  An essential ingredient in classic flavoring. Combined with tarragon, chives and chervil, parsley helps make up the traditional French flavoring blend of fine herbs called Herbs de Provence (follows). Parsley has long history of culinary use and medicinal as well. It grows easily, so cultivate your own, often sold in small fresh bunches in your markets produce section. Dry your own by following a few simple steps. Wash and drain the parsley on some paper towel and then place the sprigs on a microwave proof plate. Microwave for 30 seconds and then turn the sprigs over and blast another 30 seconds. Leave to cool and see if the sprigs are brittle, if they are, then crumble them into jars, if not, give them another 30 seconds.
Marjoram: A traditional symbol of youth and romantic love. Use fresh, as whole or chopped, and dried whole or broken, and ground. Part of the oregano family, marjoram originated in Mediterranean regions and is now a commonly used spice in many parts of Europe. Called za'tar in the Middle East and often used with or in place of oregano. Known as the "sausage herb" as it is used in many different sausage types.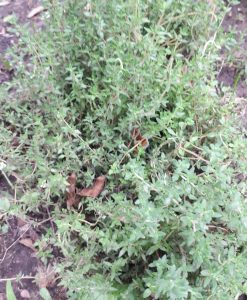 Thyme: There are over 100 varieties of thyme, many hybrids, for cooking the most common are, common garden thyme and lemon thyme. Thyme is pungent, warming, spicy and delightful in soups, stocks, sauces, pastas, braises, from appetizers to desserts thyme is a "go to" herb for that perfected flavor. Rubbed thyme is simply dried thyme leaves removed from the stems by rubbing them over a large sieve.
Bay Leaf, Sage, Rosemary, Oregano, Basil, Dill all can be part of the bouquet depending on the flavor profile you are seeking for the final dish. Each of the five "Mother" sauces are enhanced with the addition of the bouquet.
Herbs de Provence
2 tablespoons dried rosemary
1 tablespoon fennel seed
2 tablespoons dried savory
2 tablespoons dried thyme
2 tablespoons dried basil
2 tablespoons dried marjoram
2 tablespoons dried lavender flowers
2 tablespoons dried Italian parsley
1 tablespoon dried oregano
1 tablespoon dried tarragon
1 teaspoon bay powder
Grind rosemary and fennel seed in a spice grinder; transfer to a mixing bowl. Stir savory, thyme, basil, marjoram, lavender, parsley, oregano, tarragon, and bay powder with the rosemary and fennel. Store in an air-tight container.
Pickle Juice Braised Beef
I like to add 2 additional steaks to this recipe, allow them to cool, slice them thinly and served with coddled eggs with a dill cream the next day for breakfast.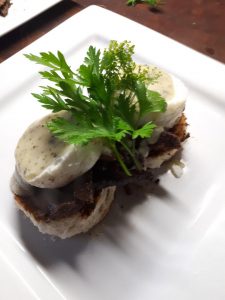 4-8 oz         boneless blade steaks, or, skirt steaks (any steak will do, but less expensive cuts which are perfect for braising)
2 cups                 dill pickle juice
½ cup                 All-purpose flour, for dusting
2 tbsp                  multi-purpose seasoning
4 tbsp                  vegetable oil
3                          medium onions, halved and thinly sliced (Vidalia, Maui, Texas 10/20's                              or, Walla Walla sweets)
2 tsp                   sugar
6                         garlic cloves, sliced
2 cups               beef stock
1/2 cup             red wine
3 tbsp                Worcestershire sauce
4                         large Portobello mushrooms, sliced thick
1                         Classic Bouquet garni
Salt & Pepper to taste
Chopped parsley for garnish
Method
Place the steaks in a large stainless bowl, pour the pickle juice over the steaks, cover and marinade 6-24 hours in refrigeration.
In a small bowl blend the flour with the multi-purpose seasoning.
Drain the beef and pat dry. Dust the beef in the flour, then set aside. Heat 2 tbsp of oil in a large skillet, quickly sear the steaks on each side, remove from the pan and set aside.
Add the remaining oil to the skillet, add the onions and fry for 5 minutes. Add the sugar, continue cooking for 7 minutes, stirring frequently, until the onions are caramelized. Stir in the garlic and mushrooms, continue cook for 3 minutes. Pour in the stock, wine and the Worcestershire sauce. Add the beef, season with the salt and pepper. Place in the bouquet, cover and simmer gently for 1-1/2 hours until the meat is tender. Serve sprinkled with fresh chopped parsley.
Serves 4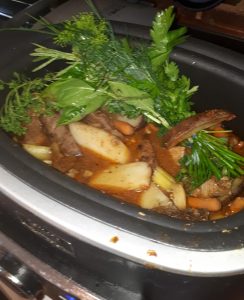 OLD FASHION BEEF STEW
2-¼ lbs      beef round
3 tbsp         olive oil
3 tbsp         flour
3                  diced onions
1                  minced garlic clove
3                  large diced carrots
4                  diced celery stalks
20                button mushrooms
3 cups         beef broth
1/3 cup        tomato paste
1 tbsp           Worcestershire sauce
2 tbsp        soy sauce
½ tsp        each of salt, pepper, paprika, chili powder, thyme, oregano
1                 Classic French Bouquet Garni
6                 large potatoes
Cut the beef in large cubes.  Heat the oil in a large kettle or Dutch oven, add the beef and brown, remove the beef.
Sprinkle with flour and cook over low heat for 5 minutes or until golden brown.
Add the onion, garlic, celery and mushrooms, sauté until tender.  Stir in the beef, broth, tomato paste, Worcestershire soy, seasonings and the bouquet garni.  Cover and simmer for 45 minutes.
Pare and dice the potatoes, add to the stew and continue to simmer for an additional 30 minutes.  Serve with Grandma's Best dumplings follows.
SERVES 6
Grandma's Best Dumplings
1 1/2 cups all-purpose flour
1 teaspoon salt
1 teaspoon baking soda
2 teaspoons baking powder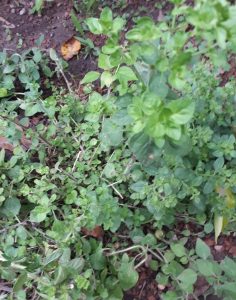 1 tablespoon fresh thyme
1 tablespoon fresh parsley
2 teaspoon fresh oregano
3 tablespoons butter
3/4 cup milk
Directions
In a bowl, mix the flour, salt, baking soda, baking powder, thyme, parsley, and oregano. Cut in butter until the mixture resembles coarse crumbs. Gradually add milk, using just enough to form a thick batter.
Drop by rounded tablespoons into your simmering soup or stew, cover, and allow to cook 15 minutes.
Breakfast Marjoram & Sage Sausage Patties
2 teaspoons dried sage
2 teaspoons salt
1 teaspoon ground black pepper
1/2 teaspoon red pepper flakes
1/2 teaspoon dried marjoram
2 pounds ground turkey
Directions
Mix sage, salt, black pepper, red pepper flakes, and marjoram together in a small bowl. Place turkey in a large bowl and mix the spice mixture into the turkey using your hands; form into patties.
Cook patties in a large skillet over medium-high heat until no longer pink in the center and the juices run clear, about 5 minutes per side. An instant-read thermometer inserted into the center should read at least 165° F (74° C).
Andouille Sausage
1 cup onion, diced
1 tablespoon lard or peanut oil
3 1/2 pounds venison, pork, beef or other meat
1 1/2 pounds pork belly or fatty shoulder
33 grams kosher salt, about 3 tablespoons
4 grams Instacure No. 1, about a heaping teaspoon
25 grams dry milk, about 1/3 cup (optional)
3 tablespoons minced fresh garlic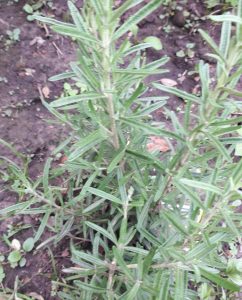 2 teaspoons cayenne
2 tablespoons sweet paprika
1/2 teaspoon clove
1/4 teaspoon allspice
2 teaspoons dried thyme
2 teaspoon dried chopped Rosemary
1 teaspoon powdered mustard
1/2 cup red wine or beer (put in fridge to keep it cold)
Hog casings
Instructions
Heat the lard or peanut oil in a small sauté pan and cook the onions over medium heat until they are soft, translucent and slightly browned on the edges. Remove from the pan and let cool.
While the onions are cooking, take about 10 to 15 feet of casings (typically three lengths) and submerge them in warm water.
Make sure you remove as much silverskin as possible from your meat. Cut the meat and fat into 1 to 2 inch chunks and toss with the salt, Instacure, dry milk, garlic, cayenne, paprika, clove, allspice, thyme and powdered mustard. You need the Instacure No. 1 as a safety measure when you smoke the links; if you don't plan on smoking them, you need not use this. You need the dry milk to help the links hold onto their moisture: If you skip this, they will still taste good, but they will shrivel up when you chill them. Put everything in a container and freeze for 30 minutes to 1 hour, or until the mixture is 35°F or colder.
Grind the onions, meat and fat through the coarse die. (If you are using the KitchenAid Food Grinder set the mixer on the No. 4 speed) Andouille is most typically a country-style, coarse sausage. If you want, you can even hand-mince the meat yourself. TIP: Hand-mince 1/4 of the meat and fat mixture to get a more interesting texture for your sausage.
Make sure the mixture is very cold, about 30°F; you will probably need to freeze it again for a while. When it's cold enough, take it out and add the chilled red wine or beer to the bowl and mix on the lowest setting for 90 seconds to 2 minutes, or with your very clean hands for 2 minutes. This turns what was essentially flavored ground meat into a cohesive sausage. The look of the meat will change as it binds to itself, and will look more like thick batter than ground meat and fat.
If you are making patties, you're done. Store each patty between pieces of wax paper and then wrap tightly in plastic wrap, then foil, before freezing. If you are making links, load up a sausage stuffer with the meat and fat. Rinse the casings by running warm water through them: You want to flush some salt and check for any holes in the casings. Thread an entire casing onto the stuffer and fill it slowly. Coil the filled casing as you go. Fill all the casings before making individual links.
To make individual links, tie off one end of a casing. Compress the sausage inside it to fill that end link. Pinch off a length of link with one hand, and another link with the other to create a second link next to the end sausage. Flip this second link over to create the sausage. Gently compress the meat in both the end link and this second one. Flip the second link over several times to tighten it. Move down the coil and create two more links. This time, flip the link back toward you to tighten it. Repeat this process down the coil until you get to the end. Tie off the end link. Repeat with all the other casings.
Hang your sausages to dry for an hour or more. Hang for 1 to 2 hours at room temperature, or up to overnight where your temperatures are below 45°F. I use a standard clothes drying rack to hang my links. When the sausages are hanging, use a large needle to pierce any spots on the links where there is air trapped underneath. Sterilize the needle in the flames of a gas burner or with a lighter until it glows. You need to pierce any trapped air or your links could burst when you cook them.
Once the sausages have hung, smoke them for at least 3 to 4 hours. If you hot-smoke your links, pull them when they reach an internal temperature of 155°F. If your links don't get to that temperature in time, you can either smoke them longer, or you can finish the cooking in an oven set at 200°F. Once they're fully cooked, let them cool before freezing.
Cheesy Savory Smoked Salt Thyme Crackers
1 1/2 cups all-purpose flour
1/2 cup grated parmesan cheese
1 tsp sugar
1 tsp salt
1 tsp dried thyme
1/4 tsp garlic powder
2 tbsp olive oil
1/4 cup water
parchment paper
For Topping (optional):
1 tbsp poppy seeds
1 tbsp sesame seeds
1 tsp fresh thyme leaves
1 tsp coarse or flaky Smoked salt
Instructions
Preheat oven to 450 °F. Place oven rack in lower third of oven.
Mix together flour, Parmesan, sugar, salt, basil, thyme, and garlic powder with a fork.
Stir in olive oil and water until a ball of dough forms.
Place a sheet of parchment paper on a flat surface; sprinkle lightly with flour.
Transfer half of the dough to the parchment paper and shape into a rough rectangle.
Using a rolling pin, roll out dough until it's about 1/8-inch thick (or less).
Sprinkle dough with half of the toppings, if using, then lightly press toppings into dough using your hands. Prick dough all over with a fork.
Use a pizza cutter to cut the dough into rectangles about 1 x 2-inches. (No need to measure and don't worry if some of your crackers aren't perfectly rectangular. They'll still taste great.)
Transfer parchment paper to a baking sheet, then separate crackers slightly.
Repeat process with remaining dough.
Bake crackers until browned on edges, about 12 to 15 minutes. (If some of the crackers on the outside of your pan brown faster, remove them so they don't burn, then continue baking other crackers.)
Cool crackers on baking sheet, then serve immediately or store in an airtight container until ready to use.