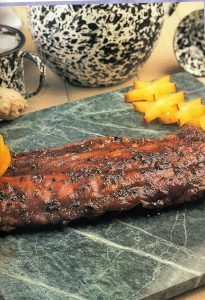 There are five distinct sauces you may find in the Carolina's for barbeque, from "rust sauce" to Vinegar & Pepper, light Tomato and heavy tomato sauces, such as Kanas City style or the Texan sweet and sassy, but in the Carolinas a switch up occurs, instead of a base of tomato or ketchup, mustard is used, giving a distinct and wonderfully different flavor to the home barbeque.
As BBQ is not new, in fact, some records show recipes as far back as the 1700's, a simply tried and true tangy sauce became to the standard in the region, a pepper and vinegar base, which could be used to marinate, mop, baste and finish whatever the cook desired to feature that day. As stated, the mustard base sauce dates back to the 1700's, it would appear with German settlers in the area, the state sought out and even paid for these settlers to come, as they did, so did their love of pork and mustard.
Yet, the Spanish brought the pig and it took the native Americans to teach them how to cook it. To enjoy all four styles of BBQ, American barbecue that is, there is only one state in the nation where that can be done – South Carolina. Here BBQ began, from here it spread throughout the states and now is international in influence.
BBQ in the Carolinas in not one flavor experience, but a a plethora of many. Every chef has his/her crafted sauce, every cook as unyielding resolve in his/her choice of wood or charcoal with which to to smoke. Every diner has they're absolute favorite "pit" which they keep as secret as their middle name. Choose your style, whether it be, Tennessee style or Memphis BBQ, Carolina style with its mustard sauce, Texas-style with the mop and basting sauce, Kansas City-style with heavy tomato molasses sauce, or even, Alabama with its white sauce, a mayonnaise vinegar style sauce, just know, it all began in the Carolina s.
3 pounds pork spareribs
For the Rub:
2 tablespoons salt
2 tablespoons sugar
2 tablespoons brown sugar
2 tablespoons ​cumin
2 tablespoons chili powder
1 tablespoon garlic powder
1 tablespoon onion powder
1 tablespoon black pepper
1 tablespoon cayenne pepper
1/4 cup paprika
For the Chef K's Carolina BBQ Sauce. See recipes that follow:
Prepare ribs by removing the membrane from the underside of the ribs. Simply slide a knife under the membrane, then quickly lift and tear down the meat side, the membrane should come off with ease. Trim off any loose fat or meat.
Prepare smoker or grill. If using a grill you will want an indirect heat.
Set the smoker temperature 225°F/110°C you will require this for 4 hours. Season ribs with rub, its called a rub as you must rub it into the meat, place on grill or in a smoker. While ribs are cooking, prepare barbecue sauce.
Cook ribs until the internal temperature of the meat reaches a temperature around 185° F/85° C. Brush with Chef K's Carolina barbecue sauce. After about 10 minutes, turn the ribs over and brush with sauce continually during the cooking process. Serve with more sauce.
Chef K Mustard
12 oz dry mustard
12 ounces soft brown sugar (or 1 cup pure maple syrup)
2 tablespoons ground allspice
1 tablespoon onion powder
1 tablespoon garlic powder
1 tsp ground cinnamon
1 tablespoon coarse salt
1 tablespoon ground white peppercorns
1 tablespoon paprika
2 teaspoon turmeric
2 cups pineapple vinegar (recipe follows)
1 ½ cup beer (I use stout)
Place all of the dry ingredients into a food processor and blend.  With the motor still running, gradually add the vinegar and blend until well mixed.
Add the beer and blend briefly.
Place in a sauce pan and simmer until reduced by one third.
Transfer the mustard to a bowl and leave to stand for one hour to thicken, then transfer to sterilized dry jars.
Cover the top surface of each jar with a disc of waxed paper, waxed side down, and leave until cold.
Top the cold jars with airtight lids, label and store in a cool dark place.
The mustard should keep for 3-6 months, shelf-stable mustard, you'll want to process the jars in a water bath,
Chef K's Pineapple Vinegar
4 cups pineapple pulp & skins (I juice the pineapple first)
2 cups pineapple juice
2 cups water
1 cup brown sugar
2 whole cloves
INSTRUCTIONS
Mix the brown sugar in the water until sugar dissolves.
Add the pineapple, juice and the sugar water to a glass jar.
Add in the cloves.
Cover with a cheesecloth and secure with a rubber band. (I use coffee filters)
Store in a cool, dark place (away from direct sunlight) for 3-4 weeks.
Stir the pineapple every few days to aerate it and prevent mold from growing on the surface, just remove any mold should that occur, the vinegar will be fine..
After 4 weeks, taste, is it where you like, sour and full of acid, if not allow it to set for another week or so. Finally strain into a clean, sterile jar, store in your pantry for several months to a year.
Chef K's Carolina BBQ Sauce
1 cup                240 ml                         Chef K's Mustard (see recipe above)
1/2 cup             120 ml                         sugar
1/3 cup             80 ml                           light brown sugar
3/4 cup             180 ml                         apple cider vinegar
1/4 cup             60 ml                           water
2 tablespoons   30 ml                           chili powder (mild)
1 teaspoon       5 ml                             black pepper
1 teaspoon       5 ml                             white pepper
1/2 teaspoon    2.5 ml                          cayenne
1 teaspoon       5 ml                             soy sauce
2 tablespoons   30 ml                           butter
1 tablespoon    15 ml                           liquid smoke (hickory flavoring)
Combine all ingredients, except soy sauce, butter and liquid smoke, in a medium saucepan. Simmer on low for 20 minutes, making sure to stir occasionally. Add the remaining ingredients and simmer for 10 more minutes. Remove sauce from heat and allow mixture to cool for 10 to 15 minutes before using.