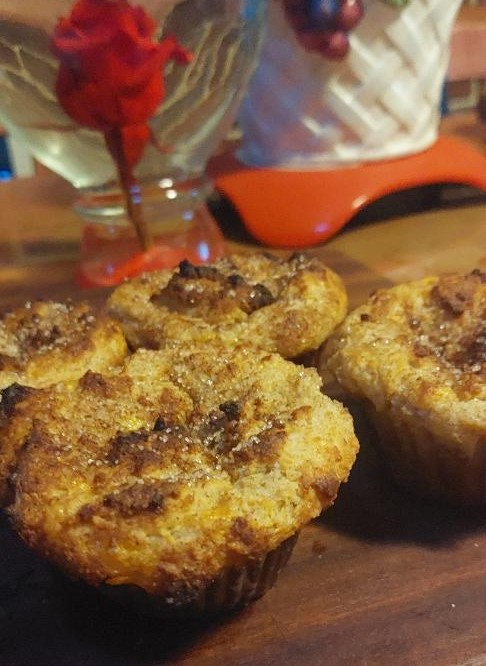 With only 4.5 g of carbohydrates these good morning breakfast biscuits are a delicious beginning to your ket0 friendly day.  Who says weight loss can't be delicious.
INGREDIENTS
1 ½ cups superfine almond flour
1 tbsp psyllium husk
¼ tsp salt
1 tbsp baking powder
1 tbsp monk fruit sugar
1 tsp ground cinnamon
½ tsp ground ginger
2 large eggs
1/2 cup full fat sour cream (or yogurt)
4 tbsp unsalted butter melted
1 tsp vanilla extract
1/2 cup shredded cheddar cheese
Sprinkle topping:
1 tbsp Monk fruit sugar
1 tsp ground cinnamon
½ tsp ground ginger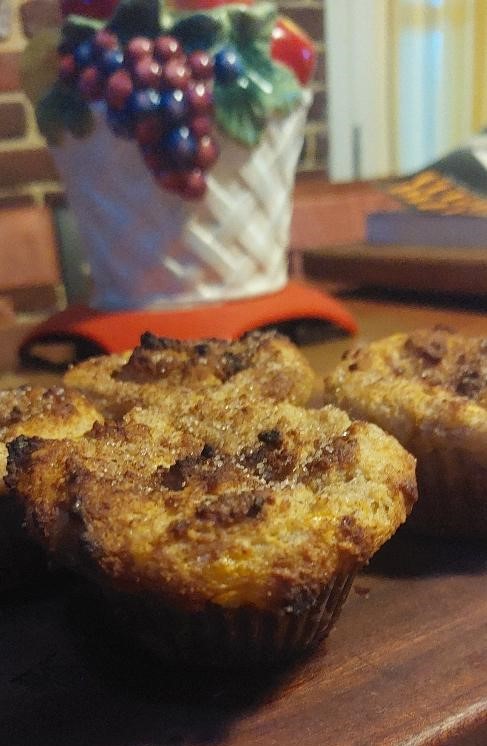 INSTRUCTIONS
Preheat oven to 425°F. Lightly grease muffin 9 cavities of a 12-cup muffin pan.
In a large bowl, whisk together almond flour, psyllium husk, salt, baking powder, monk fruit sugar, cinnamon and ginger.
In a small bowl, combine eggs, vanilla extract, sour cream, butter. Whisk until smooth. Pour into large bowl with dry ingredients.
Mix with a whisk or spoon until batter is evenly mixed. It will be quite thick. Stir in cheese.
Scoop ¼ cup of batter and place into muffin mold. The batter is sticky so you will likely need to use a spatula to scrape and remove all the batter from the measuring cup. Repeat until all batter is used up
Blend the Sprinkle Topping  by mixing the sugar and spices in a small bowl. Sprinkle half on topping of the biscuits.
Bake biscuits about 13-15 minutes or until tops are golden and toothpick inserted comes out clean. Sprinkle the remaining Sprinkle Topping on the hot biscuits as soon as they come out of the oven.
Allow biscuits to cool slightly before eating.
Yields 9 Biscuits