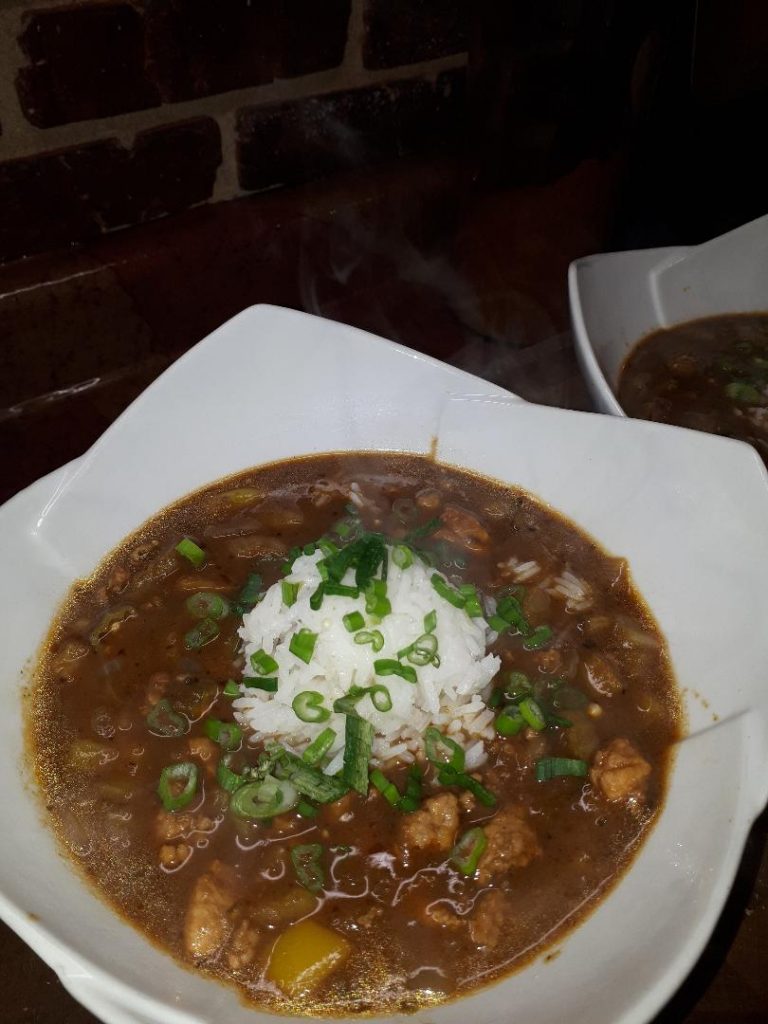 Be sure to check out our video on making Gumbo here: https://www.youtube.com/watch?v=2ak8wE1soMA&t=5s&ab_channel=RonKalenuikChefK
It is -30°C here in Niagara Falls, and case you don't know, that's cold! What do you do when it gets so cold hot water will freeze in seconds, stay indoors and make great comfort food.  My favorites are slow cooked stews and hardy soups.  The flavors dance on the taste buds, wonderful aromas fill the house, and when you take time to bake the bread that you serve along side then winter is defeated and you can easily face another day.
Today I made a chicken and sausage Gumbo. I love Gumbo because it is part of my favorite US city New Orleans, its jazz, its spicy, its warming all the way to the tummy. The flavor blend of a Trinity mix with the pope, herbs and spices, hot sauces, rich roux Noir, tomato and broths, it is a pleasure to make and a wonder to dine upon, "I wonder if there is more."
Gumbo is an African word, it means Okra, so Gumbo soup means Okra is in it. However, there is also Gumbo Ya Ya, African for no is Ya Ya, therefore Gumbo Ya Ya has no Okra, so whether you like Okra or not there is a Gumbo for you.
Gumbo is  true fusion cookery, understanding the roots and blending of the Cajun/Creole people you find that the creation of Gumbo uses French cookery methods, the Trinity mix (Onions, peppers and celery) are foundational in Spanish/Latino cookery, the Okra has African roots, and the local natives introduced them all to the king of the bayou, crawfish.  The infusion of hot sauces and spices really didn't happen until  after the 1960's but has helped to draw Gumbo to the top of the restaurant menus not just in Louisiana but throughout the world.
Gumbo soup falls into the hardy soup category, why? Because, it is a thickened soup.  Gumbo has three differing thickening agents, some people prefer one, some two and some all three. Tracing the history of a family recipe you will find why they chose the way they thicken their Gumbo, each has a different origin, and each thickens in a different manner. To thicken a Gumbo there are three methods considered authentic to Louisiana:
Okra
Gumbo Filé
Roux Noir
Okra, Gumbo not only is thickened by Okra but it's name is for Okra, West African languages, the word for okra is ki ngombo, or, in its shortened form, gombo or gumbo. That goo or mucilage that comes from Okra when boiled causes the soup to thicken.  This "slim" tends to less desirable for some, but it proves to be an excellent way to thicken your soup. The adding of Okra is dependent upon the cook, some add it once the soup begins to simmer, others will add it fifteen minutes before you serve it, I prefer the latter, but you decide.
Gumbo Filé, (fee-lee) a fascinating herb of the Choctaw Native band, file powder is simply ground sassafras leaves, file is a French word meaning, threads or strings, therefore it is added only at the very end of the simmering of the soup and "just" before it is served.  As it contains the same mucilage as Okra it will thicken the soup instantly.  While Okra is a late summer harvest vegetable, file powder had its popularity in the winter when Okra was available.
Today the most commonly used thicker for Gumbo is a roux.  Roux Noir (Black) is actually a dark reddish brown is color. Very slow cooking of equals amounts of fat and flour will result in the desired type of roux for the culinary purpose, here a roux noir, the darker the roux, the nuttier the flavor. The method is simple, the fried flour releases starch, the starch molecules open and easily absorb liquids. The fat coated molecules will help them from sticking together and absorbing too much liquid. However, the longer you cook a roux the less effective it have as a thickening agent.
Our roux noir is actually the final stage of roux cookery, there is three stages of roux cookery.
White roux, the fat and flour is cooked just for 2-3 minutes over medium/low heat.  This roux is used where a white sauce is required (béchamel), it has no nutty flavor and is only white in color so it is just what you'll want for any milk or cream based sauce or soup.
Blond roux, the most common of the roux's required for culinary purposes. (aka yellow roux or golden roux) Blonde roux is cooked for 3-5 minutes over medium heat, caramelizing it and giving it a dark blonde color.
Brown roux, cooked for 8-10 minutes over medium heat until the mixtures develops dark brown nutty color which has more pronounced and sharper hazelnut aroma. Used in brown soups and sauces preparation such has Española, brown gravy, demi glace, etc.
Here is a secret you'll want to know,  have you ever seen or worse had to eat a lumpy gravy or sauce (think Thanksgiving) everyone has at one time or another in your life.  You can prevent this of course by straining the lumps out through a mesh strainer or a china cap, which you should do with every sauce before service. But, the secret to not getting a lumpy sauce in the first place is (tada) never mix a hot liquid into a hot roux. Have one or the other cooler, a boiling pot of broth can be thickened nicely with a room temperature roux, or, a piping hot roux will thicken nicely a tepid warm pot of broth. Try to always have roux and broth at different temperatures for the prefect thickened soup or sauce.
The fat used, most fats will work well in making your roux. Butter is best and that clarified, as most of the moisture (whey) is removed it assists in stopping the flour from making a paste instead of a roux. Margarine, only when the cost of butter is an issue, but know, the flavor will be inferior, and will not yield a classic sauce (maybe a good imitation.) Never, ever use the "light"  version of margarine, why, because light margarine is made by whipping water as very high speed into the margarine. Just melt a little in a pan and you will see a large amount of water in the pan, or, apply it to your morning toast if you like soggy toast. Light margarine is an enemy to cookery. Animal fat, such as lard, bacon drippings, beef or chicken drippings work well for similar flavored soups or sauces, chicken fat can be used for chicken volute, and beef drippings can be used for beef gravy. When properly used, bacon fats can enhance the flavor of a Gumbo as it will marry the sausage within the soup.
As a side benefit, a roux thickened sauce will help in clarifying a sauce, the impurities cling to the flour, float to the top of the soup or sauce making it easy to skim it and remove the impurities, improving the texture, gloss, and flavor of the finished product.
Gumbo is often served with rice, generally white, commonly used is either long grain converted or unconverted rice or popcorn rice. (Recipes follow) Converted rice is made by soaking whole, unhusked grains of rice in water, then steaming them. This causes much of the nutrition and the taste from the bran and husk to go into the grain. Then, it is dried, and husked.
Popcorn Rice, a fragrant long grain rice, which comes from Louisiana and is a Basmati hybrid, has a rich, nutty flavor and a popcorn-like aroma. The rice's consistency is fluffy with a firm consistency. The grains stay separate and fluffy after cooking, it is excellent for service of  rice as a side dish, or as a bed proteins and sauces, or finishing a soup, I consider it the "go to" rice when making a gourmet rice dessert or rice salad.
While making Gumbo you may come across a term called "a trinity mix" this is similar to the mirepoix of French cookery, the  "aromatics," of the culinary arts. If you cook a soup, stock, broth, stew, sauce practically anything you will use a mirepoix. Two parts onions, one part carrots and one part celery, with the proportions determined by weight will be the making of a mirepoix, so a one pound mirepoix would consist of 8oz onions, and 4oz each of celery and carrot, all diced in equal manner, standardized  size, allows for standardized cooking times. The trinity mix is the Cajun/Creole chef's mirepoix, substituting the carrot for green peppers.  Another term is "trinity with da pope" which is simply the addition of chopped garlic to the mix.
About Andouille Sausage, Andouille is a coarse-grained smoked meat made using pork, pepper, onions, and seasonings. Andouille is French in origin, but has also been brought to Louisiana by French immigrants. Andouille is mostly associated with Cajun/Creole cooking, can be found in many abattoirs or specialty butcher shops, some major grocers, if you cannot find this sausage you substitute it with hot Italian sausage without Fennel.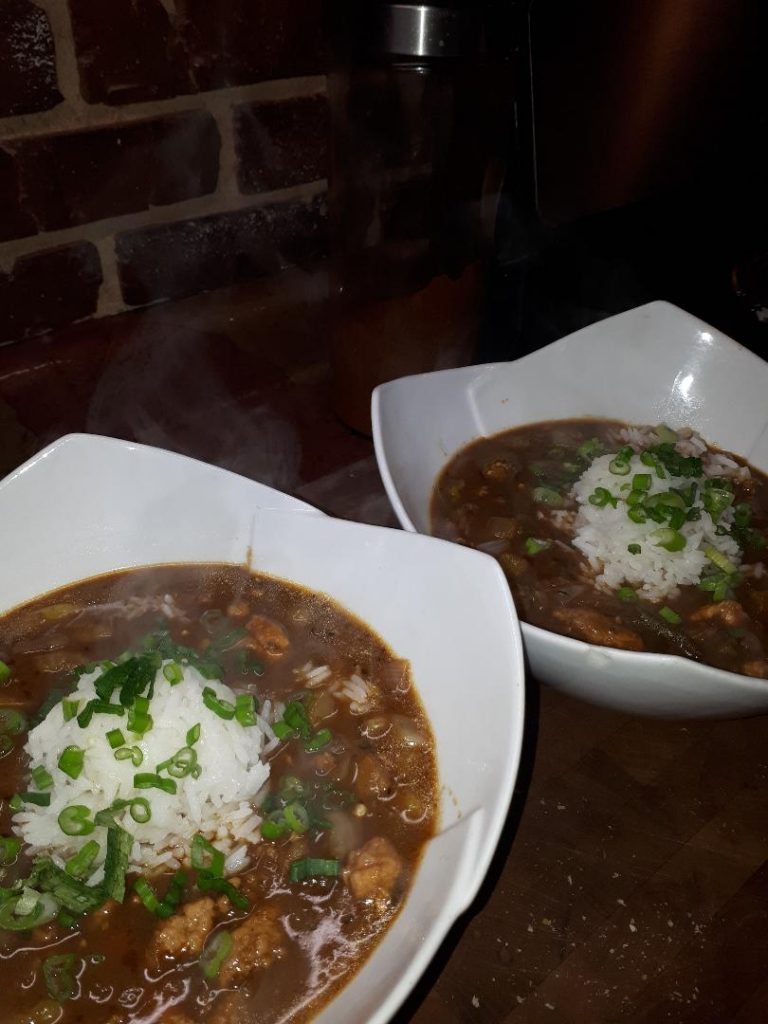 Chicken & Sausage Gumbo
¼ cup clarified butter
8 oz . Andouille sausage (hot Italian if you can't find Andouille)
2 pounds chicken skinless chicken thigh
½ cup flour
¼ cup unsalted butter
1 medium green bell pepper diced
1 medium onion diced
1 cup chopped celery (about 3 sticks)
2 teaspoons minced garlic
1 14 oz . can tomatoes (chopped)
1 tablespoon Creole seasoning.
½ tablespoon smoked paprika
1- tablespoon thyme fresh or dried
2 bay leaves
6 cups chicken stock
1 tablespoon Worcestershire sauce
½ teaspoon Tabasco sauce
¼ cup chopped parsley
2 green onions, chopped
1- tablespoon gumbo file
10 cups cooked rice
Instructions
Lightly season the chicken with salt and pepper. Heat the clarified butter over medium heat in a heavy bottomed Dutch Cook the chicken until browned on both sides and remove. Add the sausage and cook until browned, and then remove. Set aside
To the Dutch oven, combine additional butter and flour until smooth.
Cook on medium heat, stirring continuously, for about 20-30 minutes or until it turns a rich dark brown color – just like chocolate, a roux noir. Stir constantly during this process it will burn quickly.
When you have achieved your desired color. Remove from stove and let it cool.
Return the Dutch oven back on the stove. Add the onion, garlic, green pepper and celery and cook for 8- 10 minutes –stirring frequently.
Then add chicken, sausage, creole seasoning, , paprika, thyme, bay leaves and let it cook for 5 minutes. Add the tomatoes and about 6 cups of chicken stock, bring to a boil and let it simmer for about 45 – 50 minutes .
Add the Worcestershire and Tabasco sauces.
Stir in file powder, green onions, and chopped parsley.
Adjust thickness soup and flavor with additional broth and salt and pepper.  Serve with and over rice.
Seafood Gumbo
1/2 cup roux Noir, ¼ cup fat with a ¼ cup flour, see above
2 large onions, chopped
3 cups okra, chopped
2 tablespoons oil
1 can (14.5 ounces) stewed tomatoes
3 cloves garlic, minced
2 quarts seafood broth
1 tablespoon Worcestershire sauce
½  teaspoon Tabasco sauce
salt to taste
black pepper to taste
cayenne pepper to taste
1/2 cup parsley, finely chopped
6 to 8 green onions, finely chopped
2 pounds shrimp
1 cup oysters
1 cup crab meat
6 crab claws
Preparation
Add shrimp to roux and cook for a few minutes. Set aside.
In a large skillet, cook okra and onions in hot oil. When the okra is just becoming tender, add tomatoes and garlic. Cook a few minutes longer, then add the broth, Worcestershire, Tabasco, salt, and pepper.
Combine shrimp and roux mixture with okra mixture; simmer for about 10 minutes. Add oysters, crab meat, and crab claws; simmer for 15 minutes.
Add parsley and green onions and simmer another 15 to 20 minutes.
Serve with hot cooked rice.
Long Grain Unconverted Rice
3 cups water
1 1/2 cups long-grain rice (not converted)
1 1/4 teaspoons salt
PREPARATION
In a 2 1/2- to 3-quart heavy saucepan, combine all ingredients and boil, uncovered, until steam holes appear in rice and grains on the surface appear dry, about 8 minutes. Cover pan and cook rice over very low heat 15 minutes more. Remove pan from heat and let rice stand, covered, 5 minutes.
Fluff rice with a fork before serving.
Long Grain Converted Rice
2 cups salted boiling water
1 cup converted rice.
Preparation
Boil uncovered until the water just barely covers all the rice – about 10 minutes. Reduce to a simmer, and cook for another 15 minutes.
Popcorn Rice
1 cup of white rice
2 cups of water, or broth
1-2 tablespoons of butter
Boil uncovered until the water just barely covers all the rice – about 10 minutes. Reduce to a simmer, and cook for another 15 minutes. Add the butter and fluff the rice.
A to What?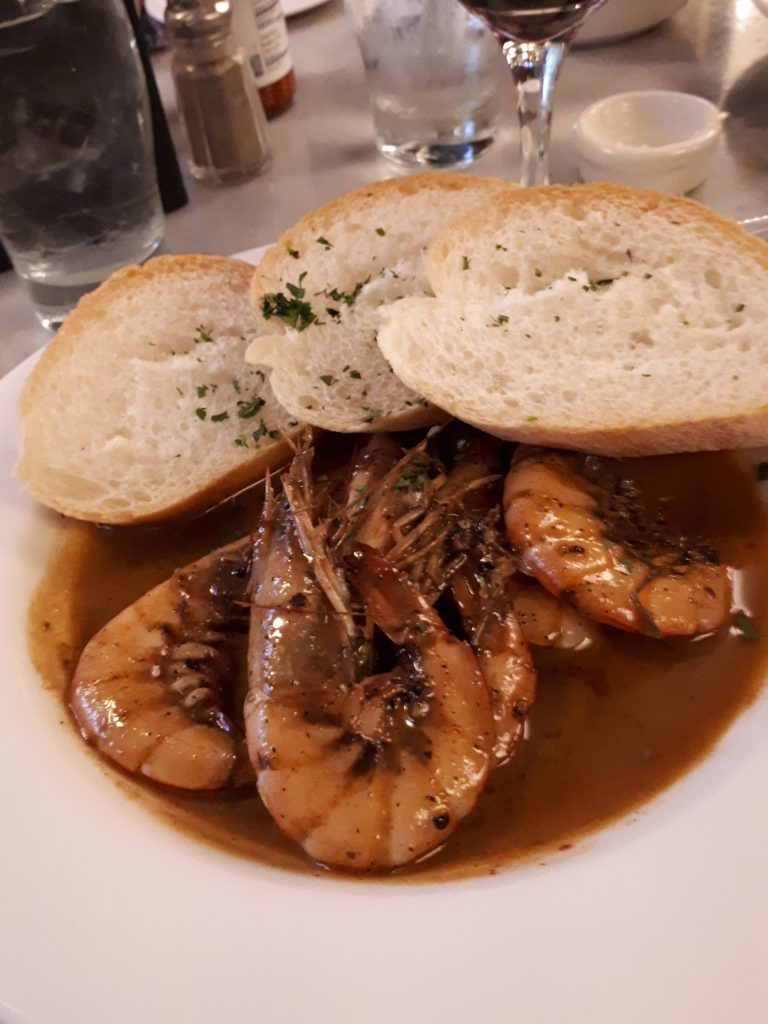 Dale Holloway requested a recipe he and I used to make in my Chef K's On Main restaurant where Dale was my sous chef, it is called Shrimp Étouffée, another classic Cajun/Creole dish. But, what fun would it be just to post a recipe, no, not me, you know I am going to give you more than that.  So for Dale and y'all, let's take a closer look at the making of a classic Étouffée.
First, what's up with that name. Étouffée is a French term for "smother" or suffocate  from the verb Étouffée, French  pronunciation : [e.tu.fe], English: / AY-too-FAY) as a side note, some spell it Étouffée, however, this would mean to smother a person, we just want the smothering of a entrée. Most commonly found in New Orleans restaurants as Crawfish or Shrimp Étouffée, it may be any dish that is smothered with a sauce when taken as its basic definition.
In July of 1996 while walking along Chartres St, in New Orleans French Quarter I came to 416, here within these doors lays a wonderful Creole restaurant called K-Paul's, the restaurant established by the King of Cajun chefs, Paul Prudhomme, an absolutely fascinating gentleman whom I met on the street handing out samples of his Shrimp Étouffée which drew people into the restaurant for dinner.  Already  world famous, Chef Paul wanted everyone he met to experience his food and especially those dishes of his Cajun heritage, so he would meet and greet people on the street tantalizing them with great food. Any trip to New Orleans would not be complete without a visit to K-Paul's even today. However, if you don't have a trip planned for New Orleans soon but want to experience the food you can make your own, play a little of Pete Fountain and have a real jazzy time.
No-one really knows the beginnings of what made Étouffée a popular dish, but it may be safely assumed that the Cajuns in the bayous of Louisiana made use of the sauce to smother crawfish tails in once they were shelled. Many believe it was first served as a restaurant feature in Breaux Bridges, Louisiana "la capitale mondiale de l'ecrevisse" or "the crawfish capital of the world" at the Hebert Hotel operated by the two Herbert sisters. You may want to venture to the Cajun restaurant Café Des Amis in Breaux Bridges  to have the smothered experience of crawfish, instead of the boiled, baked, grilled, poached or fried version of crawfish. Take a drive to Avery Island and tour the Tabasco plant operated by the founders the McIlhenny family, then swing north on Hwy 49 to Lafayette and on to Breaux bridges before heading back to New Orleans. In the early 1980's a waiter employed at Galatoire's, (a restaurant in New Orleans French Quarter, established in 1905 but actually dating back to 1896) brought the owner a dish of Crawfish Étouffée which became a hit at Galatoire's and quickly at many of the other Creole French restaurants within the Quarter.
Let's get back to the cooking, Étouffée, like Gumbo its foundation in the roux, but unlike Gumbo the roux you will need is a brown roux and not the roux Noir of Gumbo. It is thought that as far back as 1790 Étouffée was being made but without the roux, this addition became known as the Creolization of the original technique.    There are slight differences in what is Cajun, and what is Creole,  Étouffée is where one of those differences appears, Creoles will add tomato to their dish whereas Cajuns do not. Some will add cream to the finished dish for richness, while others frown heavily on this, like Gumbo, you decide.
However, before going to far we need to talk a little bit about the stock or broth you should use in cooking, not only Creole cooking but anytime you are required to use a stock or broth. Many people seem to believe that bouillon cubes are the easiest way to a good stock, but just look at the ingredients of a popular brand: Salt, monosodium glutamate, hydrogenated cottonseed oil, chicken fat, hydrolyzed soy/corn protein, dehydrated mechanically separated cooked chicken, dehydrated chicken meat, dehydrated chicken broth, autolyzed yeast extract, dehydrated onions & parsley, lactose, water, color, spices & spice extract, disodium guanylate, disodium inosinate, citric acid, tartaric acid, hydrogenated soybean oil and sulphites. Really, what are you really consuming? So what to do, how about using one those store bought broth, packaged in tetra packaging, RTU (ready to use) this has to good, right? Well again look at the ingredient list of a major brand: chicken broth (water, chicken stock); salt; barley yeast extract; dextrose; natural flavor; disodium inosinate and disodium guanylate (natural flavor enhancer); potassium chloride (salt substitute); canola or soybean oil. So what to do? Make your own, a few ingredients and time is all that is required to get to a great stock.
Chicken Broth Concentrate
Ingredients
Chicken bones of one 4-pound chicken
1-2 pounds of onion, celery, garlic, and carrot (Mirepoix, see Gumbo recipes)
2 Tablespoons Tomato paste
6-8 cups of water
1/3 tsp each onion powder, garlic powder, rosemary, thyme
Instructions
Place all ingredients in the slow cooker and give it a little stir. Add more water if necessary to cover the bones and scraps. Cook on low overnight, or 6-8 hours.
When done and slightly cool, strain out the bones and scraps, strain a second time through cheesecloth, then place the broth in a large stock pot. Simmer on stove until reduced to ¼ volume. Let cool completely and freeze in ice cube trays.
When the cubes are frozen, pop them out and store in the freezer in a plastic freezer bag. Use 2 cubes of stock with 1 cup of water to get approximately 1 cup of stock, or just add cubes to any of your favorite beans, soups, pastas, and sauces.
Do not salt the mixture; salt is used only in your finished product.
Beef Broth Concentrate
7 pounds beef, cut into 2 or 3-inch pieces
1 can best quality tomato paste
1 cup chopped celery
1 cup chopped carrot
2 cups chopped onion
1 cup red wine for deglazing
1 tablespoon peppercorn
4 bay leaves
3 sprigs thyme
Cold water
Preparation
Preheat oven to 425° F.
Spread bones in a roasting pan and roast for about 30 minutes, turning once. Remove from the oven, and paint a thin layer of tomato paste over the bones.
Put the vegetables on top of the bones, and roast an additional 15-20 minutes, until the vegetables begin to caramelize.
Remove the bones and vegetables to a stock pot.
Deglaze the roasting pan with wine or water, and pour this into the stock pot. Add peppercorns, bay leaves and thyme. Cover the bones with cold water.
Over medium heat, slowly bring the bones up to a very gentle simmer. Don't let the stock boil.
Adjust the temperature to maintain a gentle bubbling.
Every thirty minutes or so, skim off any foam that rises to the top of the pot. Let the stock simmer gently for at least four hours.
If you have the time, it can simmer for up to 12 hours. Add a little more water and lower the heat if you are getting too much evaporation.
When the stock is done, remove the bones and discard.
Strain through a very fine mesh strainer or through a colander lined with three or four layers of cheesecloth.
Chill quickly, then refrigerate. Skim off the fat from that has solidified on top, and discard.
Return to a pot and simmer over medium until reduced by 1/3rd, cool in an ice tray then freeze, use as required. 1 cube to 1 cup of water.
Seafood Broth
4 lbs, fish, shrimp, or crab bones or trimmings
1-2 pounds of onion, celery, garlic, and carrot (Mirepoix, see Gumbo recipes)
2 Tablespoons Tomato paste
6-8 cups of water
1/3 tsp each onion powder, garlic powder, rosemary, thyme
Instructions
Place all ingredients in the slow cooker and give it a little stir. Add more water if necessary to cover the bones and scraps. Cook on low overnight, or 6-8 hours.
When done and slightly cool, strain out the bones and scraps, strain a second time through cheesecloth, then place the broth in a large stock pot. Simmer on stove until reduced to ¼ volume. Let cool completely and freeze in ice cube trays.
When the cubes are frozen, pop them out and store in the freezer in a plastic freezer bag. Use 2 cubes of stock with 1 cup of water to get approximately 1 cup of stock, or just add cubes to any of your favorite beans, soups, pastas, and sauces.
Do not salt the mixture; salt is used only in your finished product.
Now let's back to
Seafood Étouffée  
Ingredients:
⅓ cup, 80 ml Butter
⅓ cup, 80 ml flour
¾ cup, 180 ml Onions, diced
1 Green bell pepper, diced
2 stalks celery
2 cups, 500 ml Seafood broth
2 cups,  500 ml Tomatoes, peeled, seeded and diced
1 tsp, 5 ml Each of salt, pepper, paprika
½ tsp, 3 ml Each of oregano leaves, thyme leaves, cayenne pepper, garlic powder, onion powder, chili powder
1 tsp, 5 ml Worcestershire sauce
5 drops Tabasco™ sauce
¼ cup, 60 ml Green onions, chopped
2 tbsp, 30 ml Parsley, chopped
1 lb, 454 g Shrimp, peeled and deveined
½ lb, 225 g Cooked crab meat
¼ lb, 120 g Cooked lobster meat
Rice or pasta for service.
Directions:
Melt the butter in a saucepan, add the flour and cook over medium heat until a brown roux is formed. Add the onion, pepper and celery , sauté until tender. Add the broth, tomatoes, seasonings, Worcestershire and Tabasco™. Reduce the heat and simmer for 30 minutes.
Add the chopped onion, parsley and seafood. Cover and simmer for 15 minutes.
Cook the rice or pasta as required. If pasta, drain and toss the pasta with a small amount of sauce and transfer to a serving plate. Plate the rice or pasta, cover with Étouffée and serve at once.
Serves 4
CHICKEN ÉTOUFFÉE
Cajun Seasoning Blend
2 tsp salt
2 tsp cayenne pepper
1 tsp each of black pepper, oregano leaves, basil leaves, thyme leaves,
½ tsp each of onion powder, garlic powder
Remaining Ingredients
3-4 pounds of chicken breast pieces roughly diced
3 tablespoons canola oil
8 tablespoons of unsalted butter
¾ cup flour
1 cup diced onion
½ cup chopped celery
½ cup green bell pepper
2 bay leaves
2 cloves of minced garlic
4 cups of chicken broth
½ tsp Tabasco sauce
2 tablespoons Worcestershire Sauce
¼ cup chopped parsley
¼ cup chopped green onion
DIRECTIONS
Mix the seasoning blend together.
Season diced chicken breast with half Seasoning Blend, set aside and allow to marinate for 3 or more hours refrigerated.
Heat the canola oil in a Dutch oven over medium high heat and brown diced chicken.
Add butter to Dutch oven when melted, add flour, and stir to blend. Stirring constantly making a brown roux, until a light nutty color, about 10-12 minutes.
Add onion, celery, bell pepper, and bay leaves to roux mixture and cook until vegetables are soft 1-2 minutes. Add garlic to mixture and cook another 2 minutes. Then add the chicken stock to pan, scrape browned bits of the pan. Add the Worcestershire sauce, Tabasco sauce and the remaining seasoning blend, then stir to combine well.
Bring to a boil, return diced chicken breast to the pan, and simmer for 20-30 minutes, until  chicken is tender and sauce is thickened and flavor is combined through. Add chopped parsley and stir well to combine.
Serve over cooked rice or pasta and garnish with chopped green onions.
Always on A Monday
Mondays in New Orleans mean Red Beans & Rice day, so popular was this dish that famous Jazz artist Louis Armstrong would sign his autograph with "Red beans and ricely yours".  What is the world's most popular food? If you said pizza, pasta or burgers you would be wrong. The facts speak for themselves and the answer is (drum roll please) RICE. There are just over 40,000 varieties of rice many of which are grown on every continent of the globe except Antarctica. In North America the average consumption is about twenty five pounds of rice per person per year this may seem like a lot of rice, but compared to a person in Burma (more likely where cultivated rice began) the average consumption balloons to better than 500 pounds per person per year. With fairly recent moves into the culinary worlds of Japan, Thailand, Vietnam, Indonesia and China rice based dishes have seen a sharp increase in popularity. Rice is one of the few foods in the world which is entirely non-allergenic and gluten-free. More than 50% of rice that is cultivated is consumed within 8 miles of where it is grown.
Toyota means 'bountiful rice field', while Honda means 'the main rice field'. Louis Armstrong signed his autograph "Red beans and Ricely yours…"
Mirin is a sweet Japanese rice wine (saké), sometimes just called rice wine. Mirin is used for cooking, only, mainly in sauces and glazes. It gives a nice glaze to grilled foods.
Most rice is consumed in the country where it is produced. Only 5 percent of the world's total is exported. Thailand ships the most: about 5 million tons a year. The United States is second with nearly 3 million tons, and Vietnam third, with 2 million tons.
Most common varieties are:
LONG: Long slender kernels which produce light, fluffy rice.
MEDIUM: Short, wide kernels which are moist and tender when cooked.
SHORT: Short, round kernels which are soft and cling together when boiled.
ARBORIO: Large tan grains with white dots in the center, similar in sidz to medium grain white rice. Arborio is most often used in risotto because of its creamy, chewy texture.
AROMATIC: Medium sized, slender grains, which often have the aroma and flavor of roasted nuts or popcorn.
WAXY: Also known as "sweet" rice, kernels are short and plump, and produce a thick, starchy product when cooked. Waxy rice is most often used as a binder for gravy, sauces or fillings.
Wild rice is a coarse grass (and not really a true rice) considered a delicacy in many parts of the world. North American Indians are attributed with the introduction of wild rice into mainstream society. Grown in shallow waters, like marshes, man-made paddies, and stream beds in North America, the wild rice plant is 3-10 feet tall, holding the traditional rice flower at its peak. American wild rice is medium to long grained and has a nutty flavour.
Cooking Rice:
ALWAYS measure rice and water and cook according to timed instructions for perfect, non-sticky rice.
COOK rice with a lid on to prevent steam from escaping.
RICE always triples in volume, so be sure to take this into account when choosing an appropriate cooking pot.
WHEN rice is done cooking, fluff with a fork to avoid sticky or hard rice kernels.
IF YOU like non-sticky rice, sauté in a small amount of butter before cooking. Add liquid to sauté pan and cook per instructions.
Rice is high in complex carbohydrates, contains almost no fat, is cholesterol free, and is low in sodium, unless you add salt to the cooking water. Generally, all rice, both brown and white – are considered a good source of vitamins and minerals. A half cup of cooked white rice provides 82 calories; an equal amount of brown rice provides 89 calories.
So lets let us see if we can get back to the recipe, Red Beans & Rice is a Creole dish. So what is the difference, Cajun, or Creole, you may ask (go ahead, ask.) Well, once again, I am going to get side tracked from the recipe, but I think you'll find it worth it, I promise you will get the recipe today, tomorrow Jambalaya.
Looking way back to the 1600's, French settled chose the east coast of Canada for their home, this would include Nova Scoitia and parts of New Brunswick, this was known as Acadia, thus the settlers were called Acaiadians.  The French who were re Roman Catholic,flourished here until about 1713 when the British came along took over Canada, including Acadia, demanding complete allegiance to the King and his religion, the Acaidians could not and would not comply.  The British struck out, burning farms, destroying villages, expelling the French, splitting families. They literally took people, filled the hulls of ships and deported the people in various places around the world. One such place was the bayous of Louisiana. Here they rebuilt, home was the acceptance that Louisiana, with its strong French background and Catholic heritage was where their future lay.  The Acadians referred to themselves as, "le 'Cadiens", removing the letter "A". Later came the Americans who could not pronounce "Acadien" or "'Cadien", so the word became a slur and, "Cajun"  came into existence. Acadiana still exists today, this is an instate region, or, a group of Parishes (counties) of Louisiana that is inhabited by those with French heritage "Cajuns".
However, before the arrival of the French, there were already other groups who found Louisiana as home as well. The Germans had arrived, the local natives were tribes, including the Chitimacha, Houma, Tunica-Biloxi, Attakapas, and Coushatta, Creoles had arrived as had the Spanish. All these influenced the Cajuns in cookery, blending what was common and available with the food styles of these other groups while making use of French culinary techniques.
Creoles as an ethnic group are a little more difficult to characterize than Cajuns. "Creole" can mean anything from individuals born in New Orleans with French and Spanish ancestry to those who descended from African/Caribbean/French/Spanish heritage.  Creole in its broadest sense means "Native to Louisiana", yet, there are Creoles throughout other regions of the world as well., many of the islands in the Caribbean are inhabited by Creole persons, however, many of these can trace their heritage back to Louisiana.
While the Cajun people lived in the rural countryside the Creole people inhabited the cities, New Orleans, Baton Rouge, Creoles of the French and Spanish upper-class that ruled the cities. Looking for employment many Cajun would come into the cities and find work as domestics in the great houses of the cities. Here they would teach their cuisine and culinary techniques to the Creole who either worked or lived there and a further blending of cultures was founded.  The city's provided access to ingredients that were uncommon to the Cajuns so Creole cuisine became exotic with a greater focus on ingredients and fusing the culture of the home owner thus the two cuisines could have a variety different flavor profile. Where Cajuns may have used oil, Creoles used butter,  some Cajun dishes will not include tomatoes while the Creole version does, both Gumbo and Jambalaya have this peculiarity. A simple way to see the distinctions are Cajun equals country and Creole means city.
So after having said all that, is Red Beans & Rice, Cajun or Creole, it is, in fact a Creole dish. Traditionally served on Monday, it was the considered using up the leftovers from the big Sunday dinner.  The Sunday dinner's main feature had generally been a ham, bone on, of course, so what to do with that bone. It still had plenty of meat and it was packed with flavor.  Yet, time was of the essence on Monday, since it was wash day, wash day meant a lot of hard work, there were no washing machines, so it all hand to completely done by hand, and the whites still had to be white, so wash day required a lot of hand scrubbing. What was the cook of the house to do but put a large pot of beans on to simmer flavored with that ham (or other pork) and trinity mix, spices and hot sauce, returning later to a wonder stew that would be served over a steaming bowl of rice.
You will find similar versions of this dish throughout any former African slave, established area, Jamaican Rice & Peas, for example, a Sunday meal for them given its African roots where the slaves had the ability to cook for themselves only Sunday (in fact, it was a law passed to make it so.) However, other peas and beans such as gungo peas (pidgeon peas), black eye peas, red beans are also used to make rice and peas, this dish is vegan delicious. Rice and peas have been adopted from the Akan tribe hailing from Ghana and Ivory Coast in West Africa, it is known as Waakye.
The busy cook can achieve the same great slow cooked result by using your home crock pot slow cooker.
Red Beans & Rice
1 lb kidney beans, dry
1 medium yellow onion
3 stalks celery
1 large green bell pepper
3 lb large ham hocks
1 lb. hot sausage like andouille or Hot Italian
1 Tbsp vegetable oil
4 cloves garlic
2 whole bay leaves
1 tsp dried thyme
1 tsp dried oregano
3 cubes chicken bouillon (homemade, see the A to What posting)
2 tsp Creole seasoning (follows)
1 Tbsp Worcestershire sauce
½ tsp Tabasco sauce
6 sliced green onions, garnish
2 cups uncooked long grain rice
INSTRUCTIONS
The night before cooking, place your beans in a large bowl and cover with double the amount of water. Let soak at room temperature overnight.
To quick soak your beans, place them in a pot with double the amount of cold water. Bring the pot to a boil with a lid and let boil for 2 minutes. Remove the beans from the heat after two minutes and let sit, tightly covered, for one hour.
While the beans are soaking , place the ham hocks in 10 cups of water, place over medium heat, bring to boil then reduce heat to a simmer.
Slice the sausage. Sauté the sausage in a large pot over medium/high heat until they are cooked through and nicely browned. Remove them from the pot with a slotted spoon (leave the fat) and refrigerate until later.
Dice the onion, celery, green bell pepper and garlic, sauté in the sausage fat and add 1 Tbsp of vegetable oil if needed. Sauté the vegetables until they are soft and transparent (about 10 minutes).
Drain the soaking water off of the beans, rinse them, then add them to the pot of the simmering ham hocks. Add  the bouillon, bay leaves, thyme and oregano. Stir it all together well and return to a boil, reduce the heat and simmer until the beans are soft (uncovered for one hour). If the mixture gets too dry, add more.
Once the beans are soft, use the back of a large spoon to smash about half of the beans against the side of the pot. This will give the beans a nice thick "creamy" texture. Return the sausage back into the pot and continue to boil the mixture until it is to your desired thickness. Add Creole seasoning to your liking along with the Worcestershire and hot sauce. The seasoning contains no salt, so you will probably need to add that separately after tasting because the ham hocks are salty.
Remove the ham hock, use a fork and pull the meat from the bones, discard the bones and return the meat to the stew.
During the last half hour of cooking, prepare the rice. In another large pot, combine two cups of dry rice with 3.5 cups of water. Bring to a boil with a lid, then reduce the heat to low and continue to cook until all of the water has absorbed (about 30 minutes).
Serve the beans in a bowl topped with rice and garnish with fresh sliced green onions.
Jamaican Rice and Peas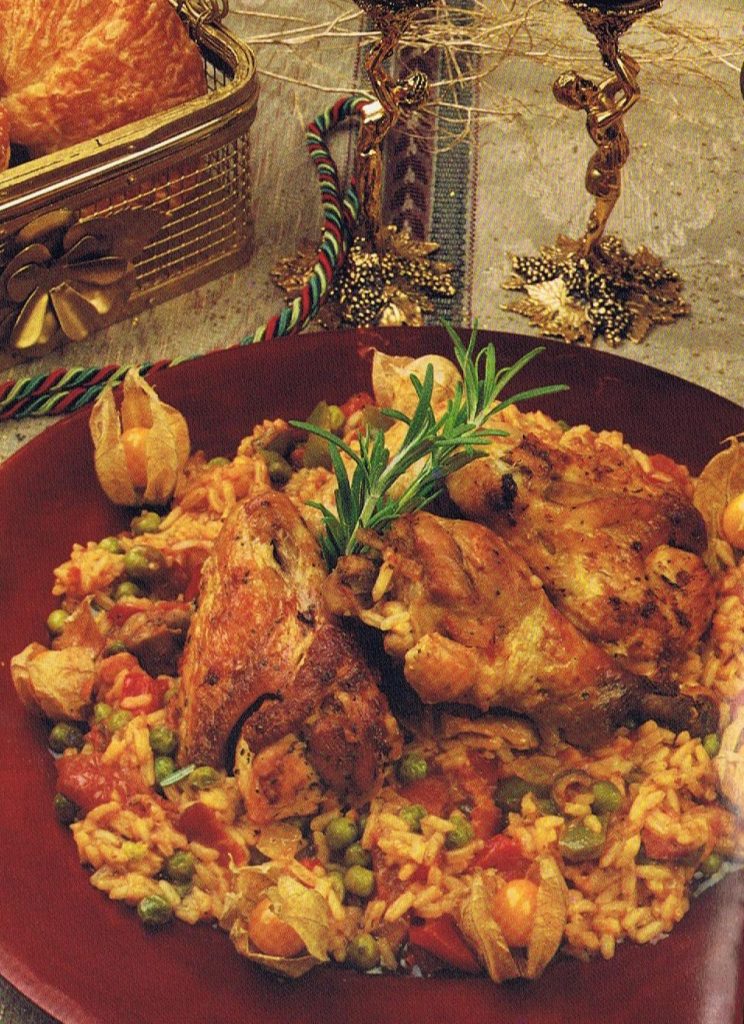 2 cups parboiled rice
1/2 cup red peas, dried or canned
4 oz coconut milk
1 tsp salt
2 cloves garlic
1 small onion, chopped
1 stalk scallion (crushed)
1 sprig thyme
1/4 tsp pimento (allspice)
pinch of black pepper
1 whole green scotch bonnet pepper
1/2 tsp ginger (optional)
If you are using dried peas, soak them for a few hours (or overnight) in water to soften.
Boil peas in cold water until tender. Pour off stock from peas and measure. Add enough water and coconut milk/coconut milk powder to make 4 cups of liquid, and add to peas.
If you are using canned peas, there is no need to cook them beforehand. Just add the four cups of liquid as described above.
To the mixture of peas, water and coconut milk, add all the seasonings and spices. Allow to simmer for 10 to 15 minutes.
Add the rice to this mixture, and stir well. Increase flame until liquid boils. Then reduce heat and cover. Simmer until rice grains are tender. Try not to stir again as this will make the rice sticky.
Serve with Jerk chicken (comment if you need the recipe) Curried Goat,  beef, pork, fish or whatever you desire.
Creole Seasonings
3 Tablespoons onion powder
3 Tablespoons garlic powder
1 ½ Tablespoons black pepper
1 ½ Tablespoons white pepper
6 Tablespoons paprika
½ – 1 Tablespoons cayenne pepper (adjust to suit taste buds)
1 1/2 Tablespoons oregano
1 Tablespoon dried parsley
1 1/2 Tablespoons dried thyme
1 1/2 Tablespoons dried basil
1 Tablespoon salt
Instructions
Combine all the ingredients in a bowl, transfer into an air tight container, use as required.
Mish Mash Gone Wild
Laissez les bons temps rouler! Let the good times roll. There can be no better good times than listening to Louis Armstrong while you're all dining on a Crawdaddy boil and enjoy heaping plates of crawfish Jambalaya.
What do you call them, all proper like, crayfish, "naw, ifn y'all are likin dem dar mudbugs, y'all gotta call em by der rit nom" no matter what name you call them by, crawdads, freshwater lobsters, mountain lobsters, mudbugs or yabbies, are all the names given to these freshwater crustaceans. Small lobster like shellfish with a rich, buttery taste (when cooked right) are the favorite throughout Louisiana. Whether Cajun or Creole they all love them and serve them in many and varied ways.  Crawfish Gumbo, Crawfish Étouffée, Crawfish Pie, Crawfish PO-boys, Creole or Cajun Jambalaya (slightly different) and Boudin of course.
Of the 330 types of crawfish and the 39 types found in the USA, only two types of crayfish/crawfish commercially caught for consumption in Louisiana, the Red Swamp Crawfish represents 70-80% while the Southern White River Crawfish makes up the remainder.  Crayfish are sold like shrimp, by count per pound, the lower the count the larger the crawfish of shrimp, so if you purchase 15/20 it would equal 15 to 20 crawfish per pound.
Every Cajun or Creole chef has his/her own version of Crawfish Jambalaya of this could be a place a chef can show their creativity. So what exactly are they preparing for you, they are preparing a Mish Mash which in fact some referred to it as.
Jambalaya, the word is said to be a compound word of Jambon from the French meaning ham, and Aya meaning rice in African. With very European roots, Spanish Paella, French Proveςale and Northern Italian influences along with West African seasoning. Where the Spanish used saffron is Paella (the  national dish meaning for her) the costly spice was not available in Louisiana so to gain the color Creole cook would add tomatoes, however, Cajun cook do not use tomatoes and made their version without and it is known as Brown Jambalaya. Creoles love seafood in Jambalaya whereas Cajuns brown meats and game for theirs (thus the name) key ingredients  may included shrimp, ham, tasso or andouille or Chorizo sausage.
There are few secrets that one should or should not do to obtain a great Jambalaya, There is one rule in cooking jambalaya.  After the rice has been added, jambalaya should never be stirred.  Instead, it should be turned, as this prevents the grains of rice from breaking up.  Most cooks turn jambalaya only two or three times after the rice is added, being sure to scoop from the bottom of the pot to mix rice evenly with other ingredients.
Cajun Brown Jambalaya
2 tablespoons olive oil
1½  lbs chicken boneless
½  lb Andouille sausage, cut into 1/2-inch pieces
1 cup chopped onion
1 cup chopped celery
1 cup chopped green pepper
2 garlic cloves, minced
1 cup long grain rice
3 cups chicken stock
2 tsp Creole seasonings (see Always On Monday post)
1⁄4 teaspoon salt
1⁄4 teaspoon fresh ground pepper
1⁄4 teaspoon cayenne pepper
1⁄2 cup chopped fresh cilantro or 1⁄2 cup parsley
1 -2 sliced jalapeno pepper
DIRECTIONS
In a large Dutch oven, heat oil over medium high heat, Add chicken, browning well on all sides; transfer chicken to plate, add sausage; cook until browned.
Add onions, celery, green pepper and garlic; cook until softened, about 5 minutes.
Add rice; stir to coat and continue cooking one minute.
Add stock, Creole seasonings, salt, pepper and cayenne; bring to boil stirring well.
Nest the chicken pieces into rice.
Cover, cook over low heat until chicken is cooked through, liquid is absorbed and rice is tender, about 30 minutes.
Remove from heat, stir in cilantro or parsley and leave covered 10 minutes.
Garnish with sliced jalapeño.
Serve 4
Creole Crawfish Jambalaya
½ lb andouille sausage, chopped
1 large onion, chopped
2 cloves garlic, minced
1/2 cup chopped celery
1 green bell pepper, cored, seeded, and chopped
2 tsp Creole seasonings (see Always On Monday post)
1teaspoons salt
6 drops Tabasco Sauce or to taste
½  teaspoon red (cayenne) pepper
1/4 teaspoon ground cloves
1 bay leaf
1 (15-ounce) can diced tomatoes, not drained
3 cups seafood broth
1 1/2 cups uncooked long-grain rice
2 pounds crawfish tails (shucked)
2 teaspoons chopped fresh parsley leaves
Instructions:
In a large Dutch oven over medium heat, fry the sausage until it begins to turn brown.  Add onion, garlic, celery, and bell pepper; sauté 8 to 10 minutes or until vegetable are soft.
Stir in Creole seasoning, salt, Tabasco Sauce, cayenne pepper, cloves, bay leaf, and tomatoes.
Stir in seafood broth; bring mixture to a boil. Add rice, cover, and turn heat to low; cook 30 minutes or until the rice has absorbed almost all of the liquid and is cooked through.
Gently stir the jambalaya, then add crawfish tails and parsley, tossing lightly to distribute them evenly.  Cook 6 to 7 minutes additional, remove from heat and serve immediately.
Makes 4 servings.
Jolloff Rice
4              cups uncooked long-grain rice (not basmati)
5 to 6     cups stock (vegetable, chicken, or beef) or water, divided
6              medium-sized fresh plum/Roma tomatoes, chopped, OR a 400-gram tin of tomatoes
6              fresh, red poblano peppers (or 4 large red bell peppers), seeds discarded
3              medium-sized red onions (1 sliced thinly, 2 roughly chopped), divided
1 to 2     Scotch bonnet peppers (yellow is my favorite!), to taste
1/3         cup oil (vegetable/ canola/coconut, not olive oil)
3              tablespoons tomato paste
2              teaspoons (Caribbean/Jamaican-style) curry powder
1              teaspoon (heaping) dried thyme
2              dried bay leaves
2              teaspoons unsalted butter (optional), divided
Salt, to taste
Preparation
Rinse the rice to get rid under cold water,  then parboil (recipe follows).
In a blender, combine tomatoes, red poblano (or bell) peppers, chopped onions, and chile pepper; blend till smooth.
In a large Dutch oven, heat oil and add sliced onion. Season with a pinch of salt sauté for 2 minutes, add the tomato paste, curry powder, dried thyme and bay leaves. Continue cooking and stirring for another 2 minutes.
Add the blended mixture, stir, and cook on medium for 10 to 12 minutes.
Add 2 cups of the stock to the cooked tomato sauce, 1 teaspoon of butter, and then add the parboiled rice.
Stir, cover with a double piece of foil/ baking or parchment paper and put a lid on the pan. This will seal in the steam and lock in the flavor. Cook on low heat for 15 minutes. Stir again, adjust seasoning to taste, then add the remaining 1 cup of stock. Stir, cover with foil/ baking or parchment paper and let cook for another 15 to 20 minutes, stirring every 10 minutes or so to prevent burning, when the rice is cooked and the grains are separate. Add some more stock if required, by half-cup quantities only, stirring gently, if the rice remains under cooked.
Remove from the heat and remove the cover of the pot.
Place a cheesecloth or a tea cloth over the top and rest for half an hour or more, till ready to serve.
How to Parboil Rice
Wash the rice in cold water (optional) and place in a pot.
Add some water, about twice the amount of the rice.
Cook over medium heat for 5 minutes, when the water starts boiling, reduce the heat and simmer  5 minutes.
Pour the contents of the pot in a sieve.
Place the sieve (with the rice) in a bowl of cold water.
Rinse the rice and change the water if necessary.
Leave in the sieve to drain off all the water.
The rice is now ready to be cooked again.
Crawfish Boil
2 whole lemons, plus 2 more lemons, cut into wedges for serving
12 garlic cloves, unpeeled
3 large Vidalia onions, peeled and quartered
1 tsp red pepper flakes
2 tsp whole allspice berries
1 tsp whole cloves
3 bay leaves
1 tbsp salt
5 sprigs thyme
1 big handful of fresh parsley, divided
2 and 1/2 lbs whole small red potatoes, larger potatoes cut in half
14 ounces andouille sausage, cut into 12 pieces
6 cobs of corn, shucked and broken in half
4 lbs crawfish*, purged/cleaned
Tabasco or Crystal Hot sauce (for serving)
Fill a large pot with 6 quarts of water. Cut the whole lemons in half. Squeeze the juice into the water and add the squeezed lemon halves as well. Add the garlic, onion, red pepper flakes, allspice, bay leaves and salt. Tie the thyme and half of the parsley into a bouquet using kitchen twine. Add it to the water. Stir well. Cover and bring the water to a boil over high heat. Reduce heat to low and simmer 5 minutes.
Add the potatoes. Cover and cook until they're just tender, 9-10 minutes. Add the sausage and corn. Cook covered for 5 minutes. Gently add the frozen crawfish and cook covered until heated through, 2-3 minutes. Meanwhile, chop the remaining parsley leaves.
Use a slotted spoon to transfer the crawfish, sausage and vegetables to a large platter. Discard the herb bouquet.
To Serve: Cover a table with newspaper (top with food safe tissue paper if desired). Pile the crawfish, sausage and vegetables right on top, or leave everything on the platter. Sprinkle with the chopped parsley. Put out the lemon wedges and hot sauce. Squeeze the garlic cloves from the skin as a condiment as well. Make sure there are a lot of napkins on hand before you dig in!
How to Purge or Clean a Crawfish/Crayfish.
Step 1: Fill the large bucket with cold water and gently stir the crawfish with the slotted spoon to release any dirt and debris. Throw away any crawdads that float. If the crawfish float they are dead and cannot be safely eaten.
Step 2: Discard all of the dirty water and refill the container with water for a second washing. Pour 1 cup of salt into the bowl and leave the crawfish to soak for 15 to 20 minutes. The process of cleaning crawfish for consumption is called "purging."
Step 3: Continue purging the crawfish, draining the dirty water and refilling the bowl with fresh water, until the crawfish have released all of their dirt and debris. When the crawfish are completely clean and ready to be cooked, the soaking water will be clean. Depending on how dirty your crawfish are, it may take three to five soaks.