Crappie, what on earth is that, well they aren't on earth but are found in the fresh water lakes of North America. A small white fish, two types white or black, are a delicious "Pan fish", similar to perch Walleye or Goldeye. They are tasty in any recipe that calls for any soft textured fish. Mild in flavor, rarely do they have that "fishy flavor so they are ideal to serve to people who don't care for fish. The fillets cook quickly whether pan fried, sautéed, deep fried or broiled.  So go fishing then enjoy cooking.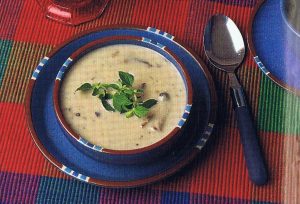 Crappie Chowder
10-12 servings
1/4 lb               115 g               bacon, diced
2 cup               125 ml             butter
1 cup               250 ml             diced onion
1 cup               250 ml             diced celery
1 cup               250 ml             diced carrots
3 cups              750 ml             diced potatoes
1 cup               250 ml             flour
4 cups              1 L                   fish stock or clam broth
2 pounds         900 gr             chopped Crappie Fillets
3 cups              750 ml             heavy cream
1/4 tsp             1 ml                 pepper
2 tsp                3 ml                 thyme
1 tsp                5 ml                 salt
Parsley for garnish
Directions
In a large pot, fry the bacon until crisp.  Drain the grease.
Add the butter and vegetables.  Sauté until tender.
Stir in the flour.  Cook for 2 minutes.  Add all remaining ingredients.  Bring to a boil.
Reduce to a simmer.  Simmer until thick, 15 to 20 minutes.  Stir frequently.
CRAPPIE GUMBO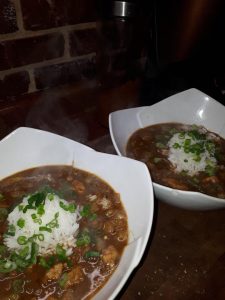 Gumbo is an African word, it means Okra, so Gumbo soup means Okra is in it. However, there is also Gumbo Ya Ya, African for no is Ya Ya, therefore Gumbo Ya Ya has no Okra, so whether you like Okra or not there is a Gumbo for you.
Gumbo is  true fusion cookery, understanding the roots and blending of the Cajun/Creole people you find that the creation of Gumbo uses French cookery methods, the Trinity mix (Onions, peppers and celery) are foundational in Spanish/Latino cookery, the Okra has African roots, and the local natives introduced them all to the king of the bayou, crawfish.  The infusion of hot sauces and spices really didn't happen until  after the 1960's but has helped to draw Gumbo to the top of the restaurant menus not just in Louisiana but throughout the world.
Gumbo soup falls into the hardy soup category, why? Because, it is a thickened soup.  Gumbo has three differing thickening agents, some people prefer one, some two and some all three. Tracing the history of a family recipe you will find why they chose the way they thicken their Gumbo, each has a different origin, and each thickens in a different manner. To thicken a Gumbo there are three methods considered authentic to Louisiana:
A) Okra
B) Gumbo Filé
C) Roux Noir
Okra, Gumbo not only is thickened by Okra but it's name is for Okra, West African languages, the word for okra is ki ngombo, or, in its shortened form, gombo or gumbo. That goo or mucilage that comes from Okra when boiled causes the soup to thicken.  This "slim" tends to less desirable for some, but it proves to be an excellent way to thicken your soup. The adding of Okra is dependent upon the cook, some add it once the soup begins to simmer, others will add it fifteen minutes before you serve it, I prefer the latter, but you decide.
Gumbo Filé, (fee-lee) a fascinating herb of the Choctaw Native band, file powder is simply ground sassafras leaves, file is a French word meaning, threads or strings, and therefore it is added only at the very end of the simmering of the soup and "just" before it is served.  As it contains the same mucilage as Okra it will thicken the soup instantly.  While Okra is a late summer harvest vegetable, file powder had its popularity in the winter when Okra was available.
Today the most commonly used thicker for Gumbo is a roux.  Roux Noir (Black) is actually a dark reddish brown is color. Very slow cooking of equals amounts of fat and flour will result in the desired type of roux for the culinary purpose, here a roux noir, the darker the roux, the nuttier the flavor. The method is simple, the fried flour releases starch, the starch molecules open and easily absorb liquids. The fat coated molecules will help them from sticking together and absorbing too much liquid. However, the longer you cook a roux the less effective it have as a thickening agent.
Our roux noir is actually the final stage of roux cookery; there are three stages of roux cookery.
A) White roux, the fat and flour is cooked just for 2-3 minutes over medium/low heat. This roux is used where a white sauce is required (béchamel), it has no nutty flavor and is only white in color so it is just what you'll want for any milk or cream based sauce or soup.
B) Blond roux, the most common of the roux's required for culinary purposes. (aka yellow roux or golden roux) Blonde roux is cooked for 3-5 minutes over medium heat, caramelizing it and giving it a dark blonde color.
C) Brown roux, cooked for 8-10 minutes over medium heat until the mixtures develops dark brown nutty color which has more pronounced and sharper hazelnut aroma. Used in brown soups and sauces preparation such has Espagnole, brown gravy, demi glace, etc.
D) Roux Noir, black roux, not burnt roux, cooked for 20-30 minutes over very low heat until the mixtures develops black color. Used to thicken Gumbos and Etouffee's.
Here is a secret you'll want to know, have you ever seen or worse had to eat a lumpy gravy or sauce (think Thanksgiving) everyone has at one time or another in your life.  You can prevent this by straining the lumps out through a mesh strainer or a china cap, which you should do with every sauce before service. However, the secret to not getting a lumpy sauce in the first place is (tada) never mix a hot liquid into a hot roux. Have one or the other cooler, a boiling pot of broth can be thickened nicely with a room temperature roux, or, a piping hot roux will thicken nicely a luke warm pot of broth. Try to always have roux and broth at different temperatures for the prefect thickened sauce.
The fat used, most fats will work well in making your roux. Butter is best and that clarified, as most of the moisture (whey) is removed it assists in stopping the flour from making a paste instead of a roux. Margarine, only when the cost of butter is an issue, but knows, the flavor will be inferior, and will not yield a classic sauce (maybe a good imitation.) Never, ever use the "light" version of margarine, why, because light margarine is made by whipping water as very high speed into the margarine. Just melt a little in a pan and you will see a large amount of water in the pan, or, apply it to your morning toast if you like soggy toast. Light margarine is an enemy to cookery. Animal fat, such as lard, bacon drippings, beef or chicken drippings work well for similar flavored soups or sauces, chicken fat can be used for chicken velouté, and beef drippings can be used for beef gravy. When properly used, bacon fats can enhance the flavor of a Gumbo as it will marry the sausage within the soup.
As a side benefit, a roux thickened sauce will help in clarifying a sauce, the impurities cling to the flour, float to the top of the soup or sauce making it easy to skim it and remove the impurities, improving the texture, gloss, and flavor of the finished product.
Gumbo is often served with rice, generally white, commonly used is either long grain converted or unconverted rice or popcorn rice. (Recipes follow) Converted rice is made by soaking whole, unhusked grains of rice in water, then steaming them. This causes much of the nutrition and the taste from the bran and husk to go into the grain. Then, it is dried, and husked.
Popcorn Rice, fragrant long grain rice, which comes from Louisiana and is a Basmati hybrid, has a rich, nutty flavor and a popcorn-like aroma. The rice's consistency is fluffy with a firm consistency. The grains stay separate and fluffy after cooking, it is excellent for service of  rice as a side dish, or as a bed proteins and sauces, or finishing a soup, I consider it the "go to" rice when making a gourmet rice dessert or rice salad.
While making Gumbo you may come across a term called "a trinity mix" this is similar to the mirepoix of French cookery, the  "aromatics," of the culinary arts. If you cook a soup, stock, broth, stew, sauce practically anything you will use a mirepoix. Two parts onions, one part carrots and one part celery, with the proportions determined by weight will be the making of a mirepoix, so a one pound mirepoix would consist of 8 oz onions, and 4 oz each of celery and carrot, all diced in equal manner, standardized  size, allows for standardized cooking times. The trinity mix is the Cajun/Creole chef's mirepoix, substituting the carrot for green peppers.  Another term is "trinity with da pope" which is simply the addition of chopped garlic to the mix.
About Andouille Sausage, Andouille is a coarse-grained smoked meat made using pork, pepper, onions, and seasonings. Andouille is French in origin, but has also been brought to Louisiana by French immigrants. Andouille is mostly associated with Cajun/Creole cooking, can be found in many abattoirs or specialty butcher shops, some major grocers, if you cannot find this sausage you substitute it with hot Italian sausage without Fennel.
Creole Pan Fish (Crappie) & Sausage Gumbo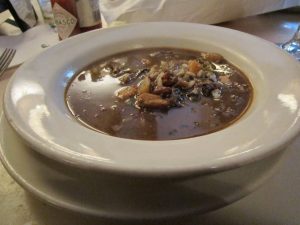 ¼ cup clarified butter
8 oz . Andouille sausage (hot Italian if you can't find Andouille)
2 pounds Crappie fillets
½ cup flour
¼ cup unsalted butter
1 medium green bell pepper diced
1 medium onion diced
1 cup chopped celery (about 3 sticks)
2 teaspoons minced garlic
1 14 oz . can tomatoes (chopped)
1 tablespoon Creole seasoning.
½ tablespoon smoked paprika
1- tablespoon thyme fresh or dried
2 bay leaves
6 cups chicken stock
1 tablespoon Worcestershire sauce
½ teaspoon Tabasco sauce
¼ cup chopped parsley
2 green onions, chopped
1- tablespoon gumbo file
10 cups cooked rice
Instructions
Lightly season the Crappie fillets with salt and pepper. Heat the clarified butter over medium heat in a heavy bottomed Dutch Cook the chicken until browned on both sides and remove. Add the sausage and cook until browned, and then remove. Set aside
To the Dutch oven, combine additional butter and flour until smooth.
Cook on medium heat, stirring continuously, for about 20-30 minutes or until it turns a rich dark brown color – just like chocolate, a roux noir. Stir constantly during this process it will burn quickly.
When you have achieved your desired color. Remove from stove and let it cool.
Return the Dutch oven back on the stove. Add the onion, garlic, green pepper and celery and cook for 8- 10 minutes –stirring frequently.
Then add Crappie filets, sausage, creole seasoning, , paprika, thyme, bay leaves and let it cook for 5 minutes. Add the tomatoes and about 6 cups of chicken stock, bring to a boil and let it simmer for about 45 – 50 minutes .
Add the Worcestershire and Tabasco sauces.
Stir in file powder, green onions, and chopped parsley.
Adjust thickness soup and flavor with additional broth and salt and pepper.  Serve with and over rice.
Seafood Gumbo
1/2 cup roux Noir, ¼ cup fat with a ¼ cup flour, see above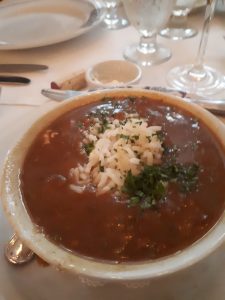 2 large onions, chopped
3 cups okra, chopped
2 tablespoons oil
1 can (14.5 ounces) stewed tomatoes
3 cloves garlic, minced
2 quarts seafood broth
1 tablespoon Worcestershire sauce
½  teaspoon Tabasco sauce
salt to taste
black pepper to taste
cayenne pepper to taste
1/2 cup parsley, finely chopped
6 to 8 green onions, finely chopped
2 pounds Crappie fillets
1 cup shrimp
1 cup crab meat
6 crab claws
Preparation
Add shrimp to roux and cook for a few minutes. Set aside.
In a large skillet, cook okra and onions in hot oil. When the okra is just becoming tender, add tomatoes and garlic. Cook a few minutes longer, then add the broth, Worcestershire, Tabasco, salt, and pepper.
Combine shrimp and roux mixture with okra mixture; simmer for about 10 minutes. Add Crappie fillets, crab meat, and crab claws; simmer for 15 minutes.
Add parsley and green onions and simmer another 15 to 20 minutes.
Serve with hot cooked rice.
Long Grain Unconverted Rice
3 cups water
1 1/2 cups long-grain rice (not converted)
1 1/4 teaspoons salt
PREPARATION
In a 2 1/2- to 3-quart heavy saucepan, combine all ingredients and boil, uncovered, until steam holes appear in rice and grains on the surface appear dry, about 8 minutes. Cover pan and cook rice over very low heat 15 minutes more. Remove pan from heat and let rice stand, covered, 5 minutes.
Fluff rice with a fork before serving.
Long Grain Converted Rice
2 cups salted boiling water
1 cup converted rice.
Preparation
Boil uncovered until the water just barely covers all the rice – about 10 minutes. Reduce to a simmer, and cook for another 15 minutes.
Popcorn Rice
1 cup of white rice
2 cups of water, or broth
1-2 tablespoons of butter
Boil uncovered until the water just barely covers all the rice – about 10 minutes. Reduce to a simmer, and cook for another 15 minutes. Add the butter and fluff the rice.