Lily Pad Feast Day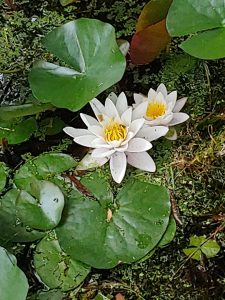 Have you noticed the beautiful white or rose colored flower seemly floating magically along the top of a quite pond, or along the shores of a peaceful lake? Did you know that you can enjoy a meal of them? Absolutely delicious, the only challenge is harvesting them, you may get a little wet (or a lot wet),
The Water Lily, a universally found plant is found in ponds and lakes throughout most of the globe, the flowers, pads, seeds, and rhizomes are edible raw or cooked. The plant has calming and sedative effect on nervous system, contains antioxidants and helps to reduce cholesterol levels as well as infection.
Clean the plant very well before using,  keep in mind that many animals and insects may use the lily as a resting place, so clean well be dining on it, just you would with any other vegetable.  Larger, older and tougher pads may require steaming for about 20 minutes before using in your cooked recipes.
White Water Rose Mash
Ingredients
1 1/2 pounds water lily rhizomes
1 1/2 pounds Yukon gold potatoes
2 teaspoons Salt
4 1/2 cups water
2 Tbsp unsalted butter
1/2 teaspoon salt
1 Tbsp chopped parsley
1 Tbsp chopped chives
1/8 teaspoon freshly ground black pepper
Method
Prep the rhizomes and potatoes:
Peel the rhizomes. Cut them crosswise into 1/2-inch thick medallions. Peel the potatoes and cut them into 1 to 1 1/2-inch chunks.
Simmer:
Place the two roots into a medium saucepan, cover with water, add two teaspoons of salt. Bring to a simmer; reduce the heat, cover and let cook for 10 minutes, until a fork can pierce easily.
Steam:
Drain and return the rhizomes and potatoes to the warm pan. Cover and let steam in the heat of the pan for 10 minutes.
Mash:
Using a potato masher, mash the rhizomes and potatoes until nicely mashed. Don't over mash or they will be gluey.
Add butter and salt (omit salt if using salted butter), and mash some more. Stir in the chopped parsley and chives. Add black pepper and more salt to taste.
Serves 4
CURRIED LILY PAD SOUP
1 large potato – peeled and cubed
6 tablespoons olive oil
½ cup chopped green onions
12 cups lily pads – cleaned, rinsed, stemmed, and dried and chopped
⅓ cup all-purpose flour
2 teaspoons curry powder
4 cups chicken broth
1 tablespoon lemon juice
1 (8 ounce) carton nonfat sour cream
Directions
Place the potato in a saucepan with enough water to cover. Bring to a boil, and cook until tender. Drain, and set aside.
Heat 2 tablespoons of olive oil in a large saucepan or soup pot. Add the green onions, and cook until tender. Stir in the cooked potatoes, then  gradually mix in the chopped lily pads, stirring after each addition until lily pads are limp. Transfer the mixture to a food processor or blender, and puree until smooth.
Heat the remaining olive oil in the same pan, and whisk in the flour and curry powder. Gradually whisk in broth so that no lumps form. Return the lily pad mixture to the pan, stirring to blend, along with the lemon juice. Bring to a boil over medium heat, stirring constantly until thickened. Reduce heat and simmer on very low 20 minutes.
Place sour cream in a medium bowl. Ladle about 1 cup of the hot soup into the sour cream, and mix until well blended. Stir this back into the pot of soup. Heat through, but do not allow to boil. Serve immediately.
Servings: 8
BACON SAUTEED LILY PADS
6 rashers (strips) double smoked bacon
1 tablespoon olive oil
1 medium white onion chopped
4 teaspoons minced garlic see note
1 tablespoon unsalted butter
1 teaspoon soy sauce
8 oz lily pads – cleaned, rinsed, stemmed, and dried and chopped
1/2 teaspoon salt
1/4 teaspoon black pepper
2 tablespoons freshly grated Romano cheese
Directions
Cut the bacon into small pieces and fry in a preheated  large skillet until crispy.
Transfer the cooked bacon to paper towel lined plate.
In the large skillet, heat the olive oil. Add onion and sauté for 4 minutes. Add garlic and butter and sauté until the onion is starting to brown.
Add soy sauce and stir well. Add lily pad and gently toss to mix with sautéed onion.
Cook until lily pad is wilted. Season with salt and pepper, toss with the cooked bacon.
Place into a serving bowl, garnish with grated cheese.
Serve immediately.
Serves 4

LILY PAD BUTTERED SALMON
2 tbsp. extra-virgin olive oil
4 (6-oz) salmon fillets, patted dry with paper towels
Kosher salt
Freshly ground black pepper
3 tbsp. butter
3 cloves garlic, minced
1 1/2 c. halved cherry tomatoes
2 c. lily pads, – cleaned, rinsed, stemmed, and dried and chopped
1/2 c. heavy cream
1/4 c. freshly grated Parmesan
1/4 c. mixed chopped herbs (such as basil and parsley),
Lily Pad flowers or petals for garnish
Lemon wedges, for serving (optional)
DIRECTIONS
In a large skillet over medium-high heat, heat oil. Season salmon all over with salt and pepper. When oil is shimmering but not smoking, add salmon skin side up and cook until deeply golden, about 6 minutes. Flip over and cook 2 minutes more. Transfer to a plate.
Reduce heat to medium and add butter. When butter has melted, stir in garlic and cook until fragrant, about 1 minute. Add cherry tomatoes and season with salt and pepper. Cook until tomatoes are beginning to burst, then add the chopped lily pads. Cook until lily pads is beginning to wilt.
Stir in heavy cream, Parmesan, and herbs and bring mixture to a simmer. Reduce heat to low and simmer until sauce is slightly reduced, about 3 minutes.
Return salmon back to skillet and spoon over sauce. Simmer until salmon is cooked through, about 3 minutes more.
Garnish with lily pad flowers and squeeze lemon on top before serving.
Serves 4
LILY PAD BITES
4 oz. cream cheese, softened
2/3 c. shredded mozzarella
1/4 c. freshly grated Parmesan
1/2 c. canned artichoke hearts, drained and chopped
1/2 c lily pads, – cleaned, rinsed, stemmed, and dried and chopped
2 tbsp. sour cream
2 cloves garlic, minced
Pinch crushed red pepper flakes
Kosher salt
Freshly ground black pepper
3 medium zucchini, cut into 24, 1/2″ rounds
DIRECTIONS
FOR OVEN
Preheat oven to 400° and line a large baking sheet with parchment paper. In a medium bowl, combine cream cheese, mozzarella, Parmesan, artichokes, lily pads, sour cream, garlic, and crushed red pepper. Season with salt and pepper.
Spread about a tablespoon of cream cheese mixture on top of each zucchini coin.
Bake until zucchini is tender, and cheese is golden about 15 minutes. For more color, broil on high, 1 to 2 minutes.
FOR AIR FRYER
In a medium bowl, combine cream cheese, mozzarella, Parmesan, artichokes, lily pads, sour cream, garlic, and crushed red pepper. Season with salt and pepper. Set aside.
Cook zucchini slices in air fryer at 375° for 8 minutes then top each slice with 1 tablespoon cream cheese mixture.
Return to air fryer and continue cooking in batches until cheese is deeply golden and zucchini is tender, about 10 minutes more.
Yields 24
POND LILY STEW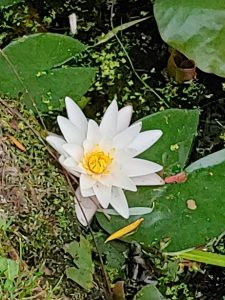 Ingredients
3/4 cup (about 3 1/4 oz.) all-purpose flour, divided
5 teaspoons kosher salt, divided
2 pounds venison stew meat, cut into (1-in.) pieces
1/4 cup canola oil
4 cups unsalted beef broth, divided
1 (12-oz.) bottle brown ale beer (non alcoholic)
8 ounces fresh cremini mushrooms, quartered (3 cups)
2 cups cubed (1-in. pieces) Yukon Gold potatoes
3 medium (12 oz. total) carrots, cut into 1- x 1/2-in. pieces (about 2 cups)
1 medium (6 oz.) turnip, peeled and cut into 1-in pieces (about 1 1/4 cups)
4 cups chopped lily pads
2 tablespoons tomato paste
1 tablespoon chopped fresh thyme
1/3 cup blueberry jam
1/4 cup thinly sliced fresh chives, plus more for garnish
3 tablespoons country-style Dijon mustard
1 tablespoon chopped fresh dill
1/2 teaspoon black pepper
Directions
Step 1
Stir together 1/2 cup of the flour and 2 1/2 teaspoons of the salt in a large bowl. Add venison; toss to coat.
Step 2
Heat 2 tablespoons of the oil in a large cast-iron skillet over medium-high. Add half of the venison; cook, turning occasionally, until browned on all sides, 8 to 10 minutes. Remove from skillet; wipe skillet clean. Repeat process using remaining oil and venison.
Step 3
Whisk together 1/2 cup of the broth and remaining 1/4 cup flour in a small bowl until smooth; place in a 6-quart slow cooker. Add browned venison, beer, mushrooms, potatoes, carrots, turnip, tomato paste, thyme, and remaining 3 1/2 cups broth. Cover and cook until venison and vegetables are just tender, about 6 hours on LOW or 3 hours on HIGH.
Step 4
Stir the Lily pads into stew; cover and cook until tender, about 30 minutes on HIGH. Stir in jam, chives, mustard, dill, pepper, and remaining 2 1/2 teaspoons salt. Divide stew evenly among bowls; garnish with additional chives.
Serves 6