Focaccia bread topped with Guacam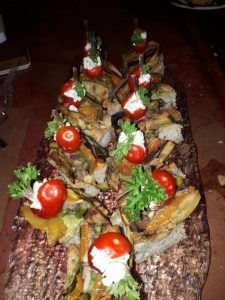 ole, Grilled Vegetable Pate, Herb'ed Goat Cheese Stuffed Cherry Tomato and served with Chimmichuri sauce. So good, named for a friend of Dianna's whom she works with, enjoy.
Grilled  Vegetable Terrine
3 large red capsicums
2 medium yellow capsicums
3 large zucchinis, sliced 3-5 mm lengthways
6 Portobellini mushroom (caps only)
2 medium eggplants, sliced
3-5 mm lengthways 1 large garlic clove, crushed
1/4 cup olive oil
1/3 cup extra virgin olive oil
Preheat char-grill or barbecue plate on medium. Line a 20 x 10cm loaf pan or terrine mold with plastic wrap, allowing edges to overhang.
Place all vegetables in a bowl. Add olive oil, and season to taste. Toss well.
Char-grill capsicums until skin is black and blistered and the flesh is soft. Cover and cool, then peel away skin.
Char-grill all remaining ingredients for 1-2 minutes each side, until cooked and marked by the grill. Place in another bowl, season to taste and toss with extra virgin olive oil and basil leaves, 1/3 cup picked basil leaves, plus extra for top.
Layer strips of zucchini, overlapping slightly, across the base of the pan, with ends extending up the sides. Layer remaining vegetables and mushrooms in alternating colors with basil leaves, ending with eggplant.
Pour any excess oil over and fold plastic wrap over vegetables to enclose. Weigh down with something I use bricks, but try cans. Place on a tray to collect the excess liquid from weighing the pate. Chill overnight.
When ready to serve, upturn onto a platter. Carefully remove pan, then peel away the plastic wrap. Scatter top with basil leaves. Serve sliced, with Chimmichuri sauce (below).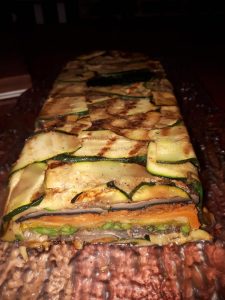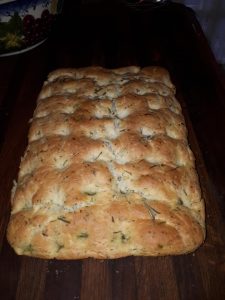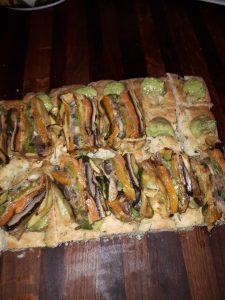 Slice the Focaccia, top with Guacamole, then Grilled Vegetable Pate.
Fresh Herb Focaccia Bread
2 tablespoons olive oil (to drizzle into the pan)
1 1/2 cups warm water
3 tablespoons olive oil (for the dough)
1 1/4 teaspoons salt
3 1/2 cups Unbleached All-Purpose Flour
1 tablespoon instant yeast
4 teaspoons fresh minced garlic
4 teaspoons mixed fresh herbs (rosemary, Oregano, Thyme, Basil)
Directions
Use non-stick vegetable oil spray to lightly grease a 9″ x 13″ pan. Drizzle about 2 tablespoons olive oil atop the spray; the spray keeps the bread from sticking, while the olive oil gives the bottom crust great flavor and a bit of crunch.
Combine all of the ingredients, except the herbs, and beat at high speed with an electric mixer for 60 seconds.
Scoop the sticky batter into the prepared pan, cover the pan, and let it rise at room temperature for 60 minutes — it should be quite puffy, but not fragile-looking.
While the dough is rising, preheat the oven to 375°F.
Gently poke the dough all over with your index finger.
Drizzle it lightly with olive oil, and sprinkle with the fresh herbs of your choice.
Bake the bread until it's golden brown, 25 to 30 minutes.
Remove it from the oven, wait 5 minutes, then turn it out of the pan onto a rack. Serve warm or at room temperature.
Guacamole
3 avocados (ripe)
1/2 small onion, finely diced
2 Roma tomatoes, diced
3 tbsp, fresh cilantro, chopped
1 jalapeno pepper, seeds removed and finely diced
2 garlic cloves, minced
1 lime, juiced
1/2 tsp sea salt
DIRECTIONS
Slice the avocados in half, removed the pit and skin and place in a mixing bowl. Mash the avocado with a fork and make it as chunky or smooth as you'd like.
Add the remaining ingredients and stir together.
Herbed Goat Cheese, Cherry Tomatoes
Ingredients
1/4 pound goat cheese
1/4 cup minced fresh basil
1/2 teaspoon salt
1/2 teaspoon freshly ground black pepper
24 cherry tomatoes
Directions
In a medium-sized bowl, combine the cheese, basil, salt and pepper. Mix with a fork until well blended.
Cut the top off each cherry tomato. Using a small spoon, carefully scoop out the pulp to make a hollow, yet sturdy, shell. Drain off any juice that may be in the tomato shells.
Using a small spoon, scoop about 1 teaspoon of the cheese mixture and carefully stuff into a tomato shell. Repeat until tomatoes or cheese mixture is used up. Arrange the filled tomatoes on a platter to serve.
Chimichurri Sauce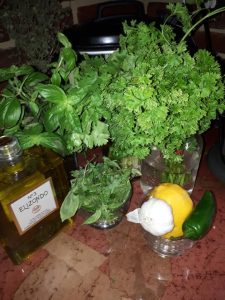 Ingredients
1/2 cup olive oil
4 cloves garlic, chopped, or more to taste
3 tablespoons white wine vinegar, or more to taste
1/2 teaspoon salt, or to taste
1/4 teaspoon ground cumin
1/4 teaspoon red pepper flakes
1/4 teaspoon freshly ground black pepper
1/2 cup fresh cilantro leaves
1/4 cup fresh oregano leaves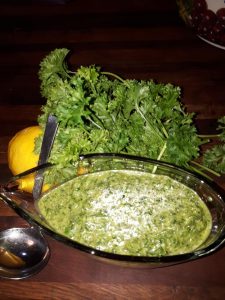 1 bunch flat-leaf Italian parsley, stems removed
Directions
Combine oil, garlic, vinegar, salt, cumin, red pepper flakes, black pepper, cilantro, oregano, and parsley in a blender.
Pulse blender 2 to 3 times; scrape down the sides using a rubber spatula. Repeat pulsing and scraping process until a thick sauce forms, about 12 times.