Gluten Free Bread Flour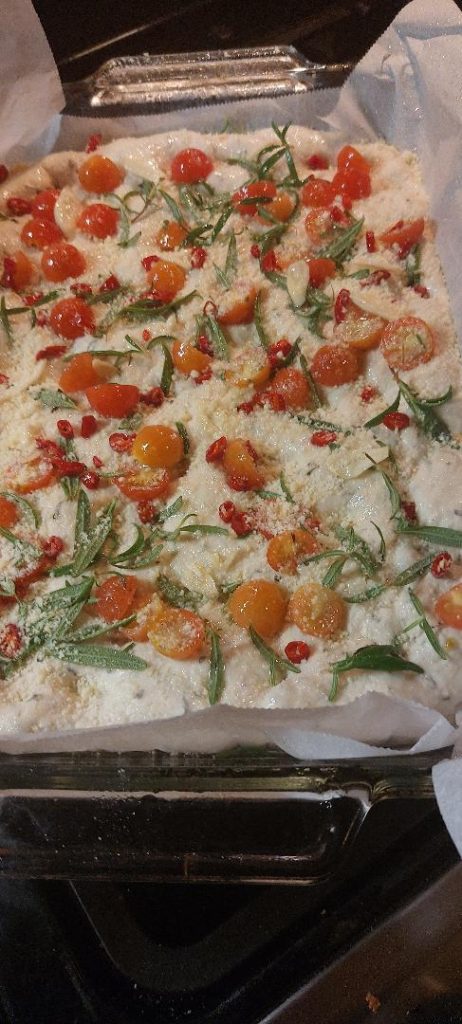 24 oz or 4.25 Cups Brown Rice Flour
24 oz or 4.25 Cups White Rice Four
24 oz or 4.25 Cups Sweet Rice Flour
20 oz or 4.5 Cups Tapioca Flour/Starch)
2 1/2 TBSP (0.8 oz) Xanthan Gum
Mix all together until well blended.
Gluten Free Bread
8 g (2 1/2 tsp) active dried yeast
20 g (2 tbsp) superfine/caster sugar
390 g (1 1/2 cups + 2 tbsp) warm water, divided
20 g (1/4 cup) psyllium husk (rough/fine form)
130 g (3/4 cup + 3 tbsp) buckwheat flour
100 g (1/2 cup + 3 tbsp) tapioca starch (substitute with corn starch, tapioca starch or arrowroot starch)
90 g (1/2 cup + 2 tbsp) Chef K Gluten Free flour (above)
10 g (2 tsp) table or sea salt
12 g (2 tsp) apple cider vinegar
INSTRUCTIONS
In a small bowl, mix the yeast, sugar and 150 g (1/2 cup + 2 tbsp) warm water. Set aside for 10 – 15 minutes, or until the mixture starts frothing.
In a separate bowl, mix together the psyllium husk and 240 g (1 cup) water. This will quickly form a gel, no worries.
In a large bowl, mix together the buckwheat flour, tapioca starch, brown rice flour and salt, until evenly combined.
Add the yeast mixture, psyllium gel and apple cider vinegar to the dry ingredients. Knead the dough until smooth about 7 minutes.
Transfer the bread to a lightly oiled surface and knead it gently, forming it into a smooth ball. Place the dough into a lightly oiled bowl, seam side down, cover and allow to rise in a warm place for about 1 hour or until doubled in size.
Once risen, turn the dough out onto a lightly floured surface, and knead it gently while forming it into a tight ball
Place the dough into a 7 " round proofing basket dusted with some brown rice flour with the seams facing upwards. Cover with a damp tea towel and proof in a warm place for about 1 hour or until doubled in size.
Pre-heat the oven to 480 ºF (250 ºC) with a cast iron skillet on the middle rack or a Dutch oven cooker on the lower middle rack. If you're using a skillet, place a baking tray on the bottom rack of the oven.
Once the dough has doubled in size, turn it out of the bread basket onto a piece of baking paper and score the top with using bread lame or sharp knife. Take the hot cast iron skillet or Dutch oven out of the oven and then transfer the bread along with the baking paper into it.
Add 3 – 4 ice cubes in a small oven proof bowl, place in oven with the bread, and close the oven.
Bake with the steam for 20 minutes – don't open the Dutch oven or the oven doors during this initial period, as that would allow the steam to escape out of the oven. After the 20 minutes, remove the bowl with water from the oven uncover the Dutch oven, reduce the oven temperature to 450 ºF (230 ºC), and bake for a further 40 – 50 minutes. If the loaf starts browning too quickly, cover with a piece of aluminum foil, shiny side up, and continue baking until done.
Transfer the loaf onto a wire cooling rack to cool completely.
Yields 1 Loaf
For Gluten Free Focaccia:
2 1/4 cups gluten free 1:1 flour (see above), about 300g
2 tsp baking powder
1 1/2 cups warm water
1 pkg. (1/4 oz.) instant or rapid rise yeast
1 Tbsp honey (or agave, or sugar)
1 tsp salt
4 Tbsp olive oil, divided
For Topping:
½ cup cherry tomatoes (cut in half)
1 Tbsp fresh rosemary
1–2 Tbsp vegan parmesan or Parmesan cheese
1/2 tsp coarse salt
1/4 cracked black pepper
2 chopped fresh red cayenne pepper (optional)
INSTRUCTIONS
In a large bowl, whisk together flour, salt, and baking powder. Set aside.
Warm your water in the microwave or on the stovetop until it's warm but not hot. (100°F or 38°C  is ideal)
Add yeast, honey, and 2 Tbsp olive oil to the warm water. Stir to combine, and then let it bloom by setting it aside to rest for 3-5 minutes.
Pour the water/yeast mixture over the dry ingredients and stir to combine into a batter, (this will be thinner than bread dough.)
Cover the bowl with plastic wrap or a clean dish towel and set it to rise in a warm place for 60. The batter/dough will double in size.
Now preheat the oven to 400 ° F (200°C).
Line a baking sheet with parchment paper and drizzle with remaining 2 Tbsp of olive oil.
Pour the batter out onto the prepared baking sheet and gently press out using your fingers or the back of a spatula into a rectangle shape (roughly 8×10″ or so) about 3/4 of an inch thick.
Use your finger to poke several holes in the dough all the way to the bottom of the pan
Sprinkle the surface of the dough with tomatoes', fresh rosemary, Parmesan (if using), coarse sea salt and pepper (Cayenne if using).
Bake for  25-30 minutes, or until golden brown. Remove from oven and let cool at least 10-12 minutes before slicing and eating.