Claire's Apple Cinnamon Rolls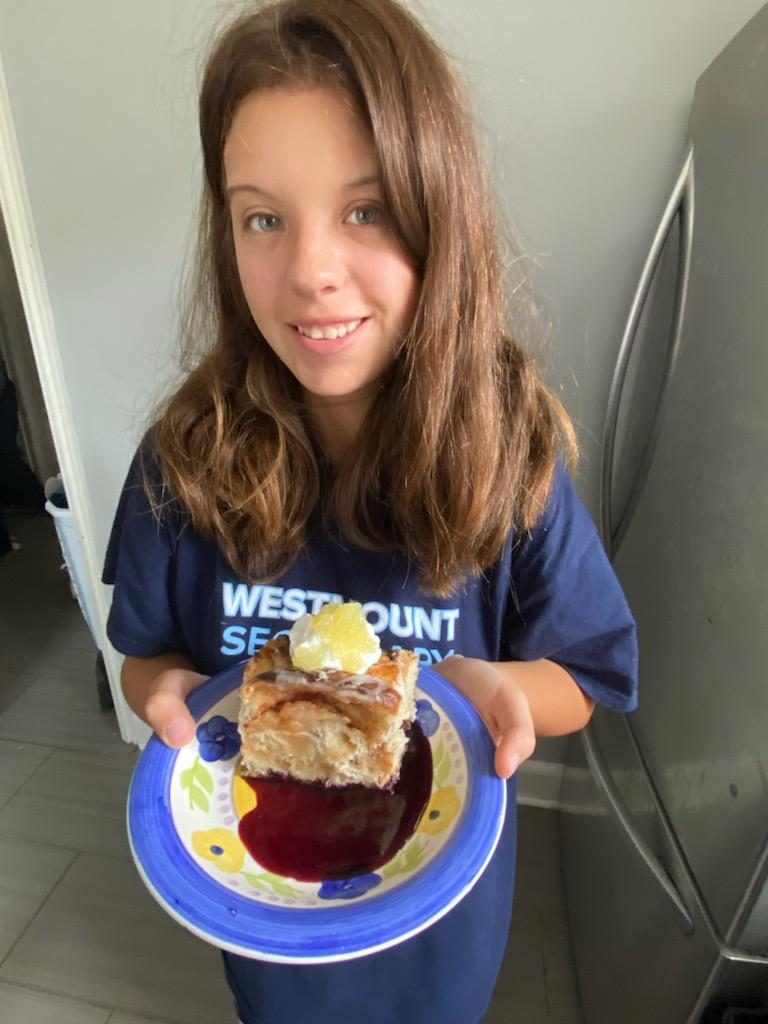 INGREDIENTS
Bread Dough
250g whole milk, lukewarm
50g Granulated Sugar
2 ¼ tsp active dried yeast
2 large eggs, at room temperature
½ tsp kosher salt
565g All-Purpose Flour
100g Unsalted Butter, at room temperature
Apple Pie Filling
850g – about four medium apples, peeled, cored, and diced small
30g Unsalted Butter
80g Granulated Sugar
½ tsp ground cinnamon
¼ tsp Kosher salt
1 Tbsp Corn starch
Brown Sugar Cinnamon Filling
190g Unsalted Butter, at room temperature
280g Brown Sugar
2 Tbsp plus 1 tsp ground cinnamon
⅛ tsp Kosher salt
Cream Cheese Frosting
115g Unsalted Butter, at room temperature
225g Cream Cheese, at room temperature
250g Powdered Sugar, sifted
1-2 Tbsp Heavy Whipping Cream
½ tsp kosher salt
Chantilly Cream
2 cups heavy whipping cream
6 tablespoon confectioners 'sugar
1 teaspoon vanilla extract
Pineapple Caviar
2 cups Vegetable oil
3/4 cup pineapple juice (or any other juice of choice)
1/2 tsp of agar powder
2 tbsp of sugar (optional: only if juice is too bitter)
Blueberry Coulis
1 lbs Blueberries – fresh or frozen
2 tablespoons Lemon, Juice
4 tablespoons Caster Sugar – or Fine White Sugar
INSTRUCTIONS
BREAD DOUGH
Place the lukewarm milk, 25g of the sugar, and the yeast in a medium sized bowl, and stir to combine. Leave for 10-15 minutes, or until foamy.
In the bowl of a stand mixer fitted with the dough hook attachment, place the flour, salt, and remaining sugar, and mix briefly to combine.
Add the milk mixture and egg to the dry ingredients, and mix on low for 2-3 minutes. Increase the speed of the mixer to medium, and mix for a further 5 minutes. Add the butter a little at a time, waiting until it is incorporated until adding the next piece. Mix for a further 7-10 minutes, until the dough is smooth and soft.
Cover the bowl with plastic wrap and place in the fridge for at least 2 hours and up to overnight, until doubled in size. Alternatively you can place it in a warm spot until doubled in size, 45 minutes to an hour.
APPLE FILLING
Melt the butter in a large skillet over medium heat. Add the apples, sugar, cinnamon, and salt, and cook, stirring often, until the apples are tender, 3-5 minutes.
Add the corn starch and mix well to incorporate, then continue to cook until the mixture has thickened and the apples are coated.
Transfer to an airtight container and chill until ready to use.
Preheat the oven to 350°f / 180°c. Line a small sheet pan with parchment paper and place the pecans on it.
BROWN SUGAR CINNAMON FILLING
Place the butter, brown sugar, cinnamon, and salt in a small bowl. Mix well to combine.
ASSEMBLY
Grease a baking dish (9"x13" or 23cm x 33cm) or line with parchment paper.
Turn the dough out onto a lightly floured surface, and roll into a rectangle that is 24" x 16" (60cm x 40cm), squaring off the edges often as you roll. Spread with the brown sugar cinnamon mixture, ensuring the filling is spread evenly over the surface.
Top with the prepared apple pie filling, spreading out evenly.
Starting with a long side, roll up into a tight spiral. Cut the log into two pieces and place them side by side on a sheet pan lined with parchment paper and lightly sprayed with cooking spray. Lightly cover the dough logs with plastic wrap, and transfer to the freezer for 20 minutes in order to firm up slightly (this step is optional but helps give a neater cut).
Once the dough logs have chilled, remove from the fridge. Using a sharp knife, slice each log into 6 equal pieces (I like to use a ruler), and arrange on the prepared baking sheet or baking dish, evenly spacing between.
Lightly cover the pan with plastic wrap, and leave to rise for 45 minutes to an hour, or until puffy, and a small indentation is left when poked gently with your finger.
While the rolls are rising, preheat the oven to 350°f / 180°c.
Bake the rolls for 35 to 40 minutes, or until deeply golden brown. Remove from the oven and allow to stand for 15 minutes or so before icing with the Cream Cheese Frosting.
CREAM CHEESE FROSTING
Place the butter and cream cheese in the bowl of a stand mixer fitted with the paddle attachment. Mix on medium speed until well combined. Add in the powdered sugar, heavy cream, and salt, and whip until light and fluffy.
Spread onto the cinnamon rolls while they are still slightly warm.
Chantilly Cream Topping.
In a medium mixing bowl (or the bowl of your stand mixer) add the chilled heavy whipping cream, sugar, and vanilla extract.
Using an electric hand mixer (or stand mixer with whisk attachment) beat until soft peaks form, typically in 3 to 5 minutes.
Pipe or spoon a dollop on top of each roll when serving.
Cover remainder with plastic cling film and refrigerate until ready to use.
Pineapple Caviar
PREPARATION
Fill a clear glass with 2 cups vegetable oil and place in freezer for 2 hours.
In a small pot, whisk together juice and agar powder (and sugar, if using) and bring to a boil. Cook for 2 minutes, then remove from heat and allow to cool.
Pour juice mixture into a squeeze bottle and gently squeeze droplets of juice mixture into the oil until you've made as many as you want.
Next, drain the oil and spheres through a sifter. Rinse spheres in another bowl filled with cold water and pat dry.
Spoon a small amount atop the Chantilly cream, before serving the rolls.
BLUEBERRY COULIS
Place the Blueberries, Lemon Juice and Sugar in a small Pot and stir to combine.
Cook on low heat for 10 to 15 minutes, occasionally stirring, until the juices have started to thicken and the fruits are very soft.
Transfer into a clean mixing bowl. With an Immersion Blender, blend until completely smooth Pour through a thin mesh sieve over another bowl to remove any fruit chunks or skins.
Place 1 tablespoon per plate to serve.
Store remainder in the fridge for up to a week, or in the freezer for 3 months.
Store leftover cinnamon rolls in an airtight container at room temperature.