CHEF K CRISP DILL PICKLES          
4 lbs pickling cucumbers (whole, sliced or cut into spears)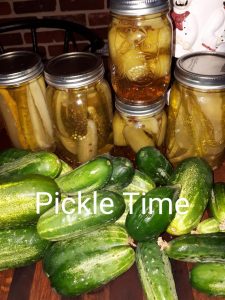 2 cloves of garlic for each jar (peeled)
1 or 2 fresh sprigs of fresh dill for each jar
4 or 5 black peppercorns for each jar
1 small fresh hot red cayenne pepper for each jar (optional)
2 quarts of water
2 quarts of white vinegar
4 tbsp pickling spice (follows)
Scant 1/2 c. pickling salt
4 large grapes leaves*
Soak freshly picked cucumbers in a tub of ice water overnight. (Do not use old cucumbers or the pickles will be rubbery). Wipe the pickles, dry. Pack sterilized jars with several sprigs of dill, one clove of garlic at the top and bottom and the cucumbers.
Boil the 2 quarts water, 2 quarts vinegar and scant 1/2 cup salt for 5 minutes. Pour the boiling brine over the cucumbers, place a quarter of each grape leaf on top,  adjust the 2 piece canning lids on the jars. Process in a boiling water bath for 15 minutes.
Wait for about 2 weeks before using to allow the pickles to mellow.
Pickling Spice Blend
Ingredients
2 tablespoons mustard seed
1 tablespoon whole allspice
2 teaspoons coriander seeds
2 whole cloves
1 teaspoon ground ginger
1 teaspoon crushed red pepper flakes
1 bay leaf, crumbled
1 cinnamon stick (2 inches) broken
Directions
Combine all ingredients and store in an airtight jar or container. Use in favorite pickle recipes. Yield: 1/3 cup.
CHEF K PICKLED GREEN TOMATOES
For the tastiest green tomatoes, choose small Roma Tomatoes, unripe. Follow the recipe CHEF K CRISP DILL PICKLES  (above) processing the same way.
*Note: Oak, Grape, Horseradish, Black Tea, or, Mesquite Leaves all help to add tannins to the pickles, they contain a compound called tannins, this compound inhibits an enzyme that makes vegetables turn soft. Before many of the chemicals now offered the use of these leaves (mostly grape) create delicious, crunchy pickles almost every time.
Another culinary tip: Is, trim the ends off the cucumbers before you pack them into jars, there is  also be an enzyme in the blossom end of a cucumber that can lead to softening.
Vinegar:  Vinegar must be at least 5 percent acetic so that low acid vegetables such as cucumbers are properly acidified. Never dilute the amount of vinegar stated in a recipe. For every cup of water, add 1 cup of vinegar.
Salt: Use canning or pickling salt because they contain no iodine. Iodine can cause darkening of the pickles because it contains anti-caking ingredients such as sodium silicate or tricalcium phosphate.
Water Bath: Processing pickles in a water bath canner will prevent this. Always use standard canning jars; two-piece canning lids are recommended. Processing times and procedures vary depending on the food being pickled.
Utensils: Sterizle everything you're using. A dip in the boiling water bath will do the trick. Heat pickling solutions in containers of unchipped enamelware, stainless steel, aluminum, or glass. Never use copper, brass, galvanized, or iron utensils; the metals might react with acids or salts and cause undesirable color changes in the pickles or form undesirable compounds.
SWEET PICKLE RELISH, OR, BREAD & BUTTER PICKLES RECIPE
INGREDIENTS:
3 pounds Pickling Cucumbers or 4 pounds of Large Cucumbers
1 Large Sweet Onion
¼ cup Pickling or Kosher Salt
3 cups White Vinegar
¾ cup Sugar
4 cloves Garlic, Minced
2 teaspoons Dill Seed
2 teaspoons Mustard Seed
2 teaspoons Celery Seed
½ teaspoon Turmeric
INSTRUCTIONS:
For relish: Slice the cucumber lengthwise and remove the seeds with a spoon. Discard the seeds.
1B. For Bread & Butter Pickles, slice the pickles into even slices using a food processor, mandolin, or with a chef's knife.
For relish: Finely dice the cucumber and onion.
2B. For Bread & Butter pickles: julienne cut the onions.
Place diced cucumbers and onions in a non-reactive pot and add the salt. Stir and let sit for 3.5 hours.
Drain cucumber and onion mixture in a strainer until all the liquid is removed. You may have to press the mixture against the strainer to remove hidden moisture. Rinse under ice cold water and drain again.
In a medium pot, add vinegar, sugar, garlic, dill, celery, and mustard seed, and turmeric. Bring to a boil.
Add cucumber and onion mixture and return to a coddle (just below simmer.)
Reduce heat to medium low and coddle for 10 minutes.
Remove from heat. Fill clean, sterile canning jars.
Adjust the 2 piece canning lids on the jars. Process in a boiling water bath for 15 minutes.
Check and tighten any lids, being sure the snap lid has snapped down. If it does not seal, refrigerate and use within a week. Store properly sealed jars for up 4 months in a cool dark cupboard.