A trip to Otavalo, Ecuador 5 years ago, brought me to such places of interest and delights, the market that encompasses the entire downtown section of the city, blocks upon block of hawkers selling, colorful yarns, spices, hand made goods, smoked local foods, chocolate and so much more, this small city so home to some of the nicest and best people that Ecuador could offer to the world.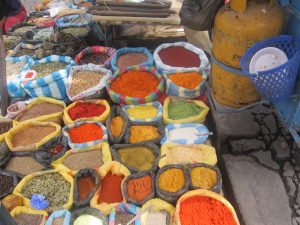 For spectacular views, incredible settings, a district rich in history and food of the region that is very good, is place nestled beneath the Imbabura volcano is La Laguna de San Pablo, also known by the indígenas people as Imbakucha. It is largest of the 28 stunning lakes of Imbabura province, a quick taxi ride of just 4 km from Otavalo the lake is a quiet, peaceful place, where you can watch 12 species of waterfowl, go horseback riding, mountain biking, search for amphibians or fish, like the local trucha (trout).
On the rainy, chilly days in January the water sports are not likely what you may want to do, but should you visit in better weather when you may enjoy a variety of swimming, boating, fishing or just relaxing and passing the day away. If you are so inclined, you can hike around the 15 km circumference of the lake. From the lake flows the Peguche river and a waterfall of 18m (54ft) which bears the same name as the river, set in a nice nature park.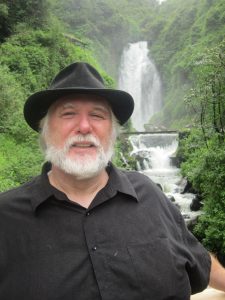 On the shore of La Laguna de San Pablo is a small resort called Puerto Lago, set as a lighthouse on the coast. This resort has what some consider the finest restaurant of the Otavalo area. A pleasant park setting, special cabin style suites for those who choose to stay on the lake. The restaurant is considered international gourmet, but I found I no better than 2nd year culinary student fare. The most exciting thing was a Aji sauce. I had a a delicious bowl of Locro de Papa (potato and cheese soup) and a stuffed trout, which were supposedly caught from the lake, although it seemed doubtful as it fish was not fresh and had a texture that stated it had been previously frozen. The fish was stuffed with chopped seafood and breadcrumbs which lacked seasoning, but more disappointing was that the cook deep fried the chopped seafood making the tiny pieces into bits of rubber. A cream caper sauce, which again lacked flavor coated the fish. I found the small Otavalo restaurants, like Chievce 523 (at 1/3rd the cost) to be a far more flavorsome. La Laguna de San Pablo is truly a special place, order the local fare for the best dining experience.
Locro de Papa
Ecuadorian potato and cheese soup
Ingredients
10 medium sized potatoes peeled and chopped into small and large pieces
2 tablespoons oil
1 white onion diced
2 garlic cloves minced
2 tsp cumin
1 tsp achiote powder
7 cups of broth
1 cup of milk
1 cup grated or crumbled cheese (Oaxaca, queso fresco, mozzarella or monterey jack)
1 bunch of cilantro leaves only, minced
Salt and white pepper to taste
To serve:
1 cup of queso fresco feta cheese, or grated mozzarella
Maiz tostado or cancha corn nuts
Chopped cilantro and green onions
Avocados sliced or diced
Ecuadorian Aji hot sauce (recipe follows)
Instructions
Prepare a refrito or base for the soup by heating the oil over medium heat in a Dutch oven or large soup pot; add the diced onions, minced garlic cloves, cumin, and achiote powder. Cook, stirring frequently, until the onions are tender, about 5 minutes.
Add the potatoes to the pot and mix until they are coated with the refrito. Continue cooking and stirring for about 5 minutes.
Add the broth and bring to boil, reduce the heat and simmer until the potatoes are very tender. Use a potato masher to mash the potatoes in the pot, don't mash all of them, the consistency of the soup should be creamy with small tender chunks of potatoes.
Stir in the milk and continue to simmer for about 5 more minutes, add more milk if the soup is too thick.
Taste and add salt and pepper to your taste.
Add the grated cheese and cilantro, mix well, and remove from the heat.
Serve warm with the avocados, scallions, queso and Aji hot sauce.
Aji Hot Sauce
Ingredients
4-5 Tamarillos (tree tomatoes fresh)
2 ajies or hot peppers serranos or red chilies are good options, habaneros if you are very brave
2 tbs finely chopped white onion
1 tbs finely chopped cilantro
1 tbs lime or lemon juice
¼ cup vinegar (white)
Salt to taste
Optional – Add cooked and peeled chochos or pickled lupini beans
Instructions
Peel the tomarillos, (blanched for about 5 minutes to make them easier to peel.)
Blend the tomarillos with the hot peppers, remove the seeds and veins for a mild sauce.
Transfer the blended mix to a small sauce pan, add the vinegar, bring to a boil, reduce heat and simmer on for about 5-8 minutes. Add the onion, lime juice, cilantro, chochos (if adding), and salt to taste. Simmer an additional 3 minutes.
Puree with an immersion blender or in a food processor.
Serve warm or cold.
You may serve this sauce without cooking for a fresh sauce, but it does not keep well.