Ingredients:
2 tbsp.                      30 ml                   Extra-virgin olive oil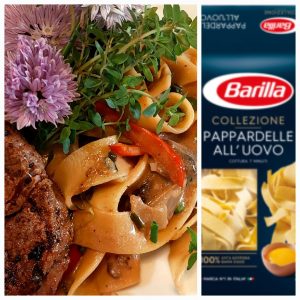 1                                1                           Large yellow onion, diced small
3                                3                           Medium carrots cut into 1/4-inch rounds
3                                3                           Celery stalks, cut into 1/4-inch pieces
1                                1                          large red bell pepper, julienned
2 ¼ lbs.                     1 kg                     Beef chuck steaks, fat trimmed, cut into 6 pieces
2 cups                      500 ml                Crushed tomatoes
2 cups                      500 ml                Beef broth
3 cups                      252 g                  sliced button mushrooms
3                                3                           Garlic cloves, smashed and peeled
Coarse salt and ground pepper
2 tbsp.                      30 ml                   Soy sauce
2 tsp                         10 ml                  Worcestershire sauce
12 oz.                        336 g                  Barilla Pappardelle (wide egg noodles)
6 tbsp.                      90 ml                   Sour cream
⅓ cup                       90 ml                   Fresh parsley, chopped
2 tbsp.                      6 g                       chopped chives
Directions:
In a large skillet, heat 1 tbsp. of the oil over medium heat. Add the onion, carrots, celery and  red bell pepper, sauté stirring frequently, until vegetables are softened, 10 minutes. Transfer mixture to a 5-to-6-quart slow cooker.
Heat a cast iron skillet, add the remaining oil and sear the beef on all sides.  Place into the slow cooker along with the, tomatoes, broth, mushrooms, garlic and salt and pepper, soy and Worcestershire sauces.
Cover and cook on high, for 6 hours, stirring occasionally.
Cook the Pappardelle in boiling salted water for 7 minutes, drain and toss throughout the sauce.
Plate the pasta, smother with sauce, place a steak on each plate and top with sour cream. Sprinkle  parsley and chives to serve.
Serves 6