Goose Egg Chocolate Mousse Pie/Cups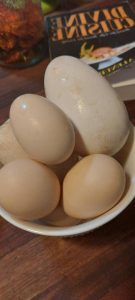 Ingredients
3 cups chocolate cookie crumbs
6 tbsp. butter (melted)
1 cup cold heavy whipping cream
1 tsp unflavored gelatin
1 tbsp. cold water
2 tbsp. brewed espresso or very strong coffee (hot)
4 1/2 ounces bittersweet chocolate, finely chopped
2 tablespoon (1 ounce) unsalted butter, cubed
2 goose eggs, separated or 4 large eggs
1 tbsp. sugar
Crushed Coffee Crisp Candy Bar and chocolate whipped cream (follows), to serve
Directions
In a medium-size bowl combine melted butter with chocolate cookie crumbs and mix until fully combined.
Press the cookie crumbs mixture into the bottom and up the sides of the pie pan or into muffin pan cups; using a measuring cup, press the cookie crumbs into the pie pan shape. Place in the refrigerator for the crust to harden.
Whip the heavy whipping cream to soft peaks, and then chill.
Sprinkle gelatin over cold water in small bowl; let stand 1 minute to soften. Add the espresso; stir until gelatin is completely dissolved and mixture is clear. Cool slightly.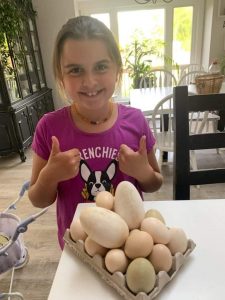 Put the chocolate, cubed butter and gelatin/espresso in the top of a double boiler over hot, steamy water (not simmering), stirring frequently until smooth.
Remove the chocolate mixture from the heat and let it cool until the chocolate is just warm to the touch. Don't let the chocolate get too cool or the mixture will seize when the other ingredients are added.
Once you've taken the chocolate mixture off the heat and it has started to cool, whip the egg whites until they are foamy and beginning to hold a shape. Sprinkle in the sugar and whip until the egg whites form stiff peaks.
When the chocolate has cooled until it is just warm to the touch, stir in the egg yolks.
Add whipped cream and egg whites
Gently stir in about one-third of the whipped cream to thin and loosen the chocolate mixture. Then fold in half the egg whites. Fold in the remaining egg whites. Fold in the remaining whipped cream.
Spoon or pipe the mousse into the chocolate cups, chill in the refrigerator for 8 to 24 hours. Sprinkle with the crushed Coffee Crisp bar and place a dollop chocolate whipped cream.
Chocolate Whipped Cream
¼ c heaping cocoa powder
⅓ c confectioners 'sugar
2 c 35% cold whipping cream (heavy)
1 tsp vanilla extract
pinch of sea salt
Sift the cocoa powder together with confectioners' sugar.
Place the whipping cream in a mixing bowl and whip to soft peaks, add the remaining ingredients and continue to firm peaks.  Chill and/or use as require.
Yields 2 cups