ANTOINE'S NEW ORLEANS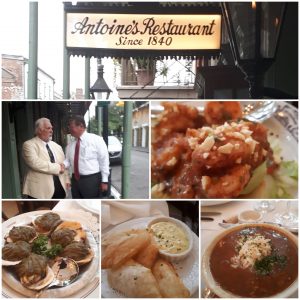 We begin our review of iconic restaurants with Antoine's of New Orleans, we have chosen to travel to some of the worlds most iconic establishments to see what makes them such. We define iconic as: widely known and acknowledged especially for distinctive excellence.
The city of New Orleans is home to many, many very fine restaurants, some fresh new faces, while others have 30, 40, 50 or more years of history To stay in business for that many years, especially in the hospitality business in a city known for food and places to eat, surely would classify it as an iconic establishment, The Advocate (New Orleans daily news paper) found 1,216 in Orleans Parish. This includes 605 full-service restaurants, 476 counter-service or fast-food eateries and 135 bars serving food from their own kitchens. New Orleans (NOLA) there seems to be a restaurant with huge history on every corner of the French Quarter. Look at this list:
Tujague's, 823 Decatur St., 1856,
Café du Monde, 800 Decatur St., 1862,
Commander's Palace, 1403 Washington Ave., 1893,
Galatoire's, 209 Bourbon St., 1905,
Arnaud's & the French 75 Bar, 813 Bienville ST., 1918,
Broussard's, 819 Conti St., 1920,
Mandina's, 3800 Canal St, 1932,
Dooky Chase's Restaurant, 2301 Orleans Ave., 1941,
Camellia Grill, 626 S. Carrollton Ave., 1946,
Ted's Frostop, 3100 Calhoun St., 1950's,
Court of Two Sisters, 613 Royal St., 1963
Topping the list however is Antoine's (also the 8th oldest restaurant in America, and the oldest family run restaurant in the USA) established in 1840 this fine French Creole dining establishment is truly iconic. For many reasons, beyond its ability to outlast 80% of all restaurants in the country. Located in the French Quarter at 713 rue St. Louis, the restaurant was founded by Antoine Alciatore, and established and operated by direct descendants of Antoine,
OWNERS ALL FAMILY                                                                                                                                                  Chef K & Rick Blount Antoine's  Ownerr/manager.
Antoine Alciatore            1840-1875
Julie Freyss Alciatore      1875-1887
Jules Alciatore                   1887-1934
Roy Alciatore                     1934-1972
William Guste Jr. and Roy Guste 1972-1975
Roy Guste Jr.                     1975-1984
Bernard "Randy" Guste 1985-2004
Rick Blount                          2005-present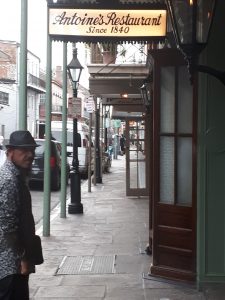 Having migrated from Marseilles, 18 year old Antoine chose New Orleans to open a "pensione" a boarding house along with a small café, what did he call his new business? Antoine's of course.  New Orleans saw many merchant seaman come and go, they needed a place to sleep and eat, Antoine offered them just that, as a culinary wiz his name quickly spread becoming "The" place to stay, why?  The food was just incredible.  He worked very hard making Antoine's the name in dining, do things that didn't become "standards" in other establishments until one hundred years later, such standardizing recipes, some of the same used to this very day.
He would return to France to visit, but passed away while there. So in 1898 his Jules inherited the business he had been managing since 1875, it was Jules (also a gifted chef) who would create the establishment that it would become so iconic today.  He could foresee certain trends that were coming to the city and he managed to capitalize upon them.
Having survived the Civil War, World Wars 1 & 2, The Great Depression, Prohibition, various recessions, numerous hurricanes, floods, and so much more, the restaurant continues to set the mark for excellence. Zagats review, "No New Orleans trip is complete" without a "sumptuous" French-Creole meal at this "classic of all classics" so one must ask why and how?
Oyster Rockefeller
Antoine's of course has notable cuisine, signature dishes like Oyster Rockefeller (often copied but never duplicated) named for John D. Rockefeller for its extreme richness, (no record shows Mr. Rockefeller ever ate these) the dish was created due to a shortage of escargot (prepared in various ways, a must have on every French menu, and has been a well-kept family secret since Jules created it 1889. Eggs Sardou, Café Brulot Diaboliqu)e, (flamed tableside on a Gueridon), why even the word "appetizer" is an member of the Antoine's family creation, Roy Alciatore entered a competition for a word for "hors d'oeuvre", which Americans had a problem with pronouncing,  he combined the words 'appetite' and 'teaser' into "appetizer," now the favored word the world over for any starter, amuse bouche, passed hors d' oeuvre, a word that appears on nearly every English menu anywhere.
As a side note, Escargots à la Bourguignonne, are snails in the manner of Burgundy in France. This is the most famous and popular of all snail recipes. Snails prepared with herbs, especially parsley, cream and beurre d'escargots, snail butter. Snail butter is butter, garlic, shallots and parsley with an occasional additional herb, in which the snails are cooked.)
Gueridon Service is where a dish is prepared, portioned, carved or cooked on a trolley or small table (gueridon) close to the customer's table. This is a specialized form of service which is generally only used in formal or fine dining rooms. It involves a disciplined skill which comes from practice and experience.  Along with the special flaming coffees like the Café Brulot Diabolique or the Monte Cristo, a gueridon feature preparation in a restaurant may include Caesar Salad, Steak Dianne, Crepes Suzette, Bananas Foster and the show piece of all, The Chateaubriand, (take note that the name does not refer to the centre cut of the tenderloin, but rather to the recipe or its preparation.) Antoine's version is excellent, served with both Béarnaise and Marchand de Vin sauces.
There are certain rules that one can follow to become iconic, first be remarkable, be an establishment that gains "the buzz" once people are talking about you, keep them do so, by (2) staying consistent, the ever changing menu can be a huge mistake, people want what they like, if you give it to them they will return for more, until you remove it from the menu, then the talk may become less favorable. A chef can offer various new creations to delight his customers but he should never remove the tried and true, these are the heart and soul of the establishment, Antoine's without its signature dishes is just another in that huge list of NOLA restaurants. (3) Keep it simple, the finest restaurant concentrate on excellence, they allow what is on the plate to be memorable, if it is of quality, is delicious, is elegant and tempting then there is no reason to over decorate and have a dozen or more items on the plate that do not complement one another.  (4) Seating, Jules Alciatore knew, the more people through the door the better the opportunity to stay in business. He created various dining room giving each one a personality of its own, today each has their own stories to tell, oh, if only the walls could talk! (5) Servers who know their stuff, when the server makes a recommendation you know you're going to enjoy it. Antoine's has a training system for their servers that require them to literally be trained for a minimum of two years before they can carry the title "waiter".  This attitude carries through to the back of the house as well, just recently chefs have changed at Antoine's with the departing one having served some 47 years, a remarkable achievement, and it speaks volumes of how staff is treated by the management. Finally (6) "do" sweat the small things, consistency means being steadfast, the same at all times.  Great management thinks the entire dining experience through, from entering the door to existing the same, each and every event is thought out before it ever occurs, the greeting at the door, the greeting at the host stand (if you made a reservation are you greeted by name) how the host/hostess seat you at your table, the way the server approaches the table, how drinks orders are taken and served, how meals are ordered and served, how attentive the server should be during courses served, how the server inquires regarding the quality and taste of the food, (just asking, is everything okay, doesn't cut it) how the meal is completed and the guest check presented, and finally how the server addresses you as you depart. Sweating the small things stops all the big things, therefore no worries.
The present owner/manager Rick Blount (the 5th generation of the family) has perfected the art of sweating the small things, ensuring that Antoine's will see a 7th generation, for you see a good person leaves an inheritance to not his children but to his grandchildren as well, clearly this has been factual through the generations of the family that operates Antoine's. Proverbs 13:22 A good person leaves an inheritance for their children's children, but a sinner's wealth is stored up for the righteous. New International Version (NIV) While I had a brief conversation with Mr. Blount at the door of Antoine's, I saw in him that "goodness",  one of the definition of goodness is "the nutritious, flavorful, or beneficial part of something" I find that more than an appropriate definition for Mr. Blount. As the heart and soul, the driving force behind the Antoine's names he is the beneficial part of that brand today. As the guide of the restaurant he is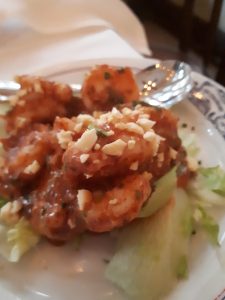 the one who feeds the vision, providing the nutrition needed to support that vision, recreating what Antoine himself may have seen 179 years ago. When his staff catch that vision they can run with it and see to it, it become delightful to the taste, (we all know great ideas are sweet) something flavorful, something that is pleasant, not only to the customer but to themselves as well, a appetizing place to be employed.Our server Schilacy, was skilled not only with her tables side service but also with her knowledge of food and the service of it, while her assistant made a few errors (fingers inside drinking glasses) she was quick to correct it without anyone (but I) noticing, a fly flew into a beverage, she removed the glass and replaced the drink without any hesitation. She was friendly, attentive without being overbearing, efficient and artful in making the dining here an experience and just a meal.
Crevettes Rémoulade
Our personal dining experience held true to the Antoine's high standards, we of course had to have the Oyster Rockefeller and well as the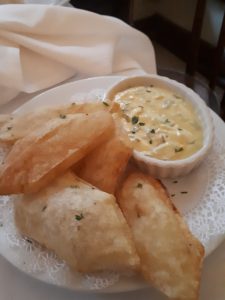 Pomme de terre Souffles, Crevettes Rémoulade (Chilled gulf shrimp in Antoine's rémoulade dressing) Seafood Gumbo (a must try) for (quoting an Antoine's word) appetizers.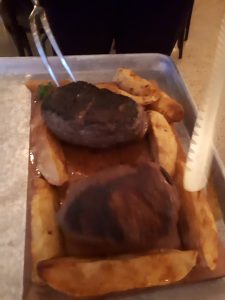 For entrees I enjoyed the Filet de Gulf Poisson aux Ecrevisses Cardinal, gulf fish with gulf crawfish tails in Antoine's signature white wine tomato sauce, again their creation! While my guest ordered the Chateaubriand, although this was very enjoyable there was some of a letdown in the presentation, instead of being craved as stated above on a gueridon, it was presented humbly on a bakers sheet pan atop a waiters tray stand losing the tableside show that the dish is known for, it was the only disappointment of the evening however.
Antoine's Chateaubriand                                                                                                                                          Pomme de Terre Souffle
For desert Mr. Blount graciously had the classic, Omelette Alaska Antoine (Baked Alaska Antoine style)a special dessert, filled with vanilla ice cream with pound cake, topped with egg white meringue and chocolate sauce, and flambeed to perfection, sent to our table, instead of it being for two it was big enough for all five of us, absolutely delicious.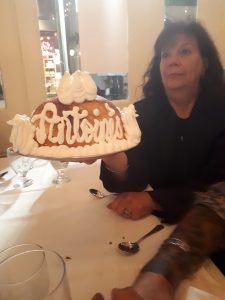 So whether you visiting New Orleans or you have the privilege of living in the vicinity, Antoine's must be placed on your list of must go to restaurants, why you could even leave your grandchildren advise to go there, for it is happily on its way to another 179 years.
Omelette Alaska Antoine
The following recipes are Chef K's versions of what was enjoyed at Antoine's.
CHATEAUBRIAND
Ingredients
1 pound beef tenderloin (center cut)
2 tablespoons butter
2 tablespoons olive oil
Salt (to taste)
Black pepper (to taste)
1 shallot (finely chopped)
1/2 cup red wine (dry)
1/2 cup demi-glace
1 tablespoon butter (softened)
1 tablespoon fresh tarragon (or 2 teaspoons dried )
Steps to Make It
Melt the butter and olive oil together in a large skillet set over medium-high heat until the mixture turns a bit cloudy and bubbly.
Season the beef with salt and pepper to taste.
Place the meat in the pan and do not move it at all for at least 3 minutes. Using tongs carefully turn the tenderloin on its side and brown it for 3 minutes. Repeat the same browning process on all exposed surfaces of the meat.
Place the tenderloin on a rack in a roasting pan in the oven. Roast the beef 15 minutes for medium-rare, 20 minutes for medium, and 23 minutes for medium-well.
Transfer the Chateaubriand to a warmed serving platter, lightly tent it with a single layer of foil, and allow it to rest, untouched, for 15 minutes. Resting the Chateaubriand is paramount to creating the perfect slice. By cooking with time to rest the meat means juices are released (needed for the sauce) and the fibers in the meat relax thus making the eventual eating extremely tender.
While the tenderloin is resting, make the two sauces that follow.
Serve the Chateaubriand, sliced on the diagonal, with the two sauces on the side along with and chateau potatoes and bouquet of fresh sautéed vegetables.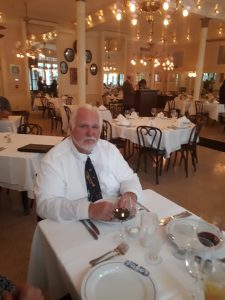 MARCHAND DE VIN SAUCE
MERCHANT OF THE WINE
Ingredients
1/2 cup dry red wine
2 tbsp. chopped shallots
2 cups demi-glace
4 tbsp butter (cold)
Optional: kosher salt and freshly ground black pepper (to taste)
In a heavy-bottomed saucepan, combine the wine and shallots. Heat until the liquid boils, lower the heat a bit and continue simmering until the liquid has reduced by three-fourths.
Add the demi-glace, then lower heat to a simmer, and reduce for about 5 minutes.
Strain through a mesh strainer, season to taste with kosher salt and black pepper.
Return to the sauce pan, turn heat to very low and whisk in the cold butter 1 tablespoon at a time. Serve alongside the Chateaubriand along with the Béarnaise Sauce.
BÉARNAISE SAUCE
Ingredients
1/4 cup white wine vinegar
1/2 cup dry white wine
3 sprigs tarragon, leaves finely minced, stems reserved separately
3 sprigs chervil, leaves finely minced, stems reserved separately (optional; if not using add an extra sprig of tarragon)
1 small shallot, roughly chopped
1/2 teaspoon whole black peppercorns
2 egg yolks
Kosher salt
1 1/2 sticks (12 tablespoons) unsalted butter
Directions
Combine vinegar, wine, herb stems, shallots, and black peppercorns in a small saucepan. Bring to a simmer over medium-high heat and lower heat to maintain a gently simmer. Cook until reduced to about 1 1/2 tablespoons of liquid, about 15 minutes. Carefully strain liquid through a fine mesh strainer into a small bowl, pressing on the solids with the back of a spoon to extract as much liquid as possible.
Combine vinegar reduction, egg yolk, and a pinch of salt in the bottom of a cup that barely fits the head of an immersion blender. Melt butter in a small saucepan over high heat, swirling constantly, until foaming subsides. Transfer butter to a 1-cup liquid measuring cup.
Place head of immersion blender into the bottom of the cup and turn it on. With the blender constantly running, slowly pour hot butter into cup. It should emulsify with the egg yolk and vinegar reduction. Continue pouring until all butter is added. Sauce should be thick and creamy. If it is thin and runny, transfer to a large bowl set over a pot of barely simmering water. Whisk constantly and vigorously until sauce is thickened.
Season to taste with salt.
Whisk in chopped tarragon and chervil. Serve immediately, or transfer to a small lidded pot and keep in a warm place for up to 1 hour (no longer) before serving. Béarnaise cannot be cooled and reheated.
CHEF K'S BAKED ALASKA
375 ml            (1 1/2 cups)               canned cherries drained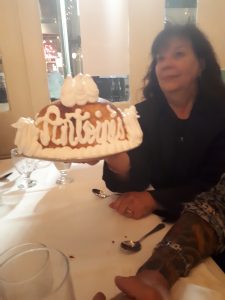 60 ml               (1/4 cup)                    juice from cherries
30 ml               (2 tbsp)                       sugar
30 ml               (2 tbsp)                       cornstarch
9                                                              egg whites, room temperature
4 ml                 (3/4 tsp)                     cream of tartar
180 ml            (3/4 cup)                    super fine vanilla sugar
1                       23 cm                           (9″) chocolate cake
1 quantity                                            French vanilla ice cream (recipe follows)
500 ml            (2 cups)                       chocolate sauce (recipe follows)
In a small sauce pan, heat the cherries.  Mix the cherry juice with the sugar and cornstarch, add to cherries and simmer until thick.  Cool to room temperature.
Whip the egg white and cream of tartar stiff.  Gradually whip in the sugar.
Place the chocolate cake on a heat resistant serving platter.  Top with the ice cream.  Working quickly, pipe the meringue around the cake, completely enclosing the ice cream.  Freeze for at least 3 hours.
Preheat the oven to 230°C (450°F).  Bake the cake in the oven until golden brown.  Serve at once with cherry and chocolate sauces.
Serves 6-8.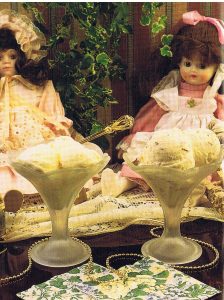 FRENCH VANILLA OR CINNAMON ICE CREAM
1                       1                        vanilla bean *
4 cups             1 L                    cream   medium
5                       5                       egg yolks
¾ cup              180 ml            sugar
Cut the vanilla bean in half; scrape the centre into the cream.
Scald the cream with the cut vanilla bean in a double boiler.  Beat the egg yolks with the sugar, slowly beat into the cream and cook stirring constantly until thick.  (Do not overcook or eggs will curdle.)  Discard vanilla bean. Remove from heat, cool, chill and freeze in ice cream maker according to directions.
*For cinnamon ice cream exchange a cinnamon stick for the vanilla bean.
YIELDS 5 C (1 1/4 L)
CHOCOLATE SAUCE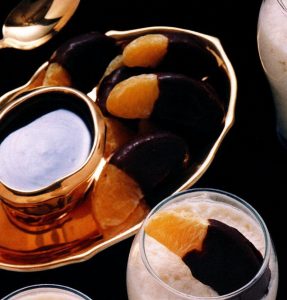 3 oz                 `80 gr              semi‑sweet chocolate
1 cup               250 ml            sugar
½ cup              125 ml            water
¼ tsp               1 ml                 salt
1 tsp                5 ml                 vanilla
3 tbsp             45 ml              butter
Melt the chocolate in a double boiler.
In a sauce pan heat the sugar, water, salt and vanilla; reduce to ¾ cup (180 ml) or half its volume. Stir in the chocolate and remove from the heat.
Whip in the butter and use as required.
YIELDS 1 ¾ CUPS (430 ML)
NEW ORLEANS GUMBO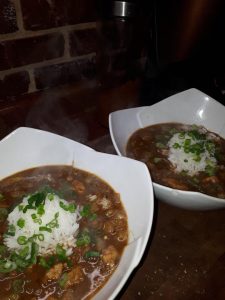 Gumbo is an African word, it means Okra, so Gumbo soup means Okra is in it. However, there is also Gumbo Ya Ya, African for no is Ya Ya, therefore Gumbo Ya Ya has no Okra, so whether you like Okra or not there is a Gumbo for you.
Gumbo is  true fusion cookery, understanding the roots and blending of the Cajun/Creole people you find that the creation of Gumbo uses French cookery methods, the Trinity mix (Onions, peppers and celery) are foundational in Spanish/Latino cookery, the Okra has African roots, and the local natives introduced them all to the king of the bayou, crawfish.  The infusion of hot sauces and spices really didn't happen until  after the 1960's but has helped to draw Gumbo to the top of the restaurant menus not just in Louisiana but throughout the world.
Gumbo soup falls into the hardy soup category, why? Because, it is a thickened soup.  Gumbo has three differing thickening agents, some people prefer one, some two and some all three. Tracing the history of a family recipe you will find why they chose the way they thicken their Gumbo, each has a different origin, and each thickens in a different manner. To thicken a Gumbo there are three methods considered authentic to Louisiana:
A) Okra
B) Gumbo Filé
C) Roux Noir
Okra, Gumbo not only is thickened by Okra but it's name is for Okra, West African languages, the word for okra is ki ngombo, or, in its shortened form, gombo or gumbo. That goo or mucilage that comes from Okra when boiled causes the soup to thicken.  This "slim" tends to less desirable for some, but it proves to be an excellent way to thicken your soup. The adding of Okra is dependent upon the cook, some add it once the soup begins to simmer, others will add it fifteen minutes before you serve it, I prefer the latter, but you decide.
Gumbo Filé, (fee-lee) a fascinating herb of the Choctaw Native band, file powder is simply ground sassafras leaves, file is a French word meaning, threads or strings, and therefore it is added only at the very end of the simmering of the soup and "just" before it is served.  As it contains the same mucilage as Okra it will thicken the soup instantly.  While Okra is a late summer harvest vegetable, file powder had its popularity in the winter when Okra was available.
Today the most commonly used thicker for Gumbo is a roux.  Roux Noir (Black) is actually a dark reddish brown is color. Very slow cooking of equals amounts of fat and flour will result in the desired type of roux for the culinary purpose, here a roux noir, the darker the roux, the nuttier the flavor. The method is simple, the fried flour releases starch, the starch molecules open and easily absorb liquids. The fat coated molecules will help them from sticking together and absorbing too much liquid. However, the longer you cook a roux the less effective it have as a thickening agent.
Our roux noir is actually the final stage of roux cookery; there are three stages of roux cookery.
A) White roux, the fat and flour is cooked just for 2-3 minutes over medium/low heat. This roux is used where a white sauce is required (béchamel), it has no nutty flavor and is only white in color so it is just what you'll want for any milk or cream based sauce or soup.
B) Blond roux, the most common of the roux's required for culinary purposes. (aka yellow roux or golden roux) Blonde roux is cooked for 3-5 minutes over medium heat, caramelizing it and giving it a dark blonde color.
C) Brown roux, cooked for 8-10 minutes over medium heat until the mixtures develops dark brown nutty color which has more pronounced and sharper hazelnut aroma. Used in brown soups and sauces preparation such has Espagnole, brown gravy, demi glace, etc.
D) Roux Noir, black roux, not burnt roux, cooked for 20-30 minutes over very low heat until the mixtures develops black color. Used to thicken Gumbos and Etouffee's.
Here is a secret you'll want to know, have you ever seen or worse had to eat a lumpy gravy or sauce (think Thanksgiving) everyone has at one time or another in your life.  You can prevent this by straining the lumps out through a mesh strainer or a china cap, which you should do with every sauce before service. However, the secret to not getting a lumpy sauce in the first place is (tada) never mix a hot liquid into a hot roux. Have one or the other cooler, a boiling pot of broth can be thickened nicely with a room temperature roux, or, a piping hot roux will thicken nicely a luke warm pot of broth. Try to always have roux and broth at different temperatures for the prefect thickened sauce.
The fat used, most fats will work well in making your roux. Butter is best and that clarified, as most of the moisture (whey) is removed it assists in stopping the flour from making a paste instead of a roux. Margarine, only when the cost of butter is an issue, but knows, the flavor will be inferior, and will not yield a classic sauce (maybe a good imitation.) Never, ever use the "light" version of margarine, why, because light margarine is made by whipping water as very high speed into the margarine. Just melt a little in a pan and you will see a large amount of water in the pan, or, apply it to your morning toast if you like soggy toast. Light margarine is an enemy to cookery. Animal fat, such as lard, bacon drippings, beef or chicken drippings work well for similar flavored soups or sauces, chicken fat can be used for chicken velouté, and beef drippings can be used for beef gravy. When properly used, bacon fats can enhance the flavor of a Gumbo as it will marry the sausage within the soup.
As a side benefit, a roux thickened sauce will help in clarifying a sauce, the impurities cling to the flour, float to the top of the soup or sauce making it easy to skim it and remove the impurities, improving the texture, gloss, and flavor of the finished product.
Gumbo is often served with rice, generally white, commonly used is either long grain converted or unconverted rice or popcorn rice. (Recipes follow) Converted rice is made by soaking whole, unhusked grains of rice in water, then steaming them. This causes much of the nutrition and the taste from the bran and husk to go into the grain. Then, it is dried, and husked.
Popcorn Rice, fragrant long grain rice, which comes from Louisiana and is a Basmati hybrid, has a rich, nutty flavor and a popcorn-like aroma. The rice's consistency is fluffy with a firm consistency. The grains stay separate and fluffy after cooking, it is excellent for service of  rice as a side dish, or as a bed proteins and sauces, or finishing a soup, I consider it the "go to" rice when making a gourmet rice dessert or rice salad.
While making Gumbo you may come across a term called "a trinity mix" this is similar to the mirepoix of French cookery, the  "aromatics," of the culinary arts. If you cook a soup, stock, broth, stew, sauce practically anything you will use a mirepoix. Two parts onions, one part carrots and one part celery, with the proportions determined by weight will be the making of a mirepoix, so a one pound mirepoix would consist of 8 oz onions, and 4 oz each of celery and carrot, all diced in equal manner, standardized  size, allows for standardized cooking times. The trinity mix is the Cajun/Creole chef's mirepoix, substituting the carrot for green peppers.  Another term is "trinity with da pope" which is simply the addition of chopped garlic to the mix.
About Andouille Sausage, Andouille is a coarse-grained smoked meat made using pork, pepper, onions, and seasonings. Andouille is French in origin, but has also been brought to Louisiana by French immigrants. Andouille is mostly associated with Cajun/Creole cooking, can be found in many abattoirs or specialty butcher shops, some major grocers, if you cannot find this sausage you substitute it with hot Italian sausage without Fennel.
Chicken & Sausage Gumbo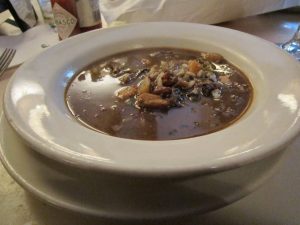 ¼ cup clarified butter
8 oz . Andouille sausage (hot Italian if you can't find Andouille)
2 pounds chicken skinless chicken thigh
½ cup flour
¼ cup unsalted butter
1 medium green bell pepper diced
1 medium onion diced
1 cup chopped celery (about 3 sticks)
2 teaspoons minced garlic
1 14 oz . can tomatoes (chopped)
1 tablespoon Creole seasoning.
½ tablespoon smoked paprika
1- tablespoon thyme fresh or dried
2 bay leaves
6 cups chicken stock
1 tablespoon Worcestershire sauce
½ teaspoon Tabasco sauce
¼ cup chopped parsley
2 green onions, chopped
1- tablespoon gumbo file
10 cups cooked rice
Instructions
Lightly season the chicken with salt and pepper. Heat the clarified butter over medium heat in a heavy bottomed Dutch Cook the chicken until browned on both sides and remove. Add the sausage and cook until browned, and then remove. Set aside
To the Dutch oven, combine additional butter and flour until smooth.
Cook on medium heat, stirring continuously, for about 20-30 minutes or until it turns a rich dark brown color – just like chocolate, a roux noir. Stir constantly during this process it will burn quickly.
When you have achieved your desired color. Remove from stove and let it cool.
Return the Dutch oven back on the stove. Add the onion, garlic, green pepper and celery and cook for 8- 10 minutes –stirring frequently.
Then add chicken, sausage, creole seasoning, , paprika, thyme, bay leaves and let it cook for 5 minutes. Add the tomatoes and about 6 cups of chicken stock, bring to a boil and let it simmer for about 45 – 50 minutes .
Add the Worcestershire and Tabasco sauces.
Stir in file powder, green onions, and chopped parsley.
Adjust thickness soup and flavor with additional broth and salt and pepper.  Serve with and over rice.
Seafood Gumbo
1/2 cup roux Noir, ¼ cup fat with a ¼ cup flour, see above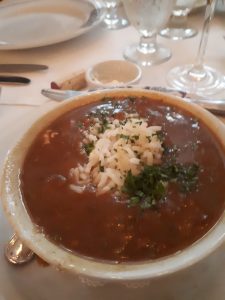 2 large onions, chopped
3 cups okra, chopped
2 tablespoons oil
1 can (14.5 ounces) stewed tomatoes
3 cloves garlic, minced
2 quarts seafood broth
1 tablespoon Worcestershire sauce
½  teaspoon Tabasco sauce
salt to taste
black pepper to taste
cayenne pepper to taste                                                                                                Picture, Antoine's Seafood Gumbo
1/2 cup parsley, finely chopped
6 to 8 green onions, finely chopped
2 pounds shrimp
1 cup oysters
1 cup crab meat
6 crab claws
Preparation
Add shrimp to roux and cook for a few minutes. Set aside.
In a large skillet, cook okra and onions in hot oil. When the okra is just becoming tender, add tomatoes and garlic. Cook a few minutes longer, then add the broth, Worcestershire, Tabasco, salt, and pepper.
Combine shrimp and roux mixture with okra mixture; simmer for about 10 minutes. Add oysters, crab meat, and crab claws; simmer for 15 minutes.
Add parsley and green onions and simmer another 15 to 20 minutes.
Serve with hot cooked rice.
Long Grain Unconverted Rice
3 cups water
1 1/2 cups long-grain rice (not converted)
1 1/4 teaspoons salt
PREPARATION
In a 2 1/2- to 3-quart heavy saucepan, combine all ingredients and boil, uncovered, until steam holes appear in rice and grains on the surface appear dry, about 8 minutes. Cover pan and cook rice over very low heat 15 minutes more. Remove pan from heat and let rice stand, covered, 5 minutes.
Fluff rice with a fork before serving.
Long Grain Converted Rice
2 cups salted boiling water
1 cup converted rice.
Preparation
Boil uncovered until the water just barely covers all the rice – about 10 minutes. Reduce to a simmer, and cook for another 15 minutes.
Popcorn Rice
1 cup of white rice
2 cups of water, or broth
1-2 tablespoons of butter
Boil uncovered until the water just barely covers all the rice – about 10 minutes. Reduce to a simmer, and cook for another 15 minutes. Add the butter and fluff the rice.