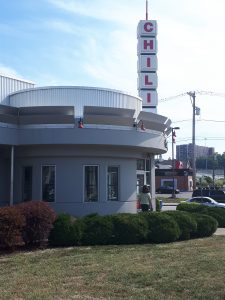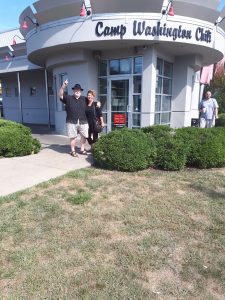 Camp Washington Chili
Iconic: widely known and acknowledged especially for distinctive excellence.
Deep in the heart of Texas? Nope, deep in the midst of Ohio, chili comes to Porkopolis, to where? Porkopolis Ohio, if you run a Google search on Porkopolis you will be shocked that Queen City of The West (aka, Cincinnati) was known with this rather unflattering title, but why?
While the Mississippi and Ohio rivers were the chosen transportation routes, manufactures and farmers alike would load their barges and set them afloat down the rivers; in 1803 much of the pork that floated down river came into Cincinnati for producing. By 1818, large packers like Elisha Mills had established in producing hundreds of hogs per day, cut and packed in large oak brine filled barrels for continue shipping along the two rivers. Salt brine was the preservation method of the day as there was no such thing as refrigeration, but it had an added benefit of flavoring the meat, making it more and more popular as "the other white meat".
Soon many producers had opened slaughter houses with an area now known as Camp Washington; here both man and pig wandered the streets together, here a waste product called back ribs were dumped into the rivers by the ton, hard luck people and boarding house operators would pick them up from the producers for little or no money. The ribs were stewed to tender, long before the BBQ craze, ribs were considered o no value, oh how times do change.  The title of Porkopolis was short lived, however, as Chicago replaced Cincinnati in 1861 as the pork producing capital.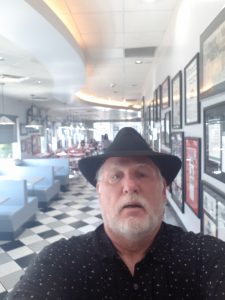 Many of these pork plants located in a neighborhood of Cincinnati known as Camp Washington, German immigrants along with Greek, Polish, and Irish all found work and home in this area. As pork provides lard, there came a need to find a way to make use of this animal by-product, two such immigrants, bothers-in-law William Procter(English) and James Gamble (Irish) began a small candle and soap making business to take advantage of the mass quantity of lard. Today Proctor & Gamble is an 80 billion dollars business, still headquartered in downtown Porkopolis. During the U.S.–Mexican War, Camp Washington was an important military location, training 5,536 soldiers who went to war. The central location of this Mill Creek Valley was an ideal mustering ground for soldiers and for herding cattle. Camp Washington was annexed to the City of Cincinnati in November, 1869.
The German immigrants brought along with them, their knowledge of meat production, especially sausage making, one such sausage gruetzwurst found favour, a low budget meat and grain sausage. Soon this was developed into a more acceptable American flavor into the making of a Cincinnati favorite called "Goetta" found exclusively in Porkopolis. The favorite brand is Giers, who produce over 1 million pounds of it each year.
As Camp Washington is both an area of Cincinnati and a restaurant that is listed as number five of America's most iconic places to eat. More than 70 years old, Camp Washington Chili is truly an icon in Cincinnati, drawing guest from the world over and from just down the street.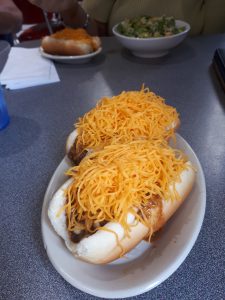 Johnny Johnson, the patriarch of the Camp Washington Chili family, has been a constant part of that routine since 1951 when he immigrated to the United States from Greece and began working at Camp Washington Chili, then operated by his uncle.  Johnny hasn't worked anywhere else since the day he arrived — a testament to his lifetime commitment to "chili-making." Here the chili is unlike any other American style chili, developed by Greek immigrants in the '20s, this chili relies more on allspice, nutmeg and cinnamon for flavour rather than the spicy capsicums found in most others.  Make your favorite Moussaka sauce recipe and you have Camp Washington Chili. As such the chili is more of a topping or pasta sauce than that of the stew we know elsewhere,  throughout Cincinnati this chili tops plate loads of spaghetti, then smothered with medium aged cheddar cheese the Greek dish "pastitsio", which combines noodles, meat, and cheese, a type of Greek lasagna is similar and yet not. Camp Washington Chili proudly serves more than 1,000 cheese Coney's (hot dogs) a day from meat that is still packed from a local slaughterhouse. In 2000, the James Beard Foundation honored them with an America's Classics award, making them the first (and currently the only) Cincinnati restaurant with a Beard award.
"The Mental Floss named Camp Washington Chili in their list of The Best Chili in All 50 States, stating: "This chili parlor in Camp Washington might be the ultimate destination for chili lovers[…] With so many options, you'll definitely need to make multiple trips back."
Camp Washington Style Chili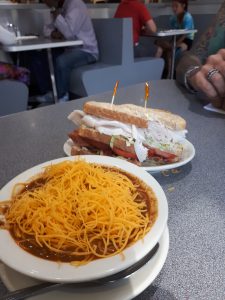 2-6 cloves garlic, crushed
18oz / 500g ground beef/beef mince
1 x 14oz/400g can diced tomatoes
1 tbsp olive oil
1 large onion
3 tbsp tomato paste
1 tbsp chili powder, or to taste
½ tsp salt
1 tsp black pepper
½ oz unsweetened chocolate, grated
½ tsp ground cumin
1 tsp dried oregano
1 tsp cinnamon
1/2 tsp allspice
Salt and pepper to taste
Add the olive oil to the bottom of a large heavy-based 4-6 quart pot over medium heat.
Dice the onions and garlic, place into the pot, when they begin to soften add the beef and cook until the meat has browned. Drain excess fat, return the mixture the pot.
Add the tomatoes, tomato paste, and spices. Allow the sauce to simmer, uncovered, for twenty to thirty minutes. Taste and adjust the seasonings with salt and pepper.
GOETTA
1 lb. beef
1 lb. pork
8 cups water
2 1/2 cups Pinhead Oatmeal (Steelcut)
1 large onion sliced
1 tsp ground sage
1 tsp summery savoury
1 tbsp salt
a pinch of pepper
PREPARATION
Grind the meats together, twice, so they mix well.
Put water into pan, when boiling, add salt, pepper, and oatmeal.
Cook 2 hours, stirring often, keep lid on while cooking over low heat.
Add meat, onion, and bay leaves, mix well.
Let cook 1 hour, stirring often.
Pour into bread pans. When cool, place in refrigerator. Will keep for days 6. When ready to use, slice the loaf of goetta into ½ inch thick slices, place into a pan in which there is a little bacon fat. Fry until nicely browned on both side, serve at once.
GREEK PASTITSIO
Ingredients
8 ounces bucatini pasta or 8 ounces ziti pasta
3 tablespoons melted butter
1⁄3 cup grated parmesan cheese
1⁄2 cup milk
1 egg, beaten
1 lb ground beef
1⁄2 cup chopped onion
1 (8 ounce) can tomato sauce
1 teaspoon salt
1 teaspoon dried mint flakes (optional)
1⁄2 teaspoon ground cinnamon
1⁄4 teaspoon ground nutmeg
1⁄4 teaspoon pepper
4 tablespoons butter
4 tablespoons all-purpose flour
1 teaspoon salt
2 cups milk
1 egg, beaten
1⁄3 cup parmesan cheese
DIRECTIONS
Cook the pasta; drain, and return to pan.
Stir in the melted butter, 1/3 cup Parmesan cheese, 1/3 cup milk, and the egg; set aside.
In a a skillet or large saucepan, cook ground beef and onion until meat is cooked through and onion is soft; drain excess fat.
Stir in tomato sauce, the 1 teaspoon salt, mint flakes, cinnamon, nutmeg and pepper; set aside.
Slowly stir in the 2 cups milk, stirring well after each addition so that no lumps form.
Cook and stir on medium high until cream sauce starts to thicken; stir for one minute more, then remove from heat.
Beat egg in a small bowl, then pour into cream sauce, stirring briskly.
Blend in the 1/3 cup Parmesan cheese.
Layer half the pasta mixture in a 11″ x 7″ (or 2 quart) baking dish.
Spoon the meat mixture evenly on top, then the remaining pasta.
Pour cream sauce over top, to cover completely.
Bake, uncovered, in a preheated 350°F oven for about 40 minutes, or until hot and lightly browned.
Let stand for 10 minutes.