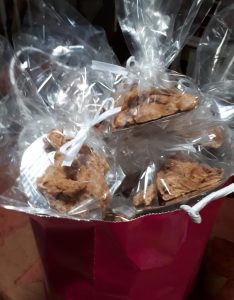 There are many wonderful aromas rising from the streets of the French Quarter in New Orleans, chicory coffee from the Café Du Monde, boiling crawfish from Schaefer & Rusich Seafood or Frankie & Johnny's, perhaps the Jambalaya from Coop's, and who could leave the Quarter without experiencing (both in aroma and taste) Gumbo from the Gumbo Shop. Yet there is a must have in NOLA, a candy so simple that is has become famous the world over. A creamy, nutty, sweet taste of what was in years past, what is now and ever will be in defining the word"delicious". The New Orleans Praline.
Pralines are named after a French diplomat from the early 17th century whose name and title was César, duc de Choiseul, comte du Plessis-Praslin. The actual creator of the praline is unknown, yet it is believed the diplomats personal chef, a chef named Clement Lassagne. None know for a certainty, how the chef created the confection, perhaps a purposeful event, a delicious accident of almonds falling into cooking caramel, or a in experimentation in the culinary arts, attempting to please his employers many lady friends (believed to be the most likely story). The confection became known as "Parslin" after the owner of the kitchen and not the chef who created it, (common in kitchens even today) the chef eventually opened a sweet shop to sell the popular creation of his, a form of that shop still operates today in the form of a sweet shop called, Maison de la Prasline Mazet.
In other areas of Europe, praline is more of a nougat used to fill other candies, very much like the filling of many of the candy (chocolate) bars we enjoy so much.
As, the Acadian or French "casket girls*" settled throughout the Louisiana and other locales throughout the southern USA it seemed like an obvious place for the confection from home. In France it was a candy of  sugar and almonds, however, in the southern states, a land with plenty of sugar and over abundance of nuts, mostly pecans, a new praline would be developed, one that had just four or five ingredients, sugar, cream, pecans, butter and vanilla. * Casket girls, were young women under the care of the church, were sent to the Americas to marry French settlers, they brought all they owned in small caskets.
When walking the French Quarter, you'll not have to travel far to experience the incredible sweetness of the Praline, why not make an adventure of it, do your own comparison and decide who makes what becomes your favorite, visit four or five candy shops and enjoy.
Try "Southern Candy Makers" at the French Market, then onto "Laura's"  on Charles St. "Aunt Sally's" original pralines will keep you coming back, but, then again so will those of "NOLA Sugar & Spice" on Royal St (Bienville) and for those taking lessons, pay close attention to the pralines of the New Orleans Cooking School, they come back home and make your own.
To do that, let's look at Chef K's recipe,
4 cups        medium brown sugar
2 cups        35% cream (Whipping, heavy cream)
2 cups        pecan halves, lightly toasted
3 tbsp         salted butter
2 tsp           vanilla extract
Combine sugar and cream in a heavy 4-quart saucepan and bring to boil over medium heat.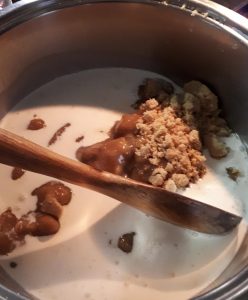 Stir with a wooden spoon, until mixture forms a thick syrup.
As you stir, brush the side with a wet pastry brush to prevent crystals from burning.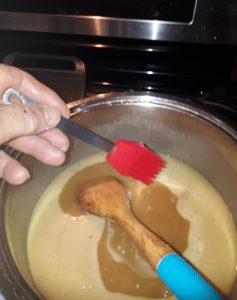 Bring to boil, reduce the heat and boil until the mixture reaches a "soft ball*" stage on a candy thermometer.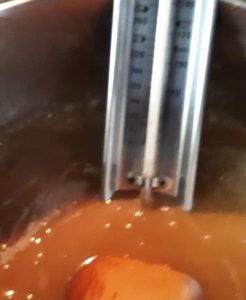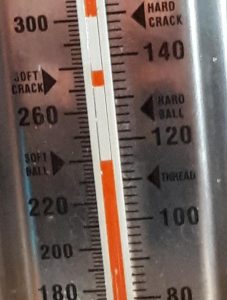 Remove from heat and leave mixture undisturbed for 5 minutes.
Add toasted pecans, butter and vanilla, stirring rapidly for 1 minute until the candy "talks to the pot". (See hints below)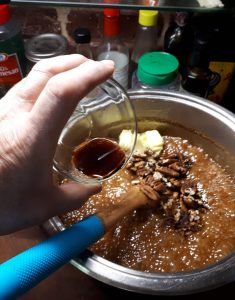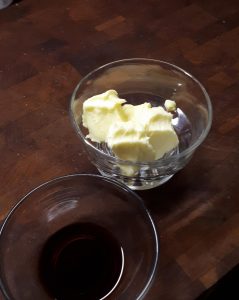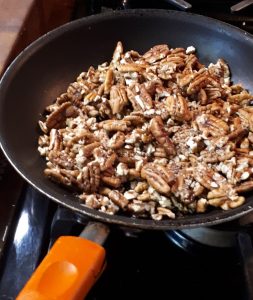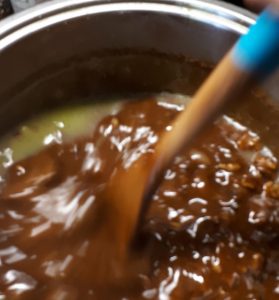 Move the saucepan to a heatproof surface (such as a wire rack) quickly use a tablespoon to drop rounded balls of the mixture onto sheet wax paper or foil, leaving about 3 inches between each ball for pralines to spread. Allow to cool.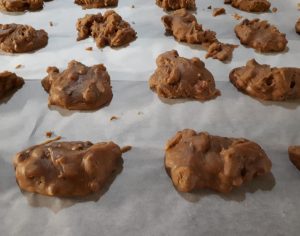 Makes about 18 candies.
Hints for a great Praline.
Don't mess with the recipe, stick to it, doubling is not a good idea, for when the candy is ready to drop, it must be done quickly as it will set up and become crumbly.
Use the butter that the recipe calls for, (like above) more butter will cause the candy to separate, less and they will not have the final desired texture. Use salted butter and you avoid the need to add salt to the recipe.
Have your "mise en place" set, that means "everything in its place," that way there is no errors or hesitation in your preparation. Remember always the Five P's of cooking. Proper, Preparation, Prevents, Poor, Performance.
Use a big pot, the syrup will be boiling, bubbling, a steamy, you want it to have the room required to to come to its boiling point, safely.
Once you achieve a boil, do not stir, watch your heat, you may need to reduce or increase it so your mixture does not burn, but leave it do its thing until it reaches that magic soft ball stage.
The pot is talking, while you do your final stir, the syrup will begin to thicken, forming sugar crystals along the side of the pot and your spoon, this is the best moment to drop your candy onto the prepared parchment paper. This occurs in about 1-2 minutes of stirring.