Vatrushka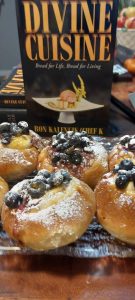 Dough:
1 Tablespoon Instant, rapid rise or active dry yeast
1 3/4 cups lukewarm milk
4 cups all-purpose flour
¼ cup unsalted butter, melted
1 pinch salt
2 teaspoons lemon zest
2 teaspoon vanilla extract
2 eggs
2 tablespoons white sugar
1 teaspoon vegetable oil
Filling:
1 cup farmer's cheese (ricotta, dry cottage cheese)
1 cup cream cheese
1 egg
2 tablespoons white sugar
2 tablespoons sour cream
1 teaspoon vanilla extract
2 teaspoons lemon zest
1 egg yolk, beaten with 1 Tablespoon milk for a wash
4 Tablespoons Fruit preserve
Topping
Fresh fruit, Fruit preserves, Lemon curd, pitted Cherries, etc.
Apricot glaze
1/4 cup Apricot preserves
2 Tablespoons water
Directions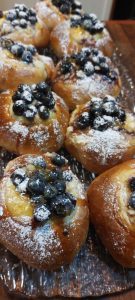 Step 1, If using Active yeast, dissolve the yeast and 1 pinch sugar in warm milk in a bowl. Let stand until yeast softens and begins to form a creamy foam, 5 to 10 minutes. If using instant or rapid rise yeast add directly to the flour.
Step 2, Sift flour into a large bowl; make a well in the center. Add yeast mixture, butter, salt, lemon zest, vanilla extract, egg, and sugar. Mix gently until a dough forms.
Step 3, Mix in a stand mixer for 3-5 minutes, If mixing by hand, transfer to a floured surface and knead until dough becomes pliable and is no longer sticky, about 8 minutes. Transfer to a greased bowl. Cover bowl with a damp kitchen towel and leave in a warm place until doubled, 1 1/2 to 2 hours. Punch down dough, cover, and leave until doubled again, about 1 hour.
Step 4, Prepare a baking sheet with oil, or parchment paper.
Step 5, Divide dough into 4 equal parts. Cut each part into 3 equal pieces. Roll each piece of dough into a ball and arrange on the prepared baking sheet. Flatten each piece lightly and let rise for 20 minutes.
Step 6,
Combine the cheeses, egg, 2 tablespoons sugar, cream cheese, and lemon zest, vanilla extract in a bowl for the filling.
Step 7, Use a a small weight, press or water glass to press an indention for the filling in the center of each dough piece. Spoon 1 teaspoon of fruit preserve into the indention,  top with the cheese mixture and brush with egg yolk wash. Repeat with remaining dough pieces and filling. Cover and let rise for 20 to 25 minutes.
Step 8, Preheat oven to 400 degrees F (200 degrees C).
Step 9, Bake in the preheated oven until golden, 15 to 20 minutes.
Step 10, While hot, top with your fruit selection, brush with the Apricot glaze and allow to cool.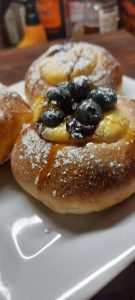 Yields 12