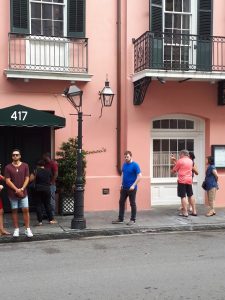 Cajun, Creole, French, Chophouse's, modern fusion  cuisine, everybody loves them, New Orleans of course is the utmost place to visit to experience the best of the best of any one of these cuisines, but what on earth have the Irish have to do with these famous cuisine?  You must journey back to 1946 when an Irish bar owner named Owen Edward Brennan opened a French restaurant on Bourbon Street, he named the establishment Owen Brennan's French & Creole Restaurant, eventually just known's as Brennan's, he would moved to its present location at 417 Royal Street in 1956, Owen actually never set foot in the opened new restaurant suffering massive heart attack in his sleep and passing away at just 45 years old.
Owen had the "Irish smile and a kiss of the Blarney Stone"  so Brennan's quickly established itself as one the premier restaurants within a city of very fine restaurants some with histories already beyond 100 years at the time Owen open his doors.  Antione's, Araund's, Galatoire's, Commanders Palace, Tujague's, Pascal's Manale all had stellar reputations, Owen had a challenge to make his upstart something spectacular, how to make his restaurant stand out in a city of prominent restaurants?  The answer, do fine dine breakfast, sure, be outstanding during lunch and dinner, but do breakfast like no-one else in the country.  A fine dining experience at breakfast simply was considered to far out there, no-one would come and the restaurant would fall flat, but something was happening here, food infused with quality, flavor and love, food that held with the traditions of those who first came to Louisiana, food that made you cry," I just must go back, again and again".
Brennan along with his sister Ella believed great food must be great with every taste, so make it with care, concern and most of all love. New Orleans after all is French descendant, so offer what the area is best known for, Cajun and Creole food, not mouth burning, super spicy foods that urban myths have it, but rather the flavorful, culinary creations of taste that he two cultural cuisines actually are. While Owen was the master of the FOH (front of the house) Ella was that and more for the BOH (back of the house) . From her kitchens new and delicious foods were sent out to anxious ravenous diners.  Ella created food with flare, many of the breakfast dishes can be found on the menu even today, why, because great has no expiry date.  Dishes such as: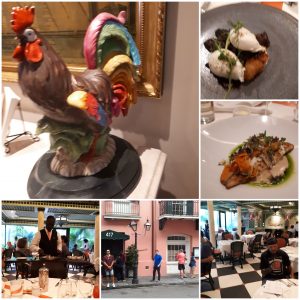 EGGS HUSSARDE PHOTO EGGS HUSSARDE, A Brennan's Original – Housemade English Muffins, Coffee Cured Canadian Bacon, Hollandaise, Marchand De Vin Sauce
ARTISANAL EGGS BENEDICT PHOTO ARTISANAL EGGS BENEDICT, Housemade English Muffins And Coffee Cured Canadian Bacon, Hollandaise
EGGS OWEN, Red Wine Braised Short Rib Debris, Crispy Fingerling Potatoes, Poached Eggs, Hollandaise, Marchand De Vin Sauce
EGGS SARDOU, Crispy Artichokes, Parmesan Creamed Spinach, Choron Sauce
EGGS FLORENTINE ROYALE, Cajun Caviar, Creamed Spinach, Sauce Maltaise
OMELETTE A LA CREOLE, Jumbo Lump Crabmeat, Manchego Gremolata, Creole Sauce
Brennan's of course offers many great Creole dishes, some that must be sampled while there, a Turtle soup for breakfast, you've got to give it a try, a classic Creole roux noir, a thickened stock filled with sorted delights and then finished with a quality sherry.
Or, how about dessert at breakfast, here at Brennan's the famous Banana's Foster (The dish was named for Richard Foster, a friend of Owen Brennan and the chairman of the New Orleans Crime Commission) is served, created for the police commissioner oft the time. Their website states "In 1951, with ever an eye for publicity and the promotion of his city, Owen Brennan challenged his chef Paul Blangé to create a dish featuring the fruit.  The dramatic, flambéed result is now the most-ordered item on Brennan's menu; it is not unusual for guests who have dined elsewhere to arrive just for a dessert of Bananas Foster."  Yet it seems that the truth of the matter was that Owen desiring to please the commissioner instructed Ella to create a special dessert for him, giving her a very short period of time to come up with a something outstanding.  Ella being rather angry with the command instructed the chef to do something with flames for a visual of her anger.  The result a dessert that required little time and less preparation was created, it is simply, it is special because of the table side show, mess up the show and you mess up the desert, the server must be both a showman and a waiter, performed correctly and the guest enjoys  a world famous classic.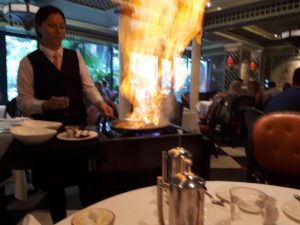 Through the ups and downs the Brennan family learned the trade well; while Owen passed away very early in life he left a legacy of culinary inheritance to his children and they to theirs. Ella however did open the restaurant, dedicated and determined she began as a teenager and worked a lifetime in creating a family culinary name that will be continually handed down from generation to generation.  The family has had some struggles, fighting at times like the Hatfield's and McCoy's, splitting the empire of restaurants, they have none the less held the very highest standards in the operations each takes, making each and every one individually extraordinary in itself, while holding true to the lessons learned from Miss Ella.
The family as individuals or restaurant holding companies but not as a whole own/operate excellent dining establishments in New Orleans, Disneyland,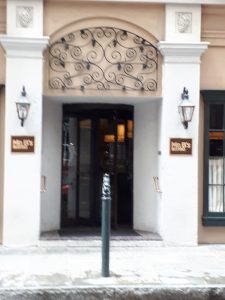 Houston, Memphis, and Las Vegas which included but may not be limited to:  Bacco, Brennan's, Cafe Adelaide, Cafe B, Cafe NOMA, Commander's Palace, Dickie Brennan's Bourbon House Seafood, Dickie Brennan's Steakhouse, Dickie Brennan's Tableau, Heritage Grill, Mr. B's Bistro, Napoleon House. Palace Café, Ralph's on the Park, Red Fish Grill, SoBou.
Commanders Palace, a restaurant that held a premier place in New Orleans from 1893 came under the ownership of the Brennan's in 1969, Ella guided it into a national award winning restaurant that rarely misses being listed as one of America's top 100 places to dine. Chefs like. Paul Prudhomme and Emeril Lagasse and Tory McPhail have held court here as the executive chef. The culinary awards are too numerous to list.
If you have had the privilege of dining at a Brennan establishment, then it is likely you have experienced a culinary delight that will not be soon forgotten. A trip to NOLA and you will find yourself in a Brennan restaurant, and there you'll want to stay. Breakfast at Brennan's, lunch at Mr. B's and dinner at Commanders Palace would surely be a day of culinary excellence, operated by differing family members, the lessons of Ella and Owen stand in full display for any who venture within.
CLASSIC BRENNAN'S TURTLE SOUP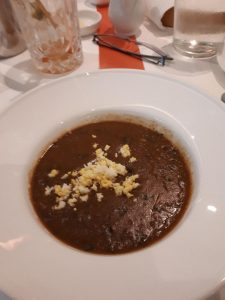 From Brennan's website.  https://www.brennansneworleans.com/recipes/turtle-soup/
Ingredients
4 tablespoons unsalted butter
1 1/2 pounds turtle meat, trimmed of all sinew and cut into 1/4-inch cubes
8 cloves garlic minced
2 medium-size onions, chopped fine
4 stalks celery, chopped fine
2 medium-size green peppers, chopped fine
1 1/2 tablespoons kosher salt, plus to taste
1 teaspoon freshly ground black pepper
2 medium-size Creole tomatoes, seeded and chopped fine
3/4 cup all-purpose flour
3 quarts beef stock
1 cup Worcestershire sauce
2 tablespoons Crystal brand pepper sauce, or other relatively mild pepper sauce
2 tablespoons finely chopped Italian (flat-leaf) parsley leaves
2 tablespoons finely chopped fresh thyme leaves
5 large eggs, hard-boiled, chopped fine
6 ounces fresh spinach, washed, stemmed and leaves sliced fine
Zest from 3 lemons, chopped fine
1/3 cup fresh lemon juice
1/2 cup good-quality sherry
Instructions
Over medium-high heat, melt the butter in a heavy 7-quart saucepan.
Add the turtle meat and garlic.
Cook until the meat is no longer pink, about five minutes, stirring occasionally.
Stir in the onions, celery, sweet peppers, kosher salt, and pepper.
Cook until the vegetables start to become translucent, about 10 minutes.
Add the tomatoes and cook about five minutes, stirring often so the bottom of the pan does not scorch.
Reduce the heat to medium.
Dust the vegetables with the flour and cook five minutes, stirring constantly and scraping the pan bottom clean so the flour does not burn.
Slowly add the stock, stirring and scraping the pan bottom constantly to prevent dough balls from forming in the soup.
Stir in the worcestershire, pepper sauce, parsley and thyme.
Simmer 30 minutes.
Add the eggs, spinach, lemon zest, lemon juice and sherry.
Continue simmering 10 minutes more.
BRENNAN'S BANANA'S FOSTER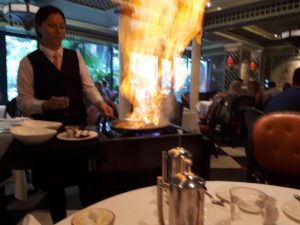 From Brennan's website https://www.brennansneworleans.com/recipes/bananas-foster/
Ingredients
1 Ounce Butter
½ Cup Light Brown Sugar
¼ Tsp Cinnamon
1 ½ Ounces Banana Liqueur
1 ½ Ounces Aged Rum
½ Banana Per Person
Instructions
Combine butter, sugar, and cinnamon in a flambe pan.
As the butter melts under medium heat, add the banana liquor and stir to combine.
As the sauce starts to cook, peel and add the bananas to the pan.
Cook the bananas until they begin to soften (about 1-2 minutes)
Tilt back the pan to slightly heat the far edge. Once hot carefully add the rum, and tilt the pan toward the flame, to ignite the rum.
Stir the sauce to ensure that all of the alcohol cooks out.
Serve cooked bananas over ice cream and top with the sauce in the pan.
NEW ORLEANS BARBEQUED SHRIMP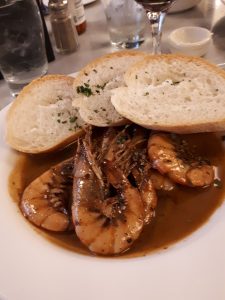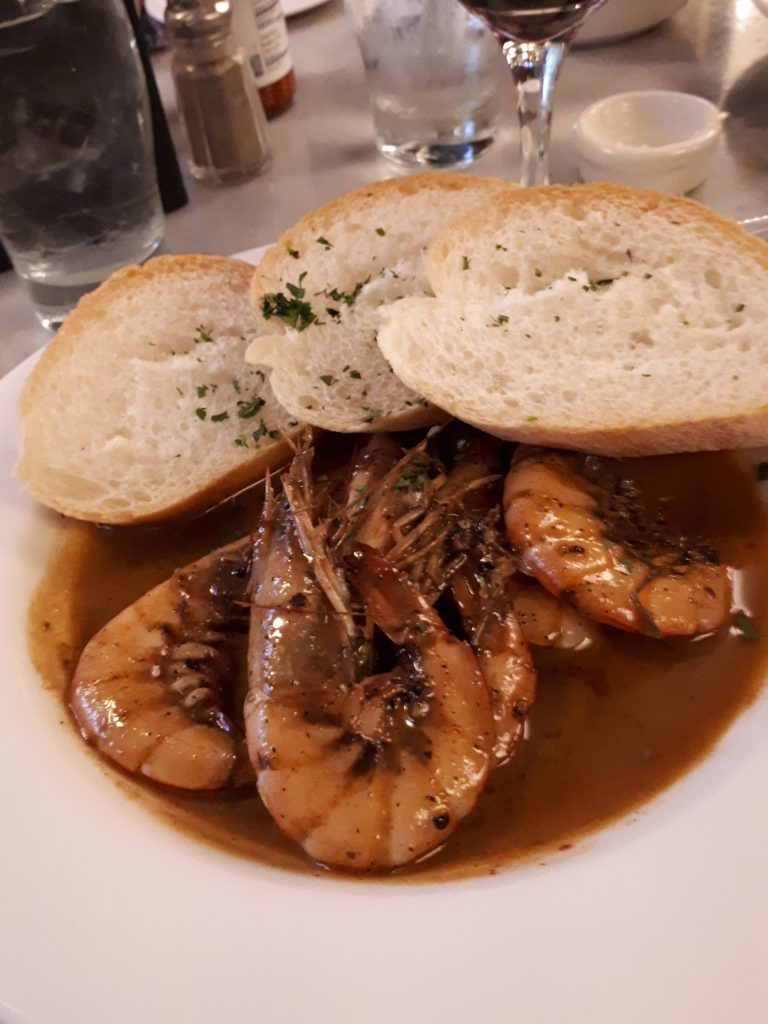 From Mr B's website  http://www.mrbsbistro.com/recipes_shrimp.php
Don't break out your grill for this dish. Here in New Orleans, barbecued shrimp means sautéed shrimp in Worcestershire-spiked butter sauce. We serve these shrimp with heads and tails on, so you need to dig in to enjoy. I highly recommend a bib.
We are famous for our barbecued shrimp, and with reason. The biggest trick to making this taste like ours is to not hold back on the butter. The three sticks called for are enough to scare you into cholesterol shock, but are key to the flavor and consistency of the sauce. Another tip to keep in mind: to emulsify the sauce, be sure to add a little butter at a time while stirring rapidly. And don't overcook the shrimp or they'll become tough and hard to peel.
16 jumbo shrimp (12 per pound, about 1 1/2 pounds), with heads and unpeeled
1/2 cup Worcestershire sauce
2 tablespoons fresh lemon juice (about 2 lemons)
2 teaspoons ground black pepper
2 teaspoons cracked black pepper
2 teaspoons Creole seasoning
1 teaspoon minced garlic
1 1/2 cups (3 sticks) cold unsalted butter, cubed
French bread as accompaniment
In a large skillet combine shrimp, Worcestershire, lemon juice, black peppers, Creole seasoning, and garlic and cook over moderately high heat until shrimp turn pink, about 1 minute on each side. Reduce heat to moderate and stir in butter, a few cubes at a time, stirring constantly and adding more only when butter is melted. Remove skillet from heat. Place shrimp in a bowl and pour sauce over top. Serve with French bread for dipping.
Yield: 4 appetizers or 2 entrees